AOWA's April 18 luncheon to feature double session presentations
The Arkansas-Oklahoma Wireless Association will have a special morning session on April 18, 2007 to discuss TIA/EIA-Revision G, from 10:00 a.m. to 11:00 a.m. The featured speaker will be Chad E. Tuttle, President of B&T Engineering, Inc. Tuttle has extensive industry knowledge, having started his career with National Site Erectors building telecommunications sites in 1988. In 2000 he founded B&T Engineering where he has designed and analyzed over 5000 towers throughout the U.S.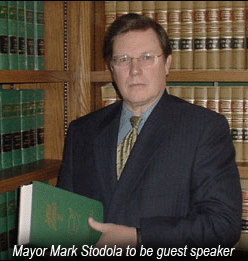 The luncheon presentation from 11:00 a.m. to 1:00 p.m. will feature Little Rock Mayor Mark Stodola. Mayor Stodola currently heads up the litigations and government/regulatory practice groups for the law firm Catlett and Stodola, PLC. He has extensive legal and governmental experience at the federal, state and local levels and currently serves as general counsel to the Little Rock Municipal Airport Commission and legal counsel to Perry County.
The luncheon will be held at the Peabody Hotel, 3 Statehouse Drive, Little Rock. Reservations, at $35.00 per person, can be paid for by visiting the association's website. A cocktail social will be held on April 17 from 6:00 p.m. to 8:00 p.m. at Cajun's Wharf Restaurant, 2400 Cantrell Rd., Little Rock.