American Tower's long-dominant lead to be challenged
Crown Castle International to acquire Global Signal in $5.8 billion-plus deal
October 6, 2006 -Crown Castle International Corp. and Global Signal Inc. announced today that they have entered into a definitive agreement for Crown Castle to acquire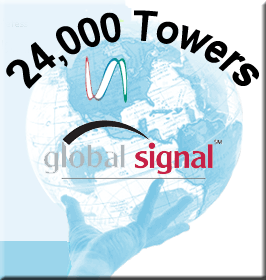 Global Signal in a stock and cash transaction valued at approximately $5.8 billion, including debt. The deal brings together two of the nation's leading tower companies, with over 24,000 wireless sites.
The combined company will surpass American Tower Corp.'s dominant tower count in the industry if the acquisition is successful. ATC has 22,000 sites. The next largest tower owner is SBA Communications Corp with 7,200 structures.
The combined company will have a high-quality portfolio of wireless towers that are well-positioned for expected growth, with 16,240 of its towers in the top 100 BTA's, the most of any tower company.

Global's stock jumps following annnouncement
At noontime trading Global Signal's stock jumped almost 10 percent in response to the deal to $54.83 per share, while Crown Castle's fell slightly to $33.83 per share.
The acquisition could assist Crown in obtaining a greater share of the revenues expected from the recent AWS spectrum auction. T-Mobile USA Inc. announced this week plans to spend $2.6 billion to upgrade its network to 3G technology. The carrier said it will start work on the upgrade this year, and expects most of the buildout to be completed by 2008.
"We expect this extraordinary combination of companies with the most towers in the best markets to create significant value for our customers and shareholders," stated John P. Kelly, Crown Castle's Chief Executive Officer. "The complementary nature of our US portfolios will result in a high-quality, diversified customer base, with 76% of site rental revenues from the four largest US wireless carriers. Further, we have an experienced management team, which will now be leveraged across a larger portfolio, with proven abilities to excel in this industry. This transaction reflects our continued commitment to undertaking endeavors that we believe will maximize recurring cash flow per share, which we feel is the best way to create and increase shareholder value. We believe this combination enhances our ability to achieve our long-term goal of 20 to 25% annual recurring cash flow per share growth."
Based on pro forma results for both companies as of June 30, 2006, the combined company will have approximately $16.0 billion in total enterprise value, annualized site rental revenues of $1.2 billion and annualized Adjusted EBITDA(1) of $659 million. Recurring cash flow, defined as Adjusted EBITDA less interest expense less sustaining capital expenditures, based on pro forma annualized results for the second quarter 2006 for the combined company, was $329 million.
Wesley R. Edens, Global Signal's Chairman added, "This is a merger of best-in-class assets and people. We see enormous opportunity in supporting the technological investments of our tenants as the entire wireless industry continues to serve their own customers better with improved network quality, coverage and capacity. Together, our companies will have the scale, scope and growth prospects to deliver long-term value for our shareholders."
The merger is expected to generate cost synergies of between $12 million and $15 million annually, which are expected to be realized within 12 months after closing.
"We are excited about bringing together Crown Castle and Global Signal to create a powerful growth platform with a very efficient capital structure," stated Ben Moreland, Chief Financial Officer of Crown Castle. "The new company will have a cost of debt capital and flexibility that is unrivaled in the tower industry. We believe that this transaction enhances our expected growth rates of revenue, Adjusted EBITDA and recurring cash flow due to the relatively lower occupancy on the Global Signal towers and the significant lease-up potential. Further, we have a proven track record of integrating acquisitions without disrupting the delivery of services to our customers. In addition, in keeping with our capital allocation strategy, we believe this transaction is near and long-term accretive to recurring cash flow per share relative to our stand-alone expectations."
Following the closing, Crown Castle's board of directors will consist of all eight outside directors from Crown Castle's existing board of directors and three outside directors from Global Signal, as well as Mr. Kelly and Mr. Moreland. Three of Global Signal's current board members, Wesley R. Edens, Robert H. Niehaus and David C. Abrams, are expected to join Crown Castle's board upon closing. As a result, the Crown Castle board will increase from 10 to 13 members. The corporate headquarters for the combined company will remain in Houston, Texas. Mr. Kelly and Mr. Moreland will remain in their current management roles as Chief Executive Officer and Chief Financial Officer, respectively.
TRANSACTION DETAILS
Under the terms of the definitive merger agreement, Global Signal common stockholders will be entitled to convert each share of Global Signal into 1.61 Crown Castle shares or, alternatively, can elect to receive cash in the amount of $55.95 per Global Signal share. The total amount of cash consideration is subject to a cap of $550 million. To the extent that cash elections are made in respect of a number greater than 9.83 million shares, the stock consideration would be adjusted on a pro rata basis so that 9.83 million of Global Signal's outstanding shares are exchanged for cash.
In connection with the transaction, Global Signal's three largest shareholders, Fortress Investment Funds, Greenhill Capital Partners, L.P. and Abrams Capital, LLC, have entered into voting agreements in which they have agreed to vote shares representing approximately 40% of Global Signal's outstanding shares in favor of the Crown Castle transaction.
Crown Castle expects to finance the cash portion of the transaction through its existing Senior Secured Credit Facility, including a funded Revolving Credit Facility in the amount of $250 million and an add-on to Crown Castle's existing Senior Secured Term Loan of $300 million. Crown Castle will also assume estimated debt of $1.8 billion. At the closing of the acquisition, Crown Castle expects to have total debt of approximately $5.4 billion and net debt of approximately $5.3 billion.
The merger agreement is subject to certain conditions and approvals, including shareholder and regulatory approvals. Upon meeting these conditions and approvals, the merger is expected to close in the first quarter of 2007.
Each of J.P. Morgan Securities Inc. and Morgan Stanley & Co. Incorporated acted as financial advisor and Cravath, Swaine & Moore LLP acted as legal advisor to Crown Castle. Each of Goldman Sachs & Co. and Banc of America Securities LLC acted as financial advisor and Skadden, Arps, Slate, Meagher & Flom LLP acted as legal advisor to Global Signal, and Fried, Frank, Harris, Shriver & Jacobson LLP acted as legal advisor to Fortress Investment Funds.