Flash Technology's M2M wireless monitoring solutions continue to grow with two new products
Flash Technology, a leader in asset management and remote monitoring services has added two new products to its M2M solutions. The new products offer nationwide coverage through a variety of wireless connectivity - GSM, CDMA, iDEN and Satellite networks.
This exciting introduction includes the FTW171 & FTW172 remote monitoring equipment and they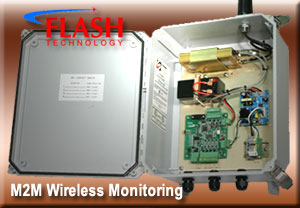 fully complement Flash Technology's existing M2M product line. The 171 model is designed for the customer that wants an inexpensive method of monitoring their assets but still requires "best in class" quality. The 172 includes additional features that allow the user to gather more detailed information about the asset(s) through Flash Technology's proprietary Eagle system. The units provide real time data that helps asset owners make informed decisions regarding performance and maintenance issues.
"Flash Technology's evolution from an OEM of obstruction lighting to a single source provider that also includes the monitoring and maintenance of lighting installations has kept us on the cutting edge of research and development of newer and more efficient ways to accomplish the task," commented Flash Technology's Director of Strategic Planning Bryan Adams. "The development of M2M technology was a logical outgrowth of that research and has positioned Flash as an integral player in the roll out of M2M solutions into markets far beyond that of obstruction lighting."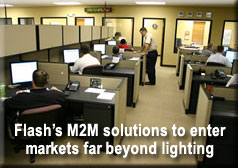 The versatility of the products is unprecedented with their ability to monitor and manage non IT based assets such as HVAC units, back up generators, security access instruments, street lamps and cooling towers. The units are easy to install with no special tools or computer needed, the wireless back haul eliminates 100% of the telecom bill and Flash Technology simplifies the process being the single point of contact - making the solution even more economical.
Shari Garman, Flash Technology's M2M Product Manager, said "The FTW171 & FTW172 are wireless devices developed to make monitoring remote assets more feasible and less expensive than wired solutions," said Garman. "The units provide constant communications between Flash Technology's Alarm Response Center (ARC) and the asset being monitored." According to Garman, the ARC is alerted immediately when a predetermined condition at the remote site triggers an alarm.
Flash Technology is focused on developing innovative M2M solutions that result in streamlined operations, improved efficiencies and increased cost savings.
"It is truly an exciting time to be at Flash," continued Adams. "The M2M technology has

a practically unlimited number of applications and we are positioned to provide not only the M2M equipment, but the monitoring and technical resources needed to help identify problems before they become critical and shorten the repair cycle."
For additional information on Flash Technology, please visit www.flashtechnology.com. Information on monitoring can be viewed at Remote Site Monitoring.