Content is key in getting candidates to reply to your company's employment message
Finding the right employee is often a time-consuming process, especially in the wireless industry where there is a severe shortage of key personnel.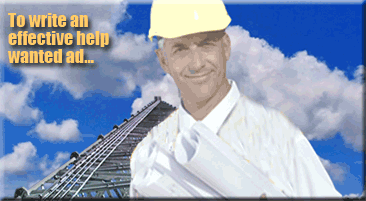 A quick check of WirelessEstimator.com's help wanted ads will provide some idea of the competition your business faces in attracting qualified applicants. You can, however, find top-notch employees by writing effective advertisements.
Too often, human resource directors and company owners will run an ad with a paid service or place a notice on an internet employment bulletin board and receive limited or no results, blaming the messenger and not considering that it could be their message that is the culprit.
Here's one recent pathetic post: "Tower climbers wanted in many areas. Must be willing to work hard and prove that you can be a team player. Send your resume to info@… "
The adversarial ad opposes every known marketing convention for obtaining a response from qualified candidates and surely doesn't sound like a company that fosters an enjoyable work environment. Please see: Write an effective ad!

The hidden costs of failing to organization plan
By Ned Turner
In the need-it-now, do-it-for-less atmosphere of wireless network expansion, companies often are so myopically focused on cost-cutting and minimal staffing, that they fail to understand the self-defeating impact of such short-term thinking.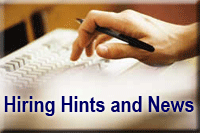 Achieving the necessity of continued network expansion is certainly a daunting task, that requires many hours of thoughtful and strategic deliberation. But because the achievement of this business objective is program/project driven with customers often changing their minds mid-stream, it invites a reactive, rather than a pro-active behavior in hiring and managing people to complete these programs/projects.
No one wants to over-pay, whether it's for products, materials or employee compensation. But when budgets and profit margins are tight, the propensity for many is to hire employees (whether on a regular or contract basis) for as little as possible. The fallacy of this short-term approach to staffing is that it guarantees that those hired will continue to look for a better paying, more stable position – without the benefit of your knowledge. And with the increasing competition for qualified people with the recovery of our industry, it is certain to occur.
Face it, employee turnover costs real money – recruitment and ramp-up of replacements, projects falling behind schedule when positions are vacant and the resulting customer dissatisfaction in having to learn to deal with yet another person on the project.
The same can be said for employers reluctant to make any investment in employee training and development. Typical excuses are "there's no money in the budget" or "we don't want to train someone for their next employer." This mindset usually results from employers thinking only of formally structured training and the attendant costs of paying a consultant, employee travel to the training site and project delays from employee attendance.
One of the simplest and effective approaches to organization development is employee cross-training, utilizing seasoned incumbent employees. It costs little or no money and time. It requires thinking a bit farther down the road than the immediate project at hand, to determine the skills and experience necessary to successfully prosecute your business plan and grow the company.
The investment of such a simple development plan yields great dividends – the availability of trained and qualified individuals for future projects, the opportunity to promote existing qualified employees from within the organization (rewarding employee loyalty) as the company grows and the cost avoidance of needless employee turnover
The utilization of these two simple concepts can make for a more stable organization and add more profit to your bottom line.

Ned Turner is President of Ned Turner & Associates www.nedturner.com , an executive search firm focused exclusively on the wireless industry. He can be reached at ned@nedturner.com . Also,

Study finds Internet primary hiring source
February 10, 2006 -- The Internet is the primary source of hiring for U.S. companies, according to a study by consulting firm Booz Allen Hamilton, conducted for the DirectEmployers Association.
The study found that Internet sources produced 51% of all hires in 2005.
The largest percentage of new hires came from corporate Web sites (21%), followed by general job boards (15%), niche job boards (6%), social networking sites (5%) and commercial resume databases (4%), according to the study.
The study also found that in 2006, 74% of U.S. companies will increase their spending on corporate employment Web sites, 68% will increase spending on employee referrals and 60% will boost spending on social networking technology.