Tower Structures closes its doors after 40 years
January 30, 2008 - Had you visited Tower Structures, Inc.'s web site last month you would have witnessed a seemingly vibrant company that manufactured a wide range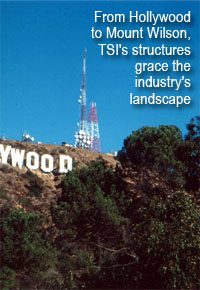 of structures, and provided engineering and construction services to a diverse field in addition to telecommunications.

Today, a single tombstone message lets you know: "Tower Structures has closed."

After being a key player in the communications industry for four decades, the Minden, Nevada company's owners decided to end operations after struggling through two back-to-back unprofitable years.

TSI's profitability was further weakened during the past few years as too many manufacturers chased too little business in an industry that has seen margins at record lows. Carrier and vertical realtor consolidations and industry diversification into specialized fields such as concealment structures have pressed the closing of many companies.

Company still remains rich in history
Founded in 1968, TSI's early years mostly involved long haul microwave towers along with a few broadcast structures.  When SP Communications (which later became Sprint) and MCI were battling to complete their coast-to-coast systems, TSI built the majority of the sites for SP from Texas west. TSI became a preferred turnkey provider for Collins and Farinon (now Alcatel and Harris).

These customers took them to Alaska, Hawaii, and Africa.  When Collins was part of Rockwell (between Collins Radio and Alcatel), TSI built a site at Yokose, Japan, a 585-foot-tall self-supporting tower that required three gin poles since the tower base's width was 85 feet.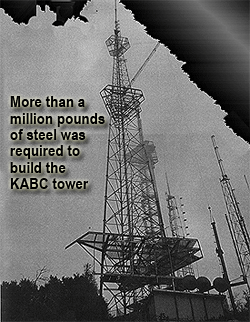 TSI constructed numerous large broadcast towers, mostly self-supporting. The well-known KABC tower at Mount Wilson in California straddles a building, and was designed to be extended to 700 feet. The bottom 350 feet (not including the 30,000-pound combination TV and FM antenna) that was constructed weighs in excess of 1,000,000 pounds and has a staircase to the top. The staircase alone required five 40-foot dedicated shipments.

The individual legs near the bottom weigh 8,000-pounds each. The KHJ (now KCAL) tower of the same height was constructed simultaneously with the KABC tower. Both could only have about 100 feet built with a crane due to the site restrictions, so they required some rather large gin poles and winches.

At the same time these large broadcast towers were being built, the wind industry sprang up, fueled by huge tax credits from state and federal governments. TSI fabricated several hundred of these over a two-year-period. Then, the tax credits expired and oil dropped from $45.00 per barrel to $9.00, crippling the wind turbine industry at that time.

In the mid 1980's, TSI was constructing many microwave sites on a turnkey basis. As quality buildings were difficult to come by in the West, according to TSI President Steve Hopkins, his company began manufacturing these as well, first of fiberglass and then of concrete as this material became the industry standard.

During the late 1980's, cellular site construction began providing the majority of the company's work. This continued for many years and, as with most companies in the industry at that time, the margins were excellent. TSI became the vendor of choice for PacTel Cellular, LA Cellular, Cox, and Nextel. They also became entrenched with public safety radio and public utilities.

Hopkins' firm was able to weather the early downturn years following 2000 that saw other companies announcing plant closings, bankruptcies and reorganizations. Contractors and manufacturers that previously relied exclusively on cellular and PCS projects, moved to public safety radio, broadcast, and public utilities, sometimes with disastrous results. This further impacted TSI's bottom line, with contractors such as TetraTech taking over Nextel's work in the West.

This created what Hopkins called a "perfect storm of unfortunate occurrences," requiring the business to be shuttered.

Hopkins joined TSI in 1976 as a field superintendent and became president in 1986. At one point the company employed more than 140 employees. He is currently employed by Comsite Hardware, an accessory manufacturer that has acquired the antenna mount and the cable support portion of TSI.

Industry's history to be chronicled by NATE
Many successful businesses over the years have helped to define the 
communications construction industry. However, their pioneering spirit is quickly fading into a legendary landscape that is oftentimes clouded by embellished events that may or may not have happened.

To maintain an accurate history of companies, events and individuals that helped to shape the industry such as Dwight Rohn, Jimmy King and many others, the National Association of Tower Erectors is encouraging its members to compile and submit personal anecdotes, articles or changes they have seen over the past decades.

The NATE history project is designed to capture the knowledge of industry professionals in order to pass this information along to future generations of tower hands and others who will benefit from first hand experiences.