Joint meeting of Alabama, Georgia and Tennessee  Associations to be held June 15 in Tennessee
A joint meeting of the Alabama, Georgia and Tennessee Wireless Associations will be held on June 15, 2007 at The Chattanoogan, 1201 South Broad, St., Chattanoga,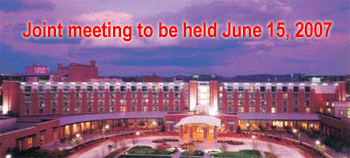 TN. On Thursday, June 14, a social hour and networking event will be held in the hotel's Foundry Bar from 5:30 p.m. to 7:30 p.m.
Registration for the luncheon, at $30 per person, will be from 8:30 a.m. through 11:00 a.m. Educational seminars will be held with Ed Gazzola of Morrison Hershfield Corporation discussing Revision G from 9:00 a.m. to 9:30 a.m. Henry Fisher of Environmental Engineers will be talking about environmental ASTM standards from 9:40 a.m. to 10:40 a.m. And from 10:20 to 10:50 a.m. and Connie Durcsak of PCIA will provide a presentation on distributed antenna systems.
The luncheon and panel discussion will be held from 11:00 a.m. to 1:30 p.m. Featured panelists will be Mark Ganzi, CEO of Global Tower Partners; Doug Huff, Sr. VP of Finance and Site Operations, American Tower Corporation; and Doug Wiest, President and CEO of National Grid Wireless.
Interested wireless professionals can register by June 1st via Paypal at www.gawireless.org or forward a check payable to the Alabama Wireless Association, c/o Kevin Harris,Crafton Communications, 240 Cahaba Valley Parkway, Pelham, Alabama 35124.
You can also pay at the door, but it is important that you RSVP by June 1 by contacting Kevin Harris at kharris@craftoncom.com . Company sponsorships at $500 are available and can be obtained by contacting Janet Gill at (423) 304-8652 or Sandra Abernathy at (615) 252-3840.