New Jersey man succumbs following fall
December 6, 2007 - A tower technician employed by JBL Electric, Inc. of Totowa, NJ, fell to his death yesterday afternoon while installing coaxial lines on a Public Service Electric and Gas transmission line tower.

The accident, the tenth industry fatality this year, occurred in Bridgewater.

Officials say Arthur Crane, a 45-year-old Stanhope resident, fell from approximately 80 feet. One of Crane's two co-workers immediately called 911. Crane was pronounced dead at the scene. His body was transported to the New Jersey State Medical Examiner's office.

The New Jersey Office of Public Employees Occupational Safety & Health (PEOSH) will investigate the fatality.

West Virginia man falls to his death in Pennsylvania while dismantling tower
September 25, 2007 - (Updated September 26, 2007) -A 51-year old tower worker fell to his death yesterday afternoon from a radio tower he was disassembling near Cambria Drive in East Deer Township, Pennsylvania.
It is not known when the accident occurred since the tower technician was working alone when he fell. He was discovered by a young girl walking her dog in the field surrounding the self supporting tower.
East Deer Fire Chief Tim McGorty identified the man as Daniel Plants, 51, of Triadelphia, West Virginia. Plants had been hired by gospel radio station WGBN to dismantle the tower which had been severely damaged during a spring thunderstorm.
A neighbor near the tower site said she saw Plants working alone using a torch to dismantle the tower piece by piece at approximately 2:00 p.m. Hours later she heard emergency vehicle sirens and learned of the death.
Plants had been using a ladder placed horizontally at the 100-foot level as a work platform and may have fallen from that location, officials say, but it is not clear since no other workers were on site when the accident occurred. Officials said the man was wearing a harness when he fell, but they said it's unclear if the harness was tied to anything.
Firefighters who examined the tower said a buckled ladder may be to blame, but they will have to wait until the Occupational Safety and Health Administration inspectors investigate the fatality to find out what actually happened.
A nearby 450-foot guyed tower had been recently painted by Plants and his son.

Plants' family says he had been working on towers since he was 16 years old. His three sons often worked with him.

His widow and sons need help paying for the funeral. The Daniel Plants Memorial Fund has been established. Donations can be sent to WesBanco, 1 Bank Plaza,
Wheeling, WV 26003.

The worker's death was the ninth fatality this year of a telecommunications worker falling from a communications structure

Texas erector suffers second fatality this year in Louisiana after tower tech falls to his death
July 30, 2007 - (Updated July 31, 2007) - A 29-year-old climber from Texas fell approximately 400-feet to his death at approximately 5:30 p.m. Friday afternoon outside of Centerville, Louisiana.
The Saint Mary Sheriff's Office informed WirelessEstimator.com that a late afternoon accident killed a tower technician, Gerald Waits of Tomball, Texas, who was working with three other crew members at the 400-foot-plus guyed tower site.

Although a department spokesman said there was a slight amount of inclement weather, it is not known why the man fell.

Some of the workers at the American Tower Corporation-owned site said that they believe their co-worker thought he had his safety equipment properly attached to the structure.

The man worked for Gritz Towers of Goliad, Texas. The tower erection and maintenance company had previously lost an employee on February 7 when he fell from a 330' self supporting tower in Golden Meadows, Louisiana. The OSHA investigation by the Baton Rouge office was closed on February 26 and Gritz Towers was not cited for any workplace safety violations.

OSHA officials were on site this morning investigating the fatality. The crew had the tower rigged with a gin pole in preparation for raising the structure's height.

American tower officials were not notified of the event until early this morning.

The worker's death was the eighth fatality this year of a telecommunications worker falling from a communications structure.

Two technicians trolleying on guy wire fall to their death while installing station's antenna
July 10, 2007 - (Updated July 11, 2007) Two tower technicians died at 9:30 a.m. today after falling approximately 500 feet from a tower south of Kansas 10 near Eudora, Kansas.

Authorities have identified the men as Jerry Case, 54, of Kansas City, MO, and Kevin Keeling, 33, of Independence, MO.

Case was the owner of Structural Inspections Inc. of Blue Springs, MO. Keeling was his employee.

Douglas County Sheriff Ken McGovern said the men were 500 to 800 feet high, riding in a man-bucket running along one of the guy wires supporting the 1,000-foot four tenant tower owned by TFM Communications, Inc. of Topeka. Something caused the bucket to crash to the ground.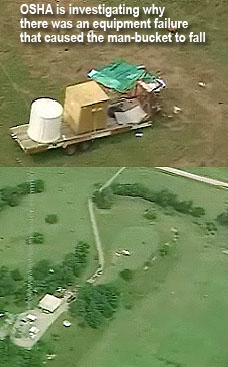 The sheriff's office is working with the federal Occupational Safety and Health Administration to determine what equipment malfunctioned.

Paramedics, who were on the scene when deputies arrived, pronounced the victims dead at the tower site.
The men were hired by television station KSHB to install an antenna for NBC Action News.

A broadcast engineer who knew Case said the climber was a nationally-renowned engineer and tower worker, and a phenomenal person.
"There were times when he climbed out on the tower with two, three and four inches of ice on it in the middle of winter to get us back on the air," said Mike Cooney, director of engineering for Entercom Communications Corp. "He would do whatever it took. And there's the attitude that the tower crews are crazy and he wasn't. He was a sane and normal, incredibly intelligent and very passionate about what he did."

The bodies of the deceased workers were taken to the Shawnee Coroner's Office in Topeka, where an autopsy on each was to be performed.

The deaths became the sixth and seventh fatality this year of telecommunications workers falling from a communications structure.

Second South Carolina death within a week stuns communications climbers
July 1, 2007 - Communications workers were shaken by a second fatality within a week when a Georgia man fell 177-feet to his death Saturday afternoon in South
Carolina.

Arthur Lee Snelling, 40, of Rex, was working on a Summerville cell phone tower near Yancey Street at approximately 3:50 p.m. when he fell to the ground and died upon impact, said Dorchester County Coroner Chris Nisbet. The coroner said Snelling was wearing fall protection equipment, but was not attached to the tower.

Snelling owned his own line and antenna company. Two of his employees on site witnessed the fall.

The tower technician's death was the second fatality in South Carolina within a week. On June 28, a 30-year-old worker, also from Georgia, fell 150-feet to his death in Bluffton. The climber was the fifth fatality this year of a telecommunications worker falling from a communications structure.

The year began with a low fatality rate, but saw a dramatic increase with three fatalities in June. During 2006 there were 18 deaths.

Georgia man succumbs following fall off of Bluffton, South Carolina 480-foot tower
June 28, 2007 - (Updated June 30, 2007) - A Woodstock, Georgia man fell 150' while working on a 480-foot guyed tower this morning, dying upon impact, according to Beaufort County South Carolina Coroner Curt Copeland. The 10:45 a.m. accident took place at a tower located at 48 Ulmer Road in Bluffton.


Authorities said 30-year-old Charles Moore worked for TriCon/TowerWerks Inc. of Acworth, Georgia, and was installing transmission lines when he fell. Four other crew members were on site when the accident happened.

According to Kirk O'Leary, spokesman for the Bluffton Township Fire Department, "The victim had cut his finger and was bandaging the cut with electrical tape, and all of a sudden, he just fell. We don't know if his line got clipped or what."

O'Leary said, according to a contractor on the ground, Moore tried to grab a guy wire on the way down. The technician fell past two fellow-workers working below him. He was wearing fall protection equipment, but it is not known if he was attached correctly to the tower or if there was an equipment failure.


O'Leary pointed out that this isn't the first time that his department has responded to an accident on this tower.

"We've had a couple in the past, nothing this severe as far as this height of a fall, but there have been a few other accidents on this tower, injuries sustained from putting equipment up," said O'Leary.

The worker's body was transported to Charleston where an autopsy will be conducted tomorrow at the Medical University of South Carolina.

Officials from the federal Occupational Safety and Health Administration from Columbia were investigating the fatality this afternoon at the Crown Castle International-owned tower site.

The climber was the fourth fatality this year of a telecommunications worker falling from a communications structure.

Services set for July 1
Survivors include his wife, Melissa, and a son, Austin. Funeral services are
scheduled for 2:30 p.m. Sunday, July 1, from the Sosebee Memorial Chapel, 191Jarvis Street, Canton, GA. The family will receive friends after 7:00 p.m. Saturday and until the funeral hour Sunday. In lieu of flowers contributions may be made to the Austin Moore Trust Fund c/o Regions Bank, 9045 Hickory Flat Hwy., Woodstock, GA 30188.

Indiana man dies after falling from Florida tower
June 7, 2007 - A 21-year-old Mount Vernon, Indiana man was killed this morning in Mandarin, Florida when he fell from a monopole behind a Food Lion grocery store on Old St. Augustine Road, according to a sheriff's official.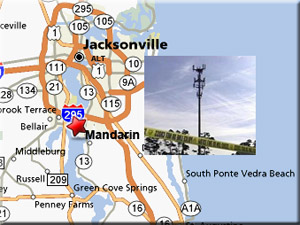 Sgt. Rick Hike of the Jacksonville Sheriff's Office said that Nicholas A. Fischer was pronounced dead at the scene when he fell 100 feet and landed upon an equipment building.

Hike said that patrol officers responded to an emergency call at 8:21 a.m. and that three other tower technicians were working on the cell phone tower when Fischer fell.

The men were employed by Tower Reinforcement, Inc. based out of Evansville, Indiana. It is not known whether Fischer was wearing or tied off with personnel protection equipment at the time of his fall.

Fischer was reportedly setting up the rigging on the 150-foot monopole to hoist reinforcement materials for the four-carrier site when he fell.

One of Fischer's coworkers told police he heard a click and then heard Fischer yell as he fell from the tower.

An Occupational Health and Safety inspector was at the accident site this afternoon.

The climber was the third fatality this year of a telecommunications worker falling from a communications structure. During 2006, an industry-shaking 18 deaths were reported.

Second Texas tower technician killed is second
fatality in Louisiana
March 16, 2007 - A 72-year-old tower worker fell to his death this morning while installing equipment on a tower at the Port of Shreveport/Bossier in Louisiana.
Caddo Parish investigators say Anthony Shands of Gilmer, Texas had just finished his work atop the 150 foot tower when he fell.

Shands was pronounced dead at the scene. The accident occurred at approximately 10:35 a.m. Investigators say all of his equipment still remained at the top of the tower. Baton Rouge OSHA compliance officers were not aware of the incident as of 4:00 p.m.

Sheriff's Department spokeswoman Cindy Chadwick said Shands had been in radio contact with co-workers who were inside a building when they suddently lost contact, heard a noise and went outside and found the that he had fallen.

Shands and his wife operate Service Tower Company in Gilmer. The cause of the accident remains under investigation. He is the oldest technician to die in the past
According to records available since 2003, Shands is the oldest worker to have died from falling from a communications structure. A 60-year-old Virginia man succumbed from a fall last March in Martinsville, VA.

Shands is the second Texan to die from falling from a communications structure this year. A 29-year-old technician fell to his death on February 7 in Golden Meadows.

LA death provides focus upon ensuring accuracy in climber fatality count and lessons learned
March 15, 2007 - Assistant Secretary of Labor for Occupational Safety and Health Edwin Foulke cautioned attendees at the National Association of Tower Erectors' conference in Orlando on February 14, "This is a dangerous industry and we have to do whatever we can to develop a program and get people trained, to ensure that they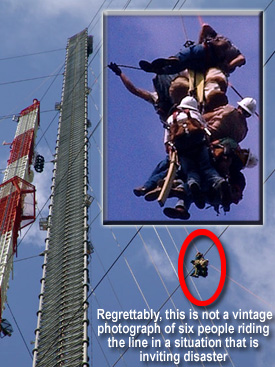 get to go home safe and sound, every day." His impassioned teleconference concern wasn't motivated by a tower technician's death the previous week because he wasn't aware of the fatality.
OSHA officials who closely monitor the industry handed out toolbox review literature in the exhibition hall the following day and discussed how pleased they were that there were no reported deaths from falling from a communications structure in 2007, the last one occurring more than four months earlier. They too didn't know that a Texas resident died after falling 125' while working on a retrofitting project.
A record number of NATE members left the conference that evening sharing a communal pride that education, a national partnership program and a renewed dedication to safety enforcement was helping to usher in a better year than 2006's 18 fatalities as reported by Foulkes. They also weren't aware that one of their fellow-member companies lost an employee on February 7 when he fell from a 330' self supporting tower in Golden Meadows, LA.
The 29-year-old tower technician's death in a community of 2,193 residents came close to becoming one of the industry fatalities each year that might not be reported in mainstream media, bulletin boards or through a nonexistent auditing process of OSHA to alert managers charged with monitoring high risk industries and partnership programs to be able to assess positive progress.
It was simply another fatality under Special Trade Contractors, Not Elsewhere Classified, an OSHA Standard Industrial Classification (SIC) that covers 53 professions from bath tub refinishers to window shade installers.
Tech's death investigated
Brandon Dale Driggers, of Nocona, TX, married to Ashlee, and a loving father of four young children, wasn't able to fulfill Assistant Secretary Foulke's wishes to return home safely to his family after falling while installing new bracing. He was 2007's first known fatality of a worker falling from a communications structure.

According to those people knowledgeable about the accident, Driggers had the proper fall protection equipment, was a trained competent climber and also had training in tower rescue procedures.
Established in 1979, Driggers' Goliad, Texas-based employer, Gritz Towers, has been known for actively supporting OSHA partnerships and providing excellent safety training for all of its employees. The OSHA investigation by the Baton Rouge office was closed on February 26 and Gritz Towers was not cited for any workplace safety violations.
Driggers' relatively new fall protection lanyard was found to be hooked to his D-ring when he hit the ground. He might have been hooked off to a step bolt with his positioning lanyard, according to people close to the investigation since the lanyard's pelican hook's gate was damaged and sprung, possibly from the extreme side loading pressure it received following his sudden fall.
An OSHA officer also considered whether the pelican hook might have been damaged when it hit multiple braces when the technician fell, but was unable to conclusively state how the hook's destruction occurred. The tower was equipped with a safety climb device.
Lessons learned difficult to come by
The young Texas worker's death appears to have been caused by employee error, according to the investigating compliance officer, and the obvious lesson learned is the need to maintain 100% fall protection at all times.
However, many climber deaths are not as straightforward and information is oftentimes unavailable regarding the possible cause of a fatality. Lawyers caution employers to prohibit their employees from talking to the media or anyone else regarding a fatality. Insurance company agents offer the same advice.
Also, OSHA representatives cannot discuss an open case and they have up to six months from the accident date to issue citations. A lot of factual information on an accident is uncovered years later in civil cases related to the accidents, but much of the information becomes confidential due to the requirements of the proceedings. One company owner correctly categorized civil cases as "a stage where truth is touted, but perception rules and huge settlements are the goal, not the truth."
Tower construction professionals believe that the National Institute for Safety and Health's (NIOSH) FACE Reports provide the most effective analysis of tower accidents and ways to avoid them. Unfortunately, the last report was three years ago and NIOSH representatives recently said that they were not going to focus upon the tower construction industry in the near future.
During a NATE educational session on riding the line, some panelists were hesitant to share industry information regarding their knowledge of fatalities and how they had occurred, citing litigation that might arise based upon their opinions. NATE Chairman Don Doty was able to provide some guidance as to what might have caused some recent fatalities.
Safety professionals say that training and the proper equipment is being provided by many companies that employ climbers, but 100% tie off at all times is not being practiced due to many climbers' self imposed expediency requirements, carelessness or their callous disregard for safety. In addition, major tower owners are understaffed and their frequency of site safety inspections is limited.
Plus OSHA is severely understaffed as well. "We only have 2,200 employees total and there are112 million employees and 7.2 million worksites. We can't get to everybody," said Foulke whose prepared remarks for the conference can be viewed here.
He said his agency is still going to have strong enforcement, "Because to tell you the truth, there are still employers out there that think that injuring people or having fatalities is just a cost of doing business." The Secretary cautioned that enforcement is going to be more aggressive than ever for those who have this mindset.
Like many industry professionals, Safety Manager Wayne Bowyer is concerned about climbers that do not appreciate the need to tie off 100% of the time. The Shenandoah Tower Service employee often observes other companies who allow their workers to free climb. Last week he said he observed two different companies' crews free climbing and numerous workers not wearing hard hats. He said he spoke with the crew members and they explained that they always climb safely and what he saw was not typical of their safe working practices. Bowyers didn't buy it.
"Working safely is not something you do once in a while or just when you happen to think about it. It's not something that you do only when you think someone is watching. It's a habit that you have to foster and encourage," said Bowyer.
"If I make someone angry because I point out an unsafe act, I can live with that. I couldn't live with myself if I just ignored their unsafe act and it killed them," he said.
National partnership lauded by Foulke
Foulke told NATE members that fall protection is a critical issue with OSHA and they are constantly looking at how to improve upon it. "And no one has the monopoly on how to deal with these particular issues," he said.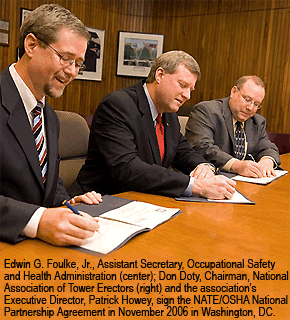 He was extremely enthusiastic about the OSHA Strategic Partnership between NATE and OSHA's Region V and the expansion of the program to encompass the entire nation. "The thing that you should know about this partnership, which is a little bit different than anything we have, is that it is also offered to State plan agencies," Foulke said.
Based upon the statistics he had been given, Foulke said, "Partnering with OSHA is starting to pay off. We have nearly 1,800 cell site audits that have been conducted and I understand that there has been a significant reduction in all of the hazards associated with those partnership companies. In fact, I understand that the companies that have been partnered with us average 50% below the non-partnered companies in their insurance rates, so we've impacted the bottom line."
Well, not quite 50%, says Sarah Barton of Arthur J. Gallagher who manages the NATE Insurance Program, but a 10% discount can be very helpful for companies in the program whose premiums range from $25,000 to $1,000,000,
Barton said that the membership requirements for the NATE/OSHA National Partnership are synonymous with what makes a good insurance risk: a good safety program, climber training, site safety audits and other safety-focused procedures.
"While membership in NATE gives contractors access to these valuable safety tools, they are not required to use them. Membership in the NATE/OSHA Partnership goes one step further to mandate implementation. NATE/OSHA Partnership members who participate in the NATE Insurance Program are given up to 10% credit on their workers' compensation premium to reward them for the additional checks and balances they impose upon themselves," Barton said

Michigan man succumbs after pipe mount inverts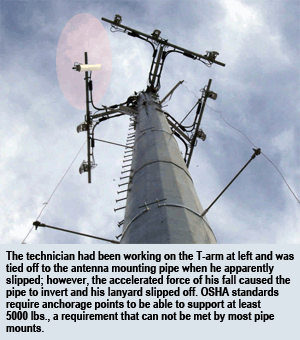 October 5, 2006 - A young Michigan man was killed Monday afternoon after he fell from a communications structure in Westland, MI, according to sources familiar with the accident.

The 23-year-old worker, Darryl Hunt of Higgins Lake, had been working on a T-frame on a T-Mobile monopole project when he fell to his death.

The tower technican was said to be tied off to a vertical antenna pipe mount attached to the frame and may have slipped. The pipe then became inverted and Hunt's personal protection equipment came lose from its anchorage point.

Hunt was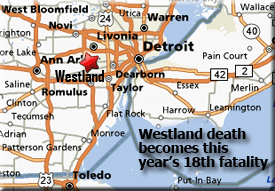 employed by Skyline Antenna and Line of Fowlerville, MI. MIOSHA is investigating the accident.

Friends of Hunt said that his family could use assistance to defray burial expenses. Contributions can be sent to his mother, Mrs. Jane Hunt, 7978 Loxley, Higgins Lake, MI 48627.

Hunt was the 18th communications worker to die from falling from a structure this year.


Eighteen-year-old Georgian falls to his death
September 18, 2006 - Richard Allen Catoe, 18, of Toccoa, GA., died Sunday after falling inside a pedisphere water tower in Pensacola, FL.

Catoe was installing communications equipment on the University of West Florida tower off of Campus Drive for Verizon when he fell.

University officials say the Ferry Pass Volunteer Fire Department responded to the scene and stabilized Catoe. He was transported to the East Florida emergency room, but succumbed from his injuries.

Catoe reportedly fell approximately 100 feet. He was employed by Utility Service Co, Inc. of Perry, GA. Investigators will check to see if he was wearing the required personal protective equipment.

The young climber is the 17th communications worker to die from falling from a structure this year, the second technician to die after falling inside a water tower. On May 2 a 51-year-old Iowa worker was killed after falling 40' into an access tube.

Evansville, Indiana technician is 2006's 16th fatality
June 27, 2006 - An Indiana man is dead after a weekend accident on WTVY's tower in Bonifay, Florida.

Workers with an Indiana company, S&W Tower and Maintenance, were trying to remove WDJR-FM's radio antenna so the equipment could be re-located to the station's new tower nearby.

But a spokesman for the Holmes County sheriff's department says the equipment somehow shifted and 30-year-old David Brown Jr. Of Evansville, Indiana fell about 500-feet to his death. Brown's 27-year-old widow said that he was being hoisted up the tower when he fell. Brown leaves behind three children.

The accident occurred about ten o'clock Sunday morning. Sixteen workers have died this year from falling from a communications structure.

Well-respected tower company owner dies
Synthetic rope failure being investigated as cause for three tower technicians falling 1,100 feet
June 1, 2006 - Three Iowa men were killed yesterday afternoon after they fell 1,100 feet from a television tower near Oakland, IA, according to Pottawattamie County
sheriff's officials who said they received a call at 2:43 p.m. that the workers had fallen from an Iowa Public Television tower, five miles east of Oakland.
Pottawattamie Sheriff Jeff Danker said that two other workers on the ground witnessed the accident, but he did not have any immediate information as to how the accident occurred.
The tower crew members, Leo Deters, 57, of Norwalk, Jason Galles, 27, of Des Moines, and Jon McWilliams, 19, of Cumming, died in the accident.
Galles and McWilliams were employees of Deters Tower Service of Des Moines, IA owned by Leo Deters who fell with his men yesterday.
Bill Hayes, director for engineering at IPTV, said the crew was on the 1,450' tower, replacing high intensity strobe lights when the accident happened.
"They were up fairly high when something went wrong and all three members of the crew fell,' Hayes said. He said an investigation is underway to determine the actual cause.
A fourth member of the crew, Hayes said, was working on the ground, operating a winch, hoisting equipment. He said that the company has been providing services to IPTV for the past 20 years.
At 12:22 p.m. yesterday, the tower's broadcast antenna went into low-power mode to protect those working on the tower. Hayes said he believes at this time the crew may have been near the antenna. He said they finished most of the lights on the bottom of the tower and were working on the top when the accident occurred.
"We were shocked and saddened to learn of the tragic accident today at the KHIN transmitter site near Walnut and Red Oak," said Daniel Miller, Executive Director and General Manager of IPTV.
"Deters Tower Service was often retained by Iowa Public Television for routine tower maintenance like this. These men were our colleagues and we mourn their loss. Our thoughts and prayers are with their families during this difficult time," he said.
Leo Deters, a soft spoken popular and professional tower erector was president of DetersTower Service, a tower company that typically maintained one crew.

Previously employed by Tiner Tower, he started his company 22 years ago. As a founding member, Deters had taken an active role in supporting the National Association of Tower Erectors. The tower maintenance firm is also an associate member of the Iowa Broadcasters Association. They cover an eight state service area.

Visitation for Deters will be held tomorrow at St. John's Cathlolic Church in Norwalk. from 4:30 to 6:30 p.m. The funeral will be at 11:00 a.m. Saturday at the church. Services for Galles and McWilliams have not been announced.

Bill Carlson, president of Tower Systems, Inc. of South Dakota and Orlando, had known Deters for many years. "I was totally shocked that this had happened to him," Carlson said, citing that the Iowa contractor was known for having good equipment and performing projects safely."
Carlson, who was the founding force behind NATE, said that "Deters was a great guy and a credit to the industry."
Craig Snyder, President of Sioux Falls Tower and Communications and the former Chairman of NATE, also believed that he was a quality and safety conscious operator.
"Particularly in the state of Iowa, he was the go-to-guy in the broadcast industry. I've known him for 17 years and he was always gentlemanly," Snyder said.
"It's going to be a big loss in the industry and in this part of the country," he said. Snyder, like many other climbing professionals, was equally as troubled by the loss of Leo's two co-workers. Galles, nicknamed Chilli, had previously worked for Snyder.
The men's deaths come less than a month after a 51-year-old Des Moines man, working for a Carlise company, was killed in Lawton when he fell 40' inside a water tower on which he was installing transmission lines.
Yesterday's deaths brought the total number of climbers that have been killed by falling from a communications structure to15 this year. The abnormally high number has rocked the industry to its core. Last year there were only seven, the total of climbers that were killed this year last month.
Since all three men fell at the same time, industry observers believe they might have been being lifted to or ascending from their work station when the accident occurred near the top of the tower.
OSHA was at the site today and will interview the witnesses and identify if the company was using wire rope and if there was arcing damage to the winch line that would separate it; see if the wire rope caught onto a tower member or accessory; check to see if the line two-blocked, and investigate all other possible causes for the accident. They'll also identify if the crew was using synthetic rope.
A personnel platform must be used to hoist more than one employee to their work station unless an employer can demonstrate that specific circumstances or conditions preclude its use. If a boatswains seat-type or full body seat harness is used, no more than two employees may be hoisted at a time.

Phil Reed, a volunteer emergency medical technician for the Oakland Fire and Rescue team, told the World Herald that there was little that emergency workers could do.

"You don't see much except the victims laying on the ground with ropes all around them," Reed said. "I don't know if that was holding them up or what, but they were already dead," Reed said this morning.

It was not known if Reed was referring to wire rope, a term not typically used by emergency workers or law enforcement officials. Although high strength synthetic rope can be used for lifting heavy loads, it can be easily cut if it rubs against a brace or other sharp object.

Sheriff Danker stated this afternoon that synthetic rope had been used for the climbers' hoist line and its apparent failure would be the subject of their and OSHA's investigation.

OSHA's riding the line instruction does not specifically state that employees can not be hoisted to their work stations using synthetic rope; however, the document identifies wire rope as the means for lifting employees. Numerous professionals contacted today believe that using synthetic rope would not be in compliance.

Worker dies in fall from cell tower in Vicksburg
May 25, 2006 -- An Indiana man has died from injuries suffered in a fall from a cell phone tower in Vicksburg, Mississippi that he was painting, according to Warren County Coroner John Thomason.
Thomason said Jack Pellow, 48, of Dale, Ind., fell about 50 feet yesterday. He was pronounced dead at the University of Mississippi Medical Center in Jackson.The 90 foot structure, owned by Global Signal, was located on top of a small building that once housed a radio station.
Pellow had subcontracted to paint the tower by National Tank and Tower of Evansville, Ind., said company president Sam Dorris, according to published reports. Pellow's co-worker, Dennis Dean, was on the ground, saw Pellow fall and called 911.
"He was about halfway down (the tower) and I looked up and saw the knot on the second rope came loose and he fell about 50 feet," Dean explained. The two had been in Mississippi since the weekend and had resumed the paint job just a few hours before the fall after taking Monday and Tuesday off, he said.
The paint job was part of routine maintenance mandated by federal regulations, Dorris said.The federal Occupational Safety and Health Administration will investigate the accident. Pellow was the 12th fatality this year of a worker falling from a communications structure. There were four deaths in May.

Broadband climber succumbs following 90' fall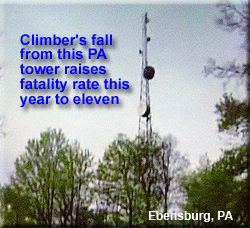 May 6, 2006 - A Lebanon, Pennsylvania tower climber became the nation's eleventh fatality this year when he fell 90 feet off a self supporting tower in Ebensburg yesterday.


According to Cambria County Coroner Dennis Kwiatkowski, twenty-five-year-old Michael Sellers fell to his death about 10:00 a.m. while preparing to install an antenna for his employer, Sting Communications Inc. of Lebanon.


It is not known if Sellers was tied off to the tower. The coroner was informed by a second Sting Communications employee on site that he was "feeding up the safety rope," according to published reports.


Fall protection capability disputed
Kwiatkowski said that Sellers wore a harness, but the coroner was told that there was no way that the decedent could have employed 100% fall protection while he was climbing, a position that would be assuredly argued by safety professionals.


The tower is located on the campus of Bishop Carroll High School. OSHA will begin their investigation on Monday, according to Ed Selker, assistant area director of the Pittsburgh Area Office.


Sting Communications does not provide tower construction projects, but employs climbers to develop its broadband wireless access installations for regional IP networks.


There are a growing number of installation technicians that are being hired by BWA companies. Some are well funded and provide the proper equipment and training to their climbers and maintain a company requirement to observe 100% fall protection.


However, some smaller ISPs in the extremely competitive broadband marketplace will hire individuals or subcontract to companies that will not observe safe climbing requirements.


"Many of these wireless internet companies are really under the radar," explained Chris Mika, President of Novotech Construction, Inc., an Altoona tower construction company. "Oftentimes these ISP climbers will work upon or install equipment on the tower without the owner's knowledge," he said.


Protection equipment becomes lifting device
Mika told WirelessEstimator.com that he has personally observed two ISP technicians free climbing on a tower that he had previously managed that had a safety cable installed. He said that although they were equipped with a full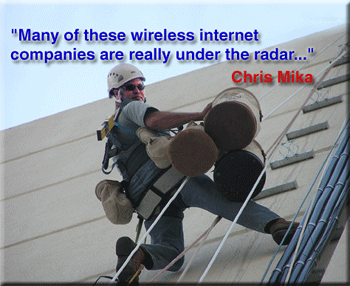 body harness with a single leg lanyard on the dorsal attachment point, the lanyard was being used to carry the radio and panel antenna. "They had no positioning lanyards, only a couple of large carabiners that they would attach to one of their side D rings or the other, never both at the same time," he said.


Mika said that he had them return to the ground and learned that they had never been around tower climbers and had never been trained in safe tower climbing techniques and requirements. Their ISP employer's supervisor was contacted and told of Mika's employer's policies, general tower climbing policies, and that they would not be
allowed to work on the company's towers unless they were in compliance.


Would Mika ever waiver in his belief that 100% fall protection can be occasionally circumvented? Not likely. He spoke of an arrested fall from a tower two weeks ago because the technician was properly tied off.


"It happened at 220' when an experienced, well-trained climber slipped off a peg as he was repositioning," Mika said, explaining that the climber was employed by a major tower company where safety is a culture, not a department.


Had this experienced climber not been tied off, the climber fatality count would probably have been raised by another technician's death, Mika said.

To further ensure that his company is in compliance with safety regulations, Mika is a participant in an OSHA outreach program that is administered by Indiana University of Pennsylvania. It is a free federally funded program. Independent safety consultants are assigned to audit his tower construction business for OSHA compliance. If they find a serious OSHA violation they require him to submit in writing the arrangements he has made to bring his company into compliance.

Two more deaths sadly raises 2006 fatalities to ten

May 3, 2006 - A tower climber fell to his death yesterday morning in Kentucky; five hours later another technician died after falling inside of an Iowa water tower.

Authorities say a 23-year-old Tennessee tower climber fell 380' to his death in Central City, Kentucky at 10:30 a.m. He was employed by Tower Services, Inc. of Hixson, TN.

The Muhlenberg County Coroner identified the deceased as Michael Allen Sulfridge of Harrogate, TN.

At 3:25 p.m., 51-year-old Michael Broughton of Des Moines, Iowa, was working for Murphy Construction, of Carlisle, when he fell 40' inside of a Lawson community water tower while he was working on a Cingular Wireless antenna and line installation project.

The Woodbury County Sheriff's office said that four men on the crew were feeding a coaxial line inside of the water tower when the technician fell inside an access tube of the pedisphere tower and died after hitting a landing.

His coworkers provided CPR until emergency medical service personnel arrived. The Woodbury County Medical Examiner's Office pronounced him dead at the scene. The sheriff's office and OSHA are investigating the death. In addition to being tied off 100% of the time, installation ofantenna systems on water towers requires additional skill sets and safety practices.

The Iowa man's death sadly raised the number of climbers that have been killed this year from falling from a communications structure to ten. During all of 2005 only seven climbers died.

Mississippi man's death sets fatality numbers above total of all of last year
April 11, 2006 - A 51-year-old Mississippi man fell to his death yesterday afternoon from a 185' monopole that he was working on in The Woodlands, TX, according
to Precinct 3 Constable's Sgt. Kevin Ray.
The decedent was identified as Roy Allen Greenwood of Horn Lake, an employee of American Tower Corporation. Ray said the cause of Greenwood's fall is unknown and investigators were taking physical evidence from the scene so that it would be available for OSHA inspectors that were expected to be on site today. The monopole is owned by American Tower Corporation and was equipped with a safety climb device, but it was not known if Greenwood was attached to it when he fell.
Sgt. Ray said that the rigger was the only person on the tower when the accident occurred at 3:30 p.m. Two other employees were working as ground personnel.
Greenwood's passing is the eighth industry death this year of workers falling from a communications structure. Last Thursday, 39-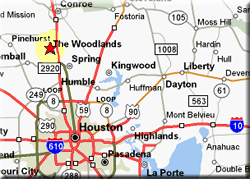 year-old Steve Gates fell from a cell tower in Milan, Tennessee. He reportedly fell from approximately 40' and hit an equipment shelter prior to landing on the ground. The climber was a resident of Walnut Ridge, Arkansas.
The alarming frequency of fatalities during the first four months of this year has industry safety leaders concerned. During 2005 there were only seven deaths.

One dead, one injured when cable snaps during descent following Virginia antenna installation
March 28, 2006 - An Alaskan rigger was critically injured and his Virginia co-worker was killed yesterday when the hoist line they were riding snapped as they were being lowered to the ground following an antenna installation in Martinsville, Virginia.

Martinsville police officials say that Gregory David Harrington, 60, of Long Island, VA
was pronounced dead at Memorial Hospital of Martinsville & Henry County shortly after the 3:30 p.m. accident. Michael John Hinsberger, 48, of Kasilof, AK, was transported to Roanoke Memorial Hospital. Both broadcast technicians were employed by Sky Tower Service of Lynchburg, VA.
Harrington and Hinsberger were reportedly being lowered to the ground by the winch operator when the hoist cable broke at approximately 30'. They had just completed installing a 30' broadcast antenna for WYAT-TV on the 403' WMVA-AM radio tower when the accident occurred. Both stations are owned by Martinsville Media Group.
The Sky Tower Service crew had been working on the installation project since Thursday, a spokesman for WYAT-TV said. The station was moving their antenna from their Chestnut Knob tower location to the WMVA-AM self supporting tower on Chatam Heights Road.
WYAT previously told their viewers that the antenna removal and installation was designed to keep the station off air time to a minimum yesterday. "Our engineers have installed new equipment so that the change on Monday is hoped to happen much like an "unplug it - move it - and plug it back in," said Bill Wyatt, the station's owner.
Virginia OSH was expected to be on site this morning. One area of their investigation will be to identify whether the tower crew did pre-lift testing, had the proper equipment, and followed the safety requirements set forth in the OSHA Instruction for hoisting employees on the hoist line. Investigators will also identify whether the wire rope used to lower the men came in contact with a high radio frequency field on the AM tower causing RF arcing which could part the cable and cause it to break.
Harrington was the the sixth tower worker this year to be killed after falling from a communications structure.

Iowa climber dies after falling 150' in Kansas
March 14, 2006 - A 28-year-old Iowa man died this afternoon after he fell 150 feet from a communication tower in Gladstone, KS.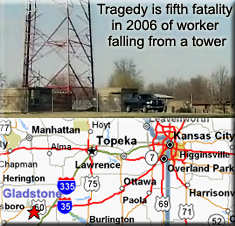 Police officials say Kyl Scieszinski, 28, of Knoxville fell approximately 150' while working for Interstate Tower Inc. of Hawarden, Iowa.

He is the fifth tower worker this year to be killed after falling from a communications structure. Last Friday an Alabama tower technician, was killed after an antenna fell upon his head as he exited an equipment shelter.

Today's accident occurred about 1:30 p.m. near the intersection of North Forest and Northeast 68th streets. Investigators have not determined how the man fell. He was one of two workers on the tower, and three other workers were on the ground at the time of the accident, said Sgt. Richard King of the Gladstone Department of Public Safety.

King said the Occupational Safety Health Administration was investigating. He also said the man was wearing a harness when emergency crews arrived, but authorities were trying to determine how he could have fallen while wearing it.

A supervisor with the crew, Jason Kohnen, said the tower crew occasionally does fall protection training. The crew had been working about two weeks on an upgrade for cell phones at the site, Kohnen said.

"Not only was he our friend," Kohnen said, "but we have to continue to work and make sure things are safe for workers," Kohen told the Kansas City Star.

Illinois tower technician dies following fall from 150' Indiana tower
February 22, 2006 -- A Ridge Farm, Illinois, man working on a cellular telephone tower i
n Veedersburg, Indiana died yesterday evening when he fell from the top of a 150-foot tower.

Fountain County Sheriff's Department officials said Scott D. Henry, 31, was working on the cell tower in the first block of West Bonebrake Road near Veedersburg when he fell. Police and emergency workers arrived about 6:19 p.m. and discovered Henry's body.

Wallace Hooker, chief deputy with the Fountain County Coroner's office, pronounced the man dead at the scene. He stated that Henry might have been working for an internet service provider, but details of the climber's employment would not be available until further information was obtained. Police said it is believed Henry was working to upgrade the tower he fell from Tuesday. Henry's cause of death remains under investigation. An autopsy is scheduled for today. OSHA is investigating.

Henry is the fourth climber fatality this year of workers falling from a communications structure.


Tennessee tech dies following lighting change
February 10, 2006 - A fifty-year-old tower technician changing an obstruction lighting bulb on a tower died after falling approximately 20 feet Thursday afternoon in Thomasville, North Carolina, sheriff's officials said.

The Davidson County Sheriff's Office said that John David Fridley
and his son, both from Tennessee, were changing a bulb on a radio tower on Tower Road when the fall happened about 3 p.m., according to news reports.
The father had completed the bulb change and was climbing down the tower when he fell about 20 feet and landed on concrete and hit his head, Sheriff David Grice said.
Investigators say owners of the tower and workers from Triple-A Tower Company were doing some work when the accident happened.
The N.C. Department of Labor is investigating the accident, but no further details were available yesterday.
North Carolina's Communications Tower Standard requires climbers exposed to fall hazards above six feet to be protected by fall protection equipment at all times.
Fridley's death was the third fatality reported this year from workers falling from a communications tower. The last tower climber fatality in North Carolina was on February 25, 2005.



Oklahoma man dies after grader cuts guy wire
January 24, 2006 -- An Oklahoma man was killed Saturday morning when an AM radio tower collapsed in Hollister, MO.

According to Chief Darren Parker, Michael Wilkerson, 21, of Lawson, OK suffered fatal injuries when a radio tower collapsed during construction. Wilkerson was working on the structure at approximately 90' when a bulldozer reportedly cut the guy wire as it
was grading the tower compound. Wilkerson died at the scene.

According to the Branson Daily News, the tower was one of six being built at the site located on the south end of Old Mill Road in Hollister, a community of 4000 residents located just southeast of Branson . Four 156-foot-high, 12-inch-wide towers have been completed, with a fifth standing partially completed. Wilkerson was working for Rocky Mountain Erection Company, which was constructing the towers for Bott Radio Network, a Christian broadcasting network.

Wilkerson's death was the second industry fatality this year. Last Thursday, a
33-year-old man working on a state transportation department radio tower in LaGuna Vista, Texas died when the tower he was dismantling collapsed.



Texas death is industry's first 2006 climber fatality
January 20, 2006 -- A 33-year-old man working on a state transportation department radio tower in LaGuna Vista, Texas is dead after he fell from the tower yesterday.

Cameron County sheriff's officials say Candelario Duque worked for Western Towers of San Angelo. They say the San Angelo man was working on replacing the tower on State Highway 100, near
Laguna Vista, when the tower fell.
Investigators still haven't determined what caused the accident. But the National Weather Service reported sustained winds of 25 to 30 miles per hour with gusts of 40 to 45 miles per hour in the area. This was the first industry fatality for 2006.
Investigators say Duque was an employee of Western Towers out of San Angelo. The company was contracted by the Texas Department of Transportation. Western Towers was established in 1945 and is a manufacturer of self-supporting and guyed towers in addition to monopoles. They maintain their own service and installation crews.


Second tower worker dies within two weeks
August 5, 2005 -- Butler County Missouri authorities have reported that an Alton, Illinois man had died Wednesday following a fall from a guyed tower in Poplar Bluff located in southeastern Missouri. Butler County Coroner Larry Cotrell said that 37-year-old Daniel Arnold fell from the structure and bounced off of a guy wire before landing in a field. Arnold was alive for a short time following
his fall and was treated at the scene by paramedics. He was later pronounced dead at Poplar Bluff Regional Medical Center. Workers believe that Arnold was in the process of attaching his safety lanyard when he fell. OSHA and police officials are conducting an investigation of the fatality. Arnold was employed by Tower Maintenance and Erection Corp. of Alton.

On July 27 another tower technician was killed when he fell from a monopole in Apache Junction, Arizona. A spokesperson for the Apache Junction Police Department acknowledged that 46-year-old Frank J. Madrigal had died from a fall, but they said that details would only be released following completion of an autopsy and OSHA report. Frank Madrigal worked for CMI Communications of Phoenix.
Arizona man is killed after 120' fall
June 8, 2005 - A 43-year-old Arizona man was killed Monday after falling 120 feet from a partially dismantled tower in Lincoln, Illinois. A spokesperson for Logan County Coroner Robert Thomas' office identified the deceased to WirelessEstimator.com as Toby Wheale of Glendale. His name had been withheld earlier this week until police could notify his next of kin.

Toby, according to Verizon spokesman Bill Kula, fell from approximately the 120' level of a 240' tower that was being decommissioned on Fifth Street Rd. One hundred feet of the structure had already been disassembled and removed. The deceased was employed by Wireless Horizon Tower Co. of St. Peters, Missouri.
Wheale was part of a five-man crew working to dismantle the microwave tower. He had previously worked for Wireless Horizon and had returned to the tower erection firm just six days before he fell, a spokesman for the Missouri erector said.

OSHA representatives were at the Verizon site earlier Monday and have begun their investigation. It is currently unknown as to why the tower erector fell and whether or not he was wearing the proper personal fall protection equipment and was secured to the tower or a safety line.

Toby Wheale was the fifth person in the nation to die this year from falling from a tower. Ten employees were killed during 2004 and there were 12 deaths in 2003. On May 16 an accident took the life of a 55-year-old Colorado man when he fell nearly 100 feet from a tower in New Hampshire.


Web stitching investigated following Colorado tower climber's death
May 18, 2005 - An accident at an Air Force satellite tracking base ended the life on Monday evening of a 55-year-old Colorado field engineer when he fell nearly 100 feet from a tower after removing equipment from the structure.
Frank Gantt was reportedly climbing down at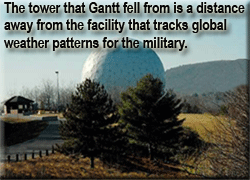 the end of the day and took a break when he fell from the tower at the south-central New Hampshire New Boston Air Force Tracking Station.
The Peyton, Colorado resident had been an employee for the past 14 years of Honeywell Corporation, based out of their Colorado Springs office, according to Honeywell spokesman Bill Reavis, who said that Gantt had a strong work history of safety.
The boresight tower, approximately one mile away from the main facility, is used for communications equipment and to align satellite antennas at the tracking station.
Safety equipment failure cited
Initial reports indicated that Gantt's fall protection equipment failed as he was descending the 400' guyed tower, according to Air Force base commander Lt. Col. Charles Cynamon.
"We don't understand at this point the reason for the fall and the release of the safety harness," Cynamon said.
State Police Sgt. Phil Jepson said that according to other workers that were with Gantt, "He was just leaning back against his harness taking a break while he was secured with his rope. At some point, the harness let go, and as a result, he plunged down." Sgt. Jepson further explained, "It might have been the nylon stitching on the web."
Because the accident happened on a military base, military intelligence is investigating it. However, investigators from the Occupational Safety and Health Administration will also participate in the investigation as well as the state police.
Honeywell has multiple military contracts to perform maintenance services on communications equipment throughout the country. Gantt was working with two other Honeywell employees when he fell.
Gantt was the second Colorado resident to die from a tower fall this year. Thirty-five-year-old Stephan Ballasch was installing an antenna as an employee of Viaero Wireless near Yuma, Colorado on February 25th when he fell from nearly 180 feet.
The small military base with approximately 20 air force personnel and 100 civilian workers provides tracking services for the Department of Defense's meteorological satellite program to collect weather and other data for U.S. military operations around the world. Gantt had previously provided services at the base and knew many people posted and working there.
Gantt is the oldest person to die from a fall in the past three years from a communications tower. Four fatalities this year have been reported. Six employees were killed during 2004 and there were 12 deaths in 2003.

Silence of the Lamm tower death impels others to speak out to prevent future fatalities
March 8, 2005 -- A 24-year-old North Carolina tower erector fell to his death on February 25, and 11 hours later a 35-year-old Colorado tower technician became another fatality when he fell 180'. No recorded tower-related deaths over the years have shown two on the same day in two separate states. Sadly, industry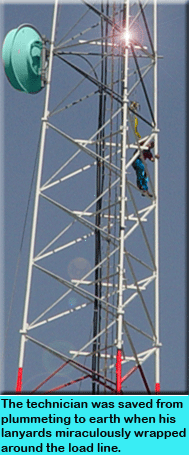 casualties follow a similar thread: The death becomes a short-lived media sensation; OSHA announces an investigation, results of which oftentimes end in obscurity, and the accident becomes buried in bureaucratic statistics as the deceased's family's loss and suffering lives forever.
John Paul Regan was the first fatality of 2005. He fell from a tower consolidator's 160' self supporting tower in North Carolina named "Silence of the Lamm" due to its proximity to Lamm Rd. in Wilson. However, it has been anything but quiet as his and Stephan Ballasch's deaths have provided a valuable industry legacy by inspiring riggers and company owners to publicly discuss accidents so that others will be alerted to their susceptibility of having a catastrophe of a similar nature.
Following the North Carolina accident, a company associate, not at the scene, said that Regan fell after wrapping his positioning lanyard to the antenna pipe and was leaning back. The pipe had only one attachment point and was lose. He said that Regan's weight caused the pipe to roll back. Apparently, a provided fall arrest lanyard was not in use, the employee said. The fellow erector stated that publishing this information might prevent another fellow steeplejack from making the same mistake. OSHA is currently investigating the accident, but it could be months before a report is issued.
Near misses can play vital role in accident prevention
"It's important to analyze why the accident took place," emphasized one company owner whose business employs numerous erection crews, "and I applaud every effort to educate the industry. However, I believe that it is essential that we discuss the near misses as well so that we don't allow history to repeat itself."
Active in industry safety groups, the veteran contractor has provided a harrowing account of a recent near fatality that occurred when one of his employees fell forty feet from a self supporting tower and was miraculously saved when his lanyards wrapped around the load line, precariously stabilizing him for a few minutes until his co-worker could assist him. Please view: Airborne erector cheats death twice!
OSHA and NATE have jointly improved tower safety through education and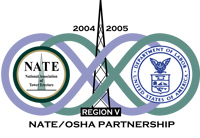 partnership programs. Construction on tower sites is becoming safer, explained Rob Medlock, Region 5 area director during the National Association of Tower Erectors' February conference. He believes that past fatalities have received a high profile, bringing awareness and improvements to the industry. To date, 53 tower companies are participating in a NATE/OSHA partnership program where they receive focused jobsite inspections. No citations are issued when violations are corrected during the inspection, except for serious violations. A national set of guidelines is being proposed for both federal and state use.
Many contractors and safety training companies agree that there has been an extensive education process that has reshaped the industry during the past ten years. They also concur that low bid pressure by national management groups, tower owners and carriers, creates an environment that invites accidents as companies ignore safety training and equipment when they're under pressure to complete the job with a marginal profit, if any.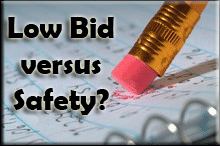 Other erectors don't fully subscribe to the low bidder causation for industry deaths. No matter how much training is provided to the employee and regardless of how much safety equipment and supervision is available, fatalities have also occurred in companies that are known for their unrelenting dedication to worker safety, they point out.
"More often than not, a tower hand hits the ground with a full complement of safety gear," explained Todd Thorin, Chairman of the NATE Safety & Education Committee and Director of Safety and Training for Sioux Falls Tower. Thorin believes that many of the fatalities would have been prevented if tower erectors had practiced what they had been trained to do when working on a structure. He also regards accident and near-miss information as being extremely important in reducing tower deaths.
"I've read near-miss stories and I would think, 'I would never do anything so stupid,' and yet I've accidentally done some pretty foolish things myself in the past," Thorin said, emphasizing the need to continuously discuss near misses and accidents with tower crews. A Sioux Falls Tower tailgate safety meeting last week focused upon the February 25 tragedies.
The National Institute for Occupational Safety and Health (NIOSH) conducts research and makes recommendations for the prevention of work related injuries and deaths and has provided detailed investigative reports of fatalities. State and Federal OSHA will also provide accident summaries many months later, but there is no single repository to obtain this information.
"I'm sure that some of the government's information may be helpful, but it's typically a follow-up to a death that had no witnesses," explained a Northeast erector who requested that his name be withheld. "The fact remains, the only person that can truly tell us what happened so that we can know whether it was an equipment failure or mistake on the climber's part, is the one person that has left our brotherhood," he said.
Following a death, serious injury or even a non-injury occurrence, many company owners are advised by their counsel not to publicly discuss the event. Attorney Mark Lies of Seyfarth Shaw, an international firm that maintains a strong presence in the tower industry, believes that sharing lessons learned is an excellent approach to educating the industry. He cautions, however, that a company should carefully weigh what information they are going to release prior to any final determination by an investigative authority. He has observed numerous incidents where incorrect information released immediately following an accident should have been held until such time as the investigation was completed. "Creating misinformation is worse than not giving any information at all," he said.
Forum introduced to assist in near miss effort
WirelessEstimator.com has introduced a "Near Misses" area in its Discussion Forum where tower technicians can add to posts about near catastrophes or fatalities or present their stories about life threatening incidents that ended with

serious or minor injuries…hopefully, none. To foster the need to share these near misses or fatalities, if requested, the author's name will be withheld.

Second same day tower death shocks wireless construction industry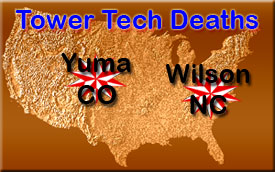 February 25, 2005 – Eleven hours following the first death of the year of a tower worker in North Carolina, another fatality has been reported in Colorado. According to the Denver office of OSHA, 35-year-old Stephan Ballasch was installing an antenna as an employee of Viaero Wireless near Yuma when the accident occurred at approximately 2:00 p.m. He fell from nearly 180', a coworker said. Ballasch, who resided in Wray, is survived by a wife and three daughters.
He had been employed in the industry for less than two years, according to his father who wants the nation to know of the dangers of the profession. OSHA's investigation of the accident could take from one to four months, according to area director Herb Gibson.
Viaero Wireless serves rural subscribers with GSM service in the Nebraska and Colorado markets and employs construction and employees for foundation and installation projects.

North Carolina erector's death is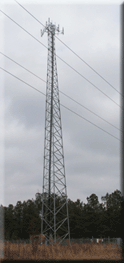 nation's first 2005 tower site fatality
February 25, 2005 -- According to the Wilson County, NC Sheriff's Office, a 24-year-old Roxboro tower erector was killed in an accident that occurred at 3:15 a.m. John Paul Regan reportedly fell approximately 150 feet from a cell tower in Wilson County. Excel Tower Services President Bruce Yim said that Regan was performing a night antenna change out for Alltel on a structure owned by American Tower Corporation. With their corporate office in Wilson and a service office in Durham, Excel Tower Services has a combined leadership experience of over 25 years in the industry. Investigators said Regan reportedly was on the tower with a co-worker when he fastened a safety harness to an antenna on the tower that was not part of the structure of the tower. The antenna came loose and threw Regan away from the tower. An employee of Excel, not at the site, said that he had heard that Regan fell after wrapping his positioning lanyard to the antenna pipe and was leaning back. The pipe had only one attachment point and was lose. He said that Regan's weight caused the pipe to roll back. Apparently, a provided fall arrest lanyard was not in use, the associate said. The fellow erector stated that publishing this information might prevent another fellow steeplejack from making the same mistake.

Tower fatalities compiled by WirelessEstimator.com details this death as the first reported fatality in 2005 of a worker falling from a tower. The last reported death in NC was on 11/14/2003 in Asheboro when a 19-year-old Concord erector fell from a 250' self supporting tower. The state Department of Labor says it's investigating the Wilson County accident, including what kind of fall protection equipment the worker was using. Nationally, six fatalities from falling from a tower structure were reported during 2004, a 50% reduction from the 12 deaths in 2003. The 160' self supporting structure that Regan fell from, pictured above, is located between I-95 and Lamm Road, less than a mile from U.S. 264-A.