Family: Tech's death was due to electrocution
Update: December 28, 2011 - Sixty-one-year-old Nick Rouskey, president of Broadcast Services Tower & Antenna, Inc., died after being electrocuted while
replacing a beacon on the top of a Bonita Springs, Fla. 733-foot tower on Monday, according to Rouskey's daughter-in-law, Amy Rouskey.

She said medical examiners told family members that, according to an autopsy, Rouskey was electrocuted.

However, officials at District 21 Medical Examiner Rebecca Hamilton's Office said they have not released findings and won't issue a cause of death until results of lab tests are received.

The Lee County Sheriff's Office's investigation of the accidental death will not be completed until detectives receive reports from the medical examiner.

OSHA is also investigating the accident.

Rouskey's 19-year-old grandson, Dylan Rouskey, who was assisting Rouskey as a cathead operator at the base of the tower, called Rouskey's wife, Kathy, after losing radio contact with his grandfather around 1 p.m., according to a Lee County Sheriff's Office report. Kathy Rouskey came to the scene and attempted to contact her husband using an air horn, but was unsuccessful. She and her grandson then called 911.

Emergency responders from two counties were dispatched to the scene around 4:40 p.m. When they finally got to Rouskey he was unresponsive. Reaching and bringing him down took about five hours.

A rescue worker said that Rouskey was in a safety harness when they reached him.

Rouskey was a Vietnam Veteran serving in the U.S. Army from 1967-1969, and received a Bronze Star for bravery during his military service.

He is survived by his wife of 41 years, Kathleen (Szymanski); one son, Nick J. (Amy Skomer) Rouskey; and two grandsons, Dylan and Ian. Also surviving are his mother, Patricia J. Sullivan; brother, Chris D. (Patricia) Rouskey, and a special uncle, Nick (Judy) Rouskey. Numerous aunts, nieces and nephews also survive.
- - - - - - - - - - - - - - - -
December 27, 2011 - A tower technician at a Florida broadcast tower site has died, according to authorities who attempted to rescue the man from approximately 700 feet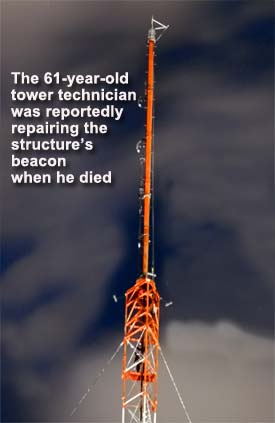 in the air yesterday evening.

Officials say 61-year-old Nick Rouskey, the owner of Broadcast Services Tower & Antenna, Inc. of Cape Coral, was working on the structure when he reportedly fell, getting tangled, rescue workers said.

Rouskey was alone on the tower, Bonita Springs fire deputy chief Frank Giuliano said.
The victim's grandson was working at the base of the tower. It's believed the grandson called rescuers, Giuliano said. The two men were performing electrical maintenance on the tower, Giulian thought, but he said he was not sure.

A station engineer thought that he was changing out a beacon bulb at the time of the accident.

The guyed tower is set back behind Channel 30 Drive, along Old U.S. 41 in Bonita Springs.
The victim's body reached ground at about 9:30 p.m., Giuliano said. Collier County rescuers were dispatched to the scene at about 4:40 p.m., joined by Bonita Springs fire responders, both county sheriff's offices and other agencies.
A group of eight rescuers, including an Urban Search and Rescue team, worked to untangle the man and bring him down.
Officials cut power on the tower during the rescue mission for safety, having the FAA divert aircraft from the area.

They reached the technician about 7:30 p.m. Rescuers then discovered the man was dead.

"At that point it became a body recovery, as opposed to a rescue," Giuliano said. "We slowed down and took our time."

As they were preparing to climb the structure a sheriffs' helicopter circled the tower and reported to rescuers that the man had been unresponsive for almost three hours.

The cause of death remains under investigation, although it appears to be an accident, Giuliano said.

The 733-foot tower is owned by Super Towers Inc. of Manchester, Mass.
-
Tower tech dies following 1,000-foot fall while doing routine maintenance
UPDATE: October 15, 2011 - The tower technician who died on Wednesday in Newton, Mass. appears to be Matthew D. Goodner, 30, of Ford Dodge, Iowa.
A spokesman for the Middlesex County district attorney's office previously confirmed that the worker was a 30-year-old from Iowa, but would offer no additional information since the death was due to an accident.
Yesterday, the Gunderson Funeral Home and Cremation Services in Fort Dodge placed an obituary notice that they were handling the services for Goodner who died on October 12 in Newton, Mass.

- - - - - - - - - - - - - - - - - - - - - - - - -

UPDATE: October 13, 2011 - OSHA will be reviewing information obtained during an on-site inspection yesterday and today to determine if applicable standards were being complied with by a tower technician who fell to his death from a Newton, Mass. 1,253-foot guyed tower.

They will also be investigating whether the contractor, Ultimate Tower Service Inc. of Midlothian, Tex., was in compliance with safety standards. If there were violations, the erector could be issued citations and have fines imposed.

OSHA must complete their investigation within 180 days.

According to OSHA's database, the company has not been issued any citations since its founding in 2004.

Ultimate Tower Service's president is Michael S. Lee.

The decedent's name has not been released.
- - - - - - - - - - - - - -

October 12, 2011 - A worker died today after falling 1,000 feet from a 1,253 foot tower in Newton, Mass., according to fire officials.
The incident happened on Chestnut Street near the intersection of Eliot and Needham streets just before 1 p.m.
The unidentified worker was a contractor who was installing a safety ladder and performing routine maintenance for the tower owner, Boston-based American Tower Corp.

The worker, reportedly from Iowa, worked for a Texas-based company.

"We are deeply saddened by the death of one of our contractors. Our thoughts and sympathies are with his family and co-workers during this difficult time. We are working closely with the relevant authorities and cooperating fully with all inquiries into the cause of this tragic accident," said Matt Peterson, vice president of communications for ATC in a statement.
Peterson said the company suspended all work at the site pending a thorough review of the incident.

Although authorities have said the worker was at approximately 1,000 feet, Peterson said he had no information regarding the actual height.

Jessica Pastore, a spokeswoman for the district attorney's office, said there were other tower technicians on the tower at the time of the incident, but none of them was injured.

No other details were immediately available. The Middlesex County District Attorney's Office is investigating the incident.

The Newton death was the sixth fatality this year of a worker falling from a communications structure.

The tower is used by Clear Channel's WJMN; CBS Radio's WBZ-FM and classic hits WODS; and Boston University's WBUR.

According to FCC records, ATC purchased the tower in 2001 from Intracoastal Broadcasting, Inc.

The tower, a landmark along Route 128, is also used by two television stations in the Boston Market.

Additional details will be provided as they become known.
-
Twenty-one-year-old is industry's fifth fatality
August 15, 2011 - A 21-year-old tower tech fell to his death last Thursday off of a tower near Brookfield, Mo.
He was employed by Hayden Tower Service, Inc. of Topeka, KS.
Jacob Von Kopfman was the fifth tower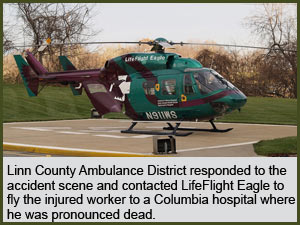 technician to die this year from falling from a communications structure.

The Linn County Sheriff's office, Brookfield Police Department and the Missouri State Highway Patrol said that they had no record of the accident.

Missouri OSHA said the decedent was LifeFlighted to a Columbia hospital where he was pronounced dead, but said they could not provide any additional details about the accident until their investigation is completed.

Jacob Von Kopfman was born on May 8, 1990, the son of Darryl Von Kopfman and Kathy A. (Higgins) Kopfman. He grew up at Burlington, and graduated from Burlington High School in the Class of 2009, where he participated in football and wrestling. He had attended Washburn Rural High School in Topeka his sophomore year.

He then attended and graduated from Missouri Welding Institute in Nevada, Mo.
He had been employed for Blue Dot in Topeka, Schlafly Bottleworks, Northrop Grumman, and most recently for the Hayden Tower.
He leaves his father, Darryl Von Kopfman, Topeka, KS; his mother, Kathy A. Kopfman, Burlington, KS; his twin brother, Jordan Kopfman, Topeka, KS; his sister, Kierston Kopfman, Hays, KS; paternal grandparents, Ray and Karen Kopfman, Jasper, TX; maternal grandparents, Janice Higgins, Camdenton, MO, and Bobby Higgins and wife Linda, Grove, OK; several aunts and uncles; many other relatives and friends.

Services will be held 10:30 a.m. Tuesday at the Burlington Middle School gymnasium.
A visitation will be held 6:30 to 8:00 P.M. Monday at Jones Funeral Home in Burlington.

Memorial contributions may be made to the Topeka Rescue Mission and may be sent in care of Jones Funeral Home, PO Box 277, Burlington, KS 66839.

Founded in 1979, Hayden Tower has been active for many years in promoting industry safety throughout the U.S.
-
Teen technician's death is fourth fatality this year
August 9, 2011 - Services were held this morning for an 18-year-old tower technician who fell to his death last
Wednesday in Hollister, N.C.

Keith Joshua Caleb Stull of Pinnacle, N.C. had been working on a United States Cellular Corporation self supporting tower at 40989 Highway 561 when he suddenly fell from approximately the 50 foot level of the 300-foot structure built in 2008.

He was transported to Nash General Hospital where he was pronounced dead.

Stull was employed by Sink Tower Erection Co., Inc. of Lexington, N.C., a company formed in 1995 by its president, James H. Sink.

Stull was the fourth tower technician to die this year from falling from a structure. View nine year history here.

North Carolina was the first state OSH to develop a communications tower standard and a fall protection standard in 2005.

The NCDOL approved a non-ionizing radiation standard the follow year.

The last fatality in the state of a tower tech falling from a structure was on April 18, 2008 in Frisco.

Born on August 8, 1992 in Snowflake, Ariz. to Charles Kenneth Stull of Pinnacle and Jhonda Anderson of Kentucky, Keith Stull was an avid wrestler in high school.
In addition to his parents he is survived by two sisters; Rhinna Stull of Idaho, and Victoria Stull of Pinnacle; one brother; Charles Michael Stull and girlfriend Amber Brickell of Pinnacle; two uncles Keith Stull and wife Kimberly, and Michael Stull all of Winston-Salem; Grandmother Ellen Graham of Winston Salem; two nieces Sarah and Elizabeth Stull.

Two Texas tower techs die following a gin pole
failure during an Indiana broadcast tower erection
Update: May 1, 2011 - A lengthy 911 call was released (click here) of the request for assistance at the site.

It contains disturbing and heart rending conversations with a tower technician and the dispatcher. It is being presented solely to bring attention to the alarming number of industry deaths witnessed each year that have been reduced to statistics versus the human impact these deaths have on family, friends and crew members.

The call lasted for almost nine minutes until the first responders arrived. The area is served by a volunteer fire department and one ambulance, according to the dispatcher.

The distraught caller told the operator that he already knew that his co-workers were dead.
- - - - - - - - - - - - - - - - - - -
Update: April 14, 2011 - Indiana Occupational Safety and Health officials were again on site today investigating the accident that killed two ERI, Inc. employees yesterday near Colburn.

The tower erectors died after they fell approximately 340 feet. Initial reports indicate that they were attached to a 90-foot gin pole that was being jumped prior to the crew raising additional sections when a rigging failure caused the pole to come free of the tower.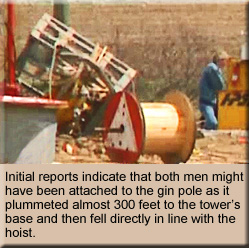 One of the riggers was reportedly still attached to the bottom of the gin pole at the point of impact and the other crew member was found near the top of the pole.

It fell straight down to the base of the structure, narrowly missing the concrete caisson, leaving a four foot deep depression, and then fell over directly in line with a double drum hoist.

It appears that it may have also struck a man basket at the base of the tower.

Vice President of Engineering of ERI's structural division, Ernie Jones, was also at the scene today to assist in investigating how the accident occurred.

IOSHA will be reviewing the crew's hoist, gin pole, rigging and personal protection equipment to ensure that they meet standards in addition to ensuring that a load chart, a pre-lift proof test and other required documentation were on site.

Jones has been dedicated to worker safety for many years. He is co-chairman of the subcommittee responsible for developing the TIA/EIA-PN-4860-Gin Pole Standard.

He is currently the co-chairman of the TIA\EIA TR14.7 subcommittee responsible for writing the proposed industry construction standard for the installation of antenna towers and antenna supporting structures.

Public information officer for IOSHA Stephanie McFarland said that the investigation could take months to complete because of the nature of the accident. McFarland said construction on the tower will not continue until the investigation is over.

Managers from the tower's owner, Schurz Communications, were also on site today along with a representative from their insurance company, Cassady Neeser & Brasseur.
* * * * * * * * * * * * * * * * *

April 13, 2011 - Two Texas tower technicians died this morning after falling approximately 340 feet off of a new guyed tower they were erecting for WXXB-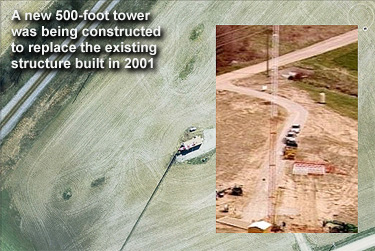 102.9 FM in Indiana.
The Tippecanoe County Sheriff's Department identified the two riggers as Ernesto Garcia, 29, of Laredo, and Paul Aliss, 32, of Mesquite.

They were working at the site with an additional three crew members for Chandler, Ind.-based ERI Inc.

The accident was reported at 8:51 a.m. by a co-worker.

Emergency crews spent much of the morning investigating at the site and the bodies of the two victims were not removed until close to 11 a.m.

Authorities said they fell while they were in the process adding a section or other accessory on the 500-foot tower; however, until IOSHA investigates the exact details will not be known.

Steel or rigging fell as well but no other injuries were reported, Tippecanoe County Sheriff Tracy Brown said.

Initial reports say both men were wearing safety harnesses when they fell, but there was a malfunction with "a parallel support device attached to the tower".

Accident photos show that there was no gin pole remaining at the top of the tower and a man basket was damaged at the base of the tower.

Deputy Coroner Tony Kenner said autopsies will be performed tomorrow.

ERI is replacing an existing 498-foot tower constructed in 2001that is located about 1,500 feet from the new structure.

The tower had to be removed to accommodate the new Hoosier Heartland Corridor.

The county's Board of Zoning Appeals signed off on the new tower construction last August and the work started earlier this spring, according to John Schurz, general manager of the WASK radio group that's building the tower.

WASK is owned by Schurz Communications. Schurz owns 13 radio stations, publishes eleven daily and eight weekly newspapers, has ten television stations, two cable companies, a phone directory and a printing company as well as a number of specialty publications and shoppers.

The tower site is near the intersection of County Roads 600 North and 900 East by Colburn.

Founded in 1943 to develop antennas for military aircraft, in the early 1990s ERI began designing, manufacturing and installing broadcast towers.

It is not known if the erection crew members worked for ERI or were subcontracted to install the tower.

Garcia and Aliss were the second and third tower technicians to die this year after falling from a communications structure.