Web stitching investigated following Colorado tower climber's death
May 18, 2005 - An accident at an Air Force satellite tracking base ended the life on Monday evening of a 55-year-old Colorado field engineer when he fell nearly 100 feet from a tower after removing equipment from the structure.
Frank Gantt was reportedly climbing down at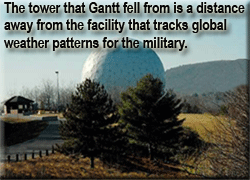 the end of the day and took a break when he fell from the tower at the south-central New Hampshire New Boston Air Force Tracking Station.

The Peyton, Colorado resident had been an employee for the past 14 years of Honeywell Corporation, based out of their Colorado Springs office, according to Honeywell spokesman Bill Reavis, who said that Gantt had a strong work history of safety.

The boresight tower, approximately one mile away from the main facility, is used for communications equipment and to align satellite antennas at the tracking station.

Safety equipment failure cited

Initial reports indicated that Gantt's fall protection equipment failed as he was descending the 400' guyed tower, according to Air Force base commander Lt. Col. Charles Cynamon.

"We don't understand at this point the reason for the fall and the release of the safety harness," Cynamon said.

State Police Sgt. Phil Jepson said that according to other workers that were with Gantt, "He was just leaning back against his harness taking a break while he was secured with his rope. At some point, the harness let go, and as a result, he plunged down." Sgt. Jepson further explained, "It might have been the nylon stitching on the web."

Because the accident happened on a military base, military intelligence is investigating it. However, investigators from the Occupational Safety and Health Administration will also participate in the investigation as well as the state police.

Honeywell has multiple military contracts to perform maintenance services on communications equipment throughout the country. Gantt was working with two other Honeywell employees when he fell.

Gantt was the second Colorado resident to die from a tower fall this year. Thirty-five-year-old Stephan Ballasch was installing an antenna as an employee of Viaero Wireless near Yuma, Colorado on February 25th when he fell from nearly 180 feet.

The small military base with approximately 20 air force personnel and 100 civilian workers provides tracking services for the Department of Defense's meteorological satellite program to collect weather and other data for U.S. military operations around the world. Gantt had previously provided services at the base and knew many people posted and working there.

Gantt is the oldest person to die from a fall in the past three years from a communications tower. Four fatalities this year have been reported. Six employees were killed during 2004 and there were 12 deaths in 2003.


There is a Lesson Learned in the Discussion Forum where a tower technician

witnessed his webbing being ripped apart at the pelican hook while he was leaning out. Fortunately he was tied off with a positioning lanyard which prevented another fatality.Check your safety

equipment every day. You're invited to add a Lesson Learned to assist your fellow climbers.

Copyright © Wireless Estimator, Inc. Please request reprint permission.