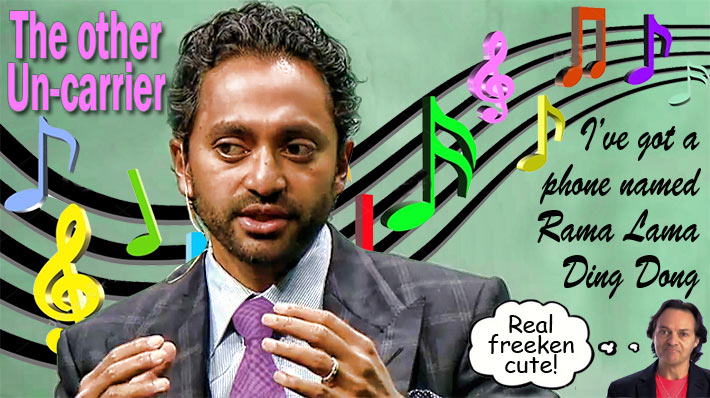 Get ready for two Un-carrier cursing contests
Commentary – The industry salivated a stream of anticipated earnings in 2010 when LightSquared announced its ambitious plans to develop a wholesale national broadband network. Two years later it dried up when the company filed for bankruptcy after the FCC kayoed their plans due to what they believed would be significant GPS interference caused by LightSquared's use of its spectrum.
This week, media introduced a new carrier upstart, billionaire venture capitalist Chamath Palihapitiya's Rama, and the sweet smell of cash wafted again.
The former Facebook executive wants Rama to be a new, modern carrier — one that isn't stuck in a legacy structure.
He announced that undisclosed investors are willing to spend between $4 billion and $10 billion in next year's incentive auction of 600 MHz broadcast TV spectrum to be successful in winning enough airwaves to start a new carrier to shake up the U.S. wireless industry.
Palihapitiya is planning to take on U.S. telecom giants Verizon and AT&T in the upcoming auction.
If Rama ends up winning the spectrum it requires, it is faced with having to start the slow and expensive process of actually building the infrastructure that make up a wireless network.
Palihapitiya said he will be using "microcells," or tiny cell towers installed on people's homes, to help build the network quickly and provide better coverage.
Easier said than done
Although the Telecommunications Act of 1996 prevents communities from restricting the installation of satellite dishes that are less than one meter, as well as TV antennas and wireless cable antennas, it would seem unlikely that municipal governments would allow radio systems at private residences that will provide part of the backbone of his network if they had to be placed on the exterior of homes to provide coverage.
And then there is that small matter of getting the device to meet FCC RF guidelines, and pass muster of condo commandos.
Cursing cousins
Perhaps, the only solution would be to have Rama's microcell co-locate inside T-Mobile's recently unveiled LTE mini-tower.
After all, Palihapitiya and T-Mobile CEO John Legere already share the beginnings of a budding friendship through their elevated enjoyment of scatology and spectrum.
Legere, known for his unadulterated profanity, was upstaged earlier this week when Palihapitiya talked about his current enterprises and his desire to build a network in the U.S. during an interview with Business Insider.
"The first country was Sri Lanka. The second country was the Philippines, and now we've said, 'F— it!' Let's come back to the US and try to f— this country up,'" Palihapitiya said.
Palihapitiya said that he only has another three decades or so left on earth and it was time to "really start f–ing some shit up," in a birthday note in September.
Rama has about a half dozen employees, according to Palihapitiya.
Known as one of the most hardcore poker players among business executives in the country, Palihapitiya has played in several World Series of Poker events. He's also a heavy investor in Bitcoin. Both endeavors are risky, but trying to introduce a new carrier in America is equally as dicey.