UPDATE: Sept. 25, 2015 – Dale Bolton, High Plains Public Radio's director of programming and operations, said today that he has been informed that an American Tower Corporation representative had called another individual within his organization on Friday afternoon prior to taking the KGUY tower down the following morning for safety reasons. However, Bolton said,"They were unable to get to Guymon to do the work, so the station was still on the air when it fell."
---
Radio station KGUY 91.3 FM's listeners out of Guymon, Okla. might have been waiting last weekend for the consuming crescendo of Tchaikovsky's 1812 Overture or another epic ending of a music piece from the High Plains Public Radio-owned classical music station, but were instead treated to deafening silence after a tower crew hired by American Tower Corporation cut the broadcaster's tower down without notifying them, perhaps timed perfectly by the tower techs for it to pancake upon the earth at the end of Siegfrieds's funeral march blasting from their crew cab.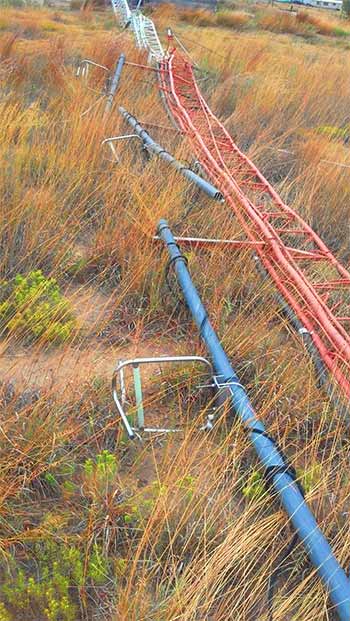 High Plains Public Radio director of programming and operations Dale Bolton said KGUY started receiving calls from loyal listeners that the station had stopped broadcasting, and then the usual equipment checks were made to assess why the station was off the air.
"We were later notified by American Tower that they had cut the tower down over the weekend because a crew had tried to make repairs to the unsafe tower and couldn't," Bolton said.
Bolton said he had previously noticed that the tower appeared to be crooked and stood at "an odd angle." He believes it could have possibly been a problem with the guy wires.
Although Bolton said the tower should be decommissioned if it was a danger to workers and others in the guyed tower's proximity, he thought that "It would have been nice if we were able to give our listeners notice."
"Unfortunately, the tower hit our satellite dish and building," Bolton said when the crew cut the guy wires and let the 418-foot tower fall across an open field.
American Tower acquired the tower last year as part of their acquisition of Global Tower Partners' structures for $3.3 billion.
The unmaintained structure, with KGUY as its only tenant, was purchased by Global Tower in 2004 from Titan Towers which built it in 1982, according to FCC records.
Bolton said American Tower was assisting them in providing an alternative location to broadcast from.
"They have a site maybe two miles from here," Bolton said.
High Plains Public Radio operates a network of 21 FM stations providing public radio service to 78 counties across five states of the High Plains region.
American Tower did not return requests by Wireless Estimator for additional information.