American Tower Corp. Chairman and CEO Jim Taiclet has been named to Forbes Magazine's 2015 Global 2000 CEO Hall of Fame.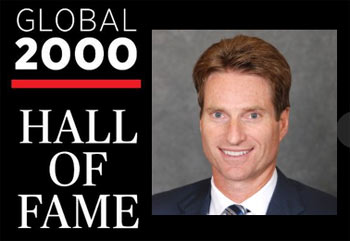 In assembling its 2015 list, Forbes viewed companies that made the biggest move up its list of the world's largest companies during the past ten years. Forbes narrowed that group down to 128 companies that had the same CEO for the entire period and made the list every year.
In the Forbes article, Taiclet pointed to the insatiable global demand for information that is driving the rapid rollout of the mobile Internet around the world.
"Only 5% of the world population is in the U.S. and the other 95% are going to want to be able to do all the same things with data," said Taiclet.
Taiclet took the company from turbulent times to prosperity
In 2001, American Tower CEO and founder Steven Dodge was reviewing recruiter candidates for the company's COO, and was impressed with Taiclet.
On Taiclet's first day at the company's corporate headquarters in Boston, Dodge brought him into the company's board room, where then COO Doug Wiest was assessing development plans with regional vice presidents and other executives, and introduced the former President of Honeywell Aerospace Services.
Whether someone from outside the industry could turn around a company with almost $4 billion in debt and no profits was a frequent topic of discussion at a time when the company's stock was plummeting and some Wall Street analysts were chiseling the company's tombstone.
In October 2002 the company's stock traded at a low of 60 cents.
But Taiclet quickly changed the company's business model of 'build it and they will come' to a more structured environment.
In 2003 Taiclet succeeded Dodge as CEO and he began selling off companies American Tower had acquired such as Flash Technology. It also sold its construction services group with 24 offices and 340 employees in 2004 to Andrew Corporation.
Its subsidiary, Verestar, which sold satellite and fiber access, and had acquired 13 other companies, declared bankruptcy in 2003.
In 2005 the company acquired rival Spectrasite Inc., and in 2009 the company's fourth quarter profit was $85.8 million compared to a loss of $5.5 million a year earlier.
Revenues for 2014 were $4.1 billion, a 22% increase over the prior year with a net income of $825 million. The company recently paid Verizon $5.1 billion to take over its 11,489 towers.
For the past three months American Tower's stock has been trading just below $100.