Sen. Richard Blumenthal (D-Conn.) and Rep. Anna Eshoo (D. Calif.) have raised concerns to the FCC in regards to radio frequency radiation and the impact such exposure can have on tower technicians and other workers not involved in wireless work such as HVAC technicians and electricians. They're also concerned about residents who might be exposed to excessive RF exposure on an unmarked rooftop.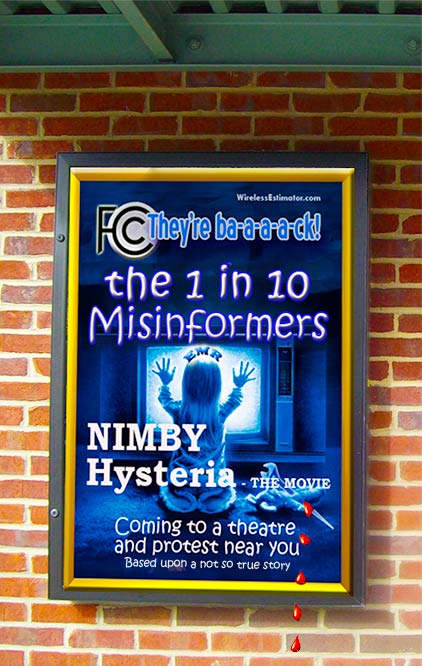 However, their concern is partially based upon an Oct 2, 2014 article in The Wall Street Journal that  identified that one in 10 sites violates federal rules for marking and barricading locations that can be a risk for workers and residents.
The WSJ article's compliance findings were based on data from professionals such as RF engineer Richard Tell, but they were primarily identifying cell sites on rooftops that didn't have the proper signage to alert workers and residents to not enter a designated area, not cell towers.
There has been no known study by the FCC or any other agency or organization such as the EMR Policy Institute, or by any RF engineer that can document that one in 10 of all cell sites, the majority on towers, do not meet FCC guidelines.
But a number of media outlets are already using that flawed interpretation, following the release of Blumenthal and Eshoo's letter.
Since most reporters do not have a working knowledge about the industry, "tower" is typically used incorrectly in their headline instead of identifying that it is primarily unmarked rooftops and their emitting antennas that are a concern of the legislators.
Although there have been some instances where a tower has not been properly fenced or posted with proper signage, tower sites are secure and properly marked, as required by the FCC. But anti-tower-siting advocates will most likely use Blumenthal and Eshoo's comments to raise undocumented concerns.
Lawmakers estimate 250,000 work around cellular antennas
In a Sept. 17, 2015 letter sent to FCC Chairman Tom Wheeler, below, the legislators "write with concern for the health and safety of the estimated 250,000 people who work each year in close proximity to cellular antennas and may be exposed to radiofrequency radiation in excess of the Federal Communications Commission's human exposure limits."
The letter continues to address that recommendations provided by the FCC to wireless carriers for the use of signage, barricades and training have not been consistently implemented within the industry. Installing the correct RF sign is an important aspect of achieving compliance, reducing liability exposure and reducing risk to personnel.
Blumenthal and Eshoo reference a NPRM (Notice of Proposed Rulemaking) for advances in new specific requirements for ensuring licensees comply with exposure limits and they urge the FCC to move swiftly to finalize, consulting with OSHA. What these new additional rules are is yet to be seen but it is clear that these legislators are pressing for correction to RF warning signs that are found missing, mislabeled and barricades and fences in disrepair. With an emphasis to the safety of the American worker.
Although some industry observers believe that while protection from excessive RF fields is extremely important, the industry will hopefully not get engulfed with excessive and inept applications of these rules and new rules to come.
PCIA addresses the primary issue, rooftops
PCIA – The Wireless Infrastructure Association, issued a statement Friday, focusing upon rooftops and not cellular towers where compounds are secure, signage is present, and tower technicians are required to have RF exposure training as well as employ RF measuring tools.
"PCIA shares Senator Blumenthal and Representative Eshoo's concerns for the health and safety of wireless industry workers.  Since the FCC's renewed action in this space in 2013, PCIA has remained engaged in this important discussion. In fact, last month, we met with FCC's Office of Engineering and Technology and its Enforcement Bureau to discuss the Commission's proposal to revise the Maximum Permissible Exposure-based exemption threshold criteria for fixed transmitter sites located on rooftops.  Rooftops are by their nature varied, with different layouts, different landlords, and a variety of workers, regular and transient, requiring access.  Because of this variety there is no one-size-fits-all solution, " PCIA said in a statement.
"We will continue to work with federal, state, and local policymakers to ensure that the industry is doing everything it can to ensure the health and safety of its workers, including the provision of ongoing education and compliance training."
---
U.S. Sen. Richard Blumenthal (D-Conn.) and Rep. Anna G. Eshoo's letter to FCC Chairman Tom Wheeler
Dear Chairman Wheeler,
We write with concern for the health and safety of the estimated 250,000 people who work each year in close proximity to cellular antennas and may be exposed to radiofrequency radiation in excess of the Federal Communications Commission's human exposure limits. Excessive exposure to RF radiation leads to well-documented potential harms, especially to workers who spend time near the antenna and in the line of the antenna's beam. At sufficient power levels and exposure durations, RF radiation has the ability to heat biological tissue. Thermal effects can include eye damage, sterility, and cognitive impairments.
Even though the FCC recommends that wireless carriers control exposure to harmful RF radiation using safety protocols such as signs, barricades, and training, it has come to our attention that these recommendations have not consistently been implemented to protect workers.
We urge the FCC and the Occupational Safety and Health Administration to work together to enforce exposure limits and ensure wireless carriers are taking the required precautions to protect the safety of all persons who may be exposed to dangerous levels of RF radiation near wireless towers.
To close gaps in their networks and to satisfy the voracious consumer demand for their services, wireless carriers depend on leasing rooftop space and building access from property managers. As a result, cellular antennas are now found atop all kinds of buildings, including apartment buildings, schools, hospitals, places of worship, fire stations, communication towers, and other public and private buildings. Even our nation's cellular towers, which are generally free-standing structures with restricted external access, also pose both RF radiation and climber safety occupational hazards that need to be addressed to protect the workforce.
Rooftop and building mounted antenna sites also endanger not only the wireless industry's trained RF technicians but also roofers, water proofers, electricians, carpenters, building maintenance personnel, HVAC technicians, painters, firefighters, and other workers who may come in close proximity and be placed at risk of RF injuries.
While wireless carriers take important precautions, such as outfitting their employees with protective equipment, providing RF exposure monitoring units, and even powering down antennas to eliminate the RF radiation hazard, their subcontractors and unaffiliated third-party workers are not regularly afforded these same protections. These subcontractors and third parties often receive no RF safety training and are left on their own to determine the existence, location, and degree of the RF radiation hazards.
Further complicating the situation, RF radiation cannot be felt, and many cellular antennas these days are constructed in a camouflage style and made to look like part of the buildings they are attached to. Known as "stealth antennas," they can be undetectable to the untrained eye. This practice further hinders efforts by even the most earnest workers to properly protect themselves. It is crucial that workers are able to take steps to safeguard themselves from the RF radiation.
A report last October from the Wall Street Journal revealed that one in ten antenna sites does not adhere to FCC guidelines for providing the appropriate level of awareness and control to workers who may be exposed to RF radiation above the limits for the general population. In addition, last year, Verizon Wireless and the FCC's Enforcement Bureau entered into a consent decree for Verizon's alleged violations of RF exposure limits at rooftop antenna sites in Hartford, Connecticut and Philadelphia, Pennsylvania. It is unacceptable that RF warning signs have been found missing, mislabeled, unintelligible, or out-of-date, and that strategies to control access (e.g. barricades, locks, and fences) are in disrepair.
In light of these problems, the FCC has a responsibility to ensure the existence of – and compliance with – a comprehensive worker-safety framework.
We are pleased that the FCC's March 27, 2013 Report and Order reminds FCC licensees of their obligation to address worker exposure issues, and clarifies that workers subject to the occupational limits must be fully aware of and able to exercise control over their RF exposure. We have also noted that the Further NPRM advances new specific requirements for ensuring licensees comply with exposure limits under the different RF exposure categories.
We urge the FCC to move swiftly to finalize the Further NPRM, and to consult with OSHA and others to ensure that the final rule is effective. We also expect that in the interim, the FCC, in collaboration with OSHA, will continue to proactively enforce all existing requirements, including tower-climber safety, and hold accountable all licensees that fail to implement the safeguards required to protect workers.
We look forward to hearing what next steps you have planned to make sure that the expansion of our telecommunications infrastructure does not come at the expense of the health and safety of hardworking Americans. Thank you for your attention to this very important occupational health and safety matter.