At every CTIA show there are a number of great product introductions that attendees surgically dissect, especially contractors, who want to see if evolving technology will help them to cut down on their installation expenses. Equally as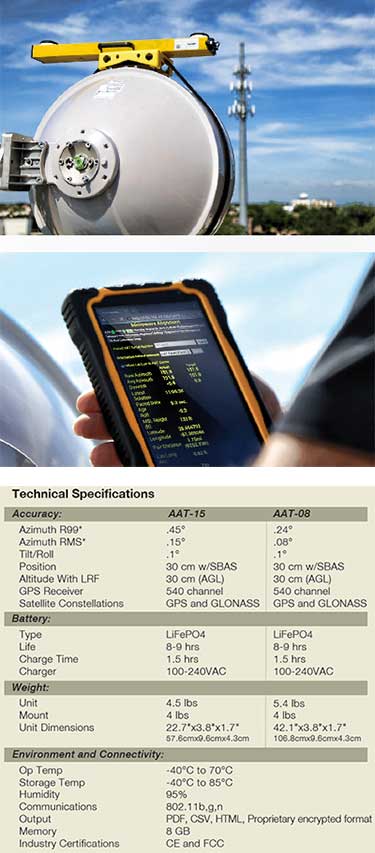 important, however, they want to ensure that it will allow them to avoid return trips.
For companies doing microwave path alignment, Sunsight Instruments can clearly say yes to both concerns regarding their new path alignment kit that will most likely change the wave microwave antenna alignment is done in the future.
Sunsight's new product is clearly able to align microwave antennas in minutes and not hours, and even in some cases days, without having to rely upon bulky time-consuming equipment.
Their all-inclusive kit is easy to use and can align backhaul antenna links up to 150 miles to the exact position on the path node so quickly that contractors will find that they can do multiple sites in one day.
Also, battery life is almost double current path alignment equipment and a full charge takes half the time.
The unique and innovative tool provides state-of-the-art design, efficiency and accuracy. The lightweight and sturdy alignment device eliminates guesswork that oftentimes eats up hours on the jobsite.
The system automatically calculates exact alignment requirements in real-time and provides the user simple targets for pathing the link. No additional software, post processing, or cables are required.  And the feed line can remain in place while pathing is being performed.
If you want to learn more about their kit for fast alignment of wireless backhaul links that can quickly, simply and accurately align point-to-point, short-haul and long-haul links, you can visit Sunsight Instruments at Booth #4661 at CTIA 2015 or request a private demonstration during the show by clicking here.
Or if you would like additional information regarding the path alignment tool, contact sales@sunsight.com .