Business relationships have an average shelf life of less than five years primarily because there is a lack of cohesiveness in shared visions. Tower owner SBA Communications and ExteNet Systems, a neutral host provider with some of the most profitable DAS locations in America, fit that model and decided to call it quits after five years, even though they seemed to have a relationship that would never see SBA's investment embers grow c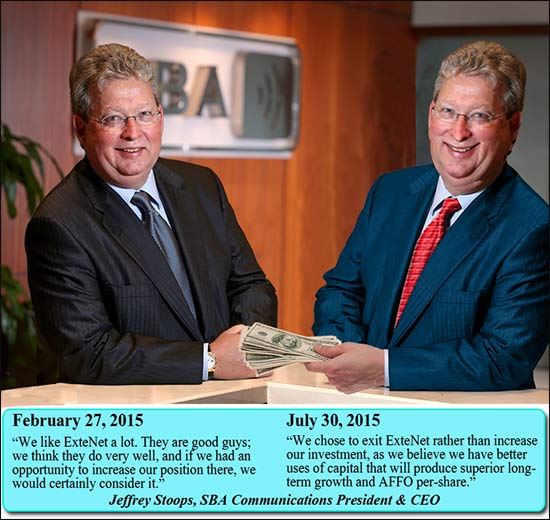 old.
ExteNet's craving for cash for a capital intensive business, and tower owner Digital Bridge's desire to fill that need with what SBA thought was too much and an unwise investment of their funds saw SBA end the DAS love affair that had the company's CEO five months ago proposing to ExteNet for a greater commitment.
ExteNet and SBA began courting each other in 2010 and SBA at that time gave cash and its DAS assets acquired from LighTower and Mobilitie to ExteNet for a 20% interest in the Illinois-based company.
SBA championed DAS and ExteNet over the next five years, promoting it on their website, and in February of 2015, Jeffery Stoops, President and CEO of SBA, said that if he had an opportunity to increase his position in ExteNet, he would certainly consider it.
Epiphany or poor use or capital kept SBA from spending 10,000,000 Franklins
However, Stoops appears to have had an epiphany or did some serious numbers crunching five months later, dissing DAS and personally cutting SBA's relationship with ExteNet when he would not match Digital Bridge and Stonepeak Infrastructure Partners' reported $1 billion-plus offer, stating in a conference call last week, "we prefer the macro site tower business, given our history, experience, and the business model's proven success, operational leverage, and financial advantages."
Stoops went on to state that SBA chose to exit ExteNet rather than increase their investment, "as we believe we have better uses of capital that will produce superior long-term growth and AFFO per share."
Last week, ExteNet announced a restructuring, where its current investors, including SBA, will exit and a new investment group led by SBA's Boca Raton, Fla. competitor, Digital Bridge, will come in.
Stoops said that when the settlement papers are inked, "and when it is all said and done, we expect a return of more than two times our initial investment of nearly $43 million."
Stoops: Customer small cell spending provides reduced margins
"We have been investors in ExteNet for over five years and had a front row seat to watch the development of this DAS and small cell business," Stoops said, stating that SBA learned a lot throughout the years, telling analysts that there are 30 other reasons why "we simply prefer the macro site business."
"In no way do we believe our macro site tower business will be negatively impacted by small cells in general, or specifically by our decision not to increase our investment in small cells. We will continue to allocate resources to non-macro site technology, with a primary focus on accommodating non-macro site technology on the over 30,000 sites we own or manage around the globe, where we have capital efficiency, exclusivity, contract advantages, and a traditional real estate structure," said Stoops.
Stoops said that SBA is currently seeing a demand for small cells on their towers. "We've leased up a fair number of positions at approximately the 20 to 30-foot level which, of course, is typically an open spot on the tower and a great incremental source of revenue for us."
However, overall, Stoops said that small cells "is the lower margin, capital intensive loan cycle business, which is currently and we think is going to stay a relatively small percentage of our customer spending…".