Companies, organizations and individuals recognized for distinguished level contributions
The Tower Industry Family Support Charitable Foundation today announced the list of founding donors who have made distinguished level contributions to the Foundation since the organization's official launch in September 2014.  The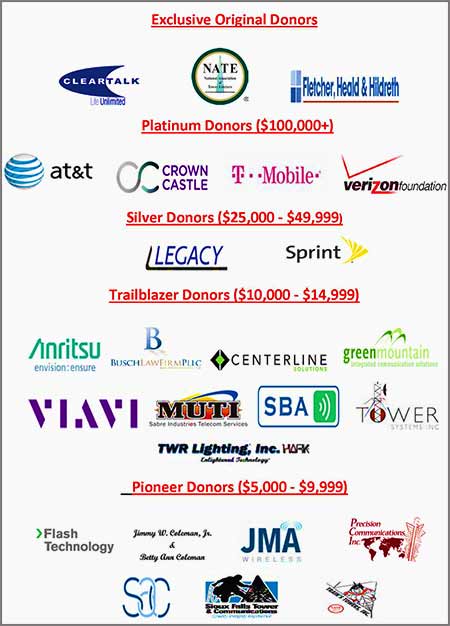 Foundation made the official announcement at CTIA's "Super Mobility Week" in Las Vegas, Nev.
The non-profit Foundation has been established to help provide financial assistance to family members of a severely injured, permanently disabled, or deceased tower worker injured or killed in an accident stemming from working at heights on communication structures or other on-the-job related activities that tower workers are involved in on a daily basis.
The following companies, organizations and individuals have achieved Founding Donor status through their generous distinguished level contributions:
Exclusive Original Donors: ClearTalk Family of Companies, Fletcher, Heald & Hildreth, PLC, National Association of Tower Erectors
Platinum Donors ($100,000 +): AT&T, Crown Castle, T-Mobile, Verizon Wireless
Silver Donors ($25,000 – $49,999): Legacy Telecommunications, Inc., Sprint
Trailblazer Donors ($10,000 – $14,999): Anritsu,  Busch Law Firm PLLC, Centerline Solutions, Green Mountain Communications, MUTI – Sabre Industries Telecom Services, Partner Telecom Services, LLC, SBA Communications, Corporation, Tower Systems, Inc., TWR Lighting, Inc., Viavi Solutions
Pioneer Donors ($5,000 – $9,999): Flash Technology – SPX Corporation, Jim and Betty Ann Coleman, JMA Wireless, Precision Communications, Inc. SAC Wireless, Sioux Falls Tower and Communications, Train's Towers, Inc.
"We are honored to recognize the companies, organizations and individuals who have achieved founding donor status," stated Foundation President Jim Tracy of Legacy Telecommunications, Inc. in Burley, Washington. "These generous contributions have been instrumental to the Tower Family Foundation's early success and are already making an indelible impact by allowing the organization to fulfill our mission of taking care of tower workers and their families," added Tracy.
In order to publicize these generous financial commitments, the official logos of the distinguished contributors are being promoted on the Founding Donor scroll on the Tower Family Foundation's website at www.towerfamilyfoundation.org.
"The Tower Family Foundation has already provided $45,000 in direct financial assistance to eligible tower workers and their families in the short time the organization has been in existence," said Advisory Committee Chairman Cliff Barbieri of Advanced Tower Services in Albuquerque, New Mexico. "The industry has really stepped up to the plate to support this worthy cause," exclaimed Barbieri.
Interested stakeholders are encouraged to visit the Tower Family Foundation's website at www.towerfamilyfoundation.org to learn more about the organization and make an online contribution.