Townsquare Media is the latest broadcaster that sees the benefits of selling their broadcast towers that they see as a valuable, but unnecessary asset. The company has announced a deal to sell 43 towers to Vertical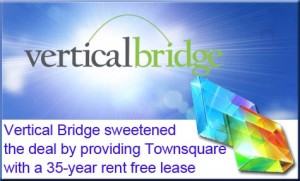 Bridge, a company owned by Digital Bridge Holdings for $22.8 million.
However, Townsquare will still keep 250 towers, which Vertical Bridge will market to add additional tenants in a revenue share arrangement with Townsquare.
Steven Price, Townsquare's CEO, said the deal "unlocks capital" and makes better use of assets the company hasn't marketed to their best advantage.
Price said, many of their towers  don't have many additional tenants.
Price said the agreement is basically a 35-year, rent-free lease for its existing stations on the 43 sites.
"This deal makes a lot of sense for our company," Price told investors yesterday during the company's quarterly results call.