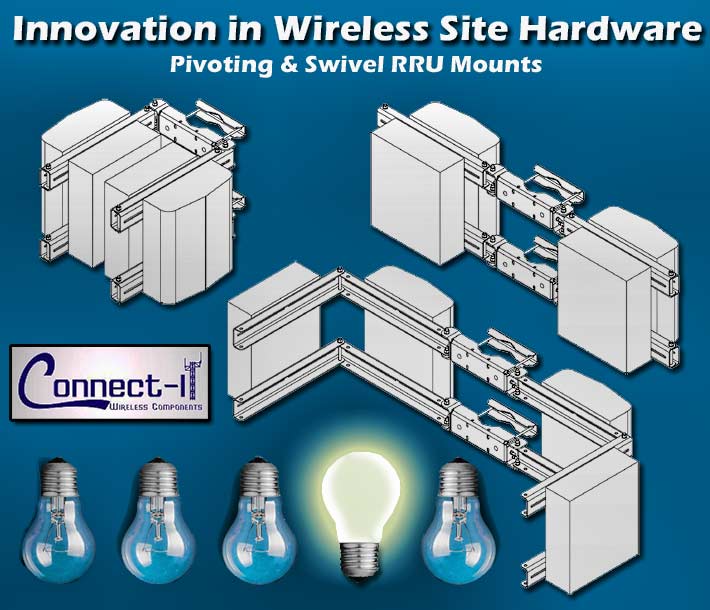 Connect-It Wireless Components, a leading manufacturer and supplier of thousands of site hardware and component products, has introduced its newest industry offerings, pivoting and swivel RRU mounts to keep remote radio heads close to the antennas and allow for easy maintenance and simplified installations with the included mounting arms that swivel the radio heads to a single face.
The mount, pictured above, holds 4 RRUs. Connect-It also has available for immediate shipping their 2 RRU mount. Additional information is available here.
According to the company's co-owner, Jim Schultz, "a number of carriers and contractors have already purchased the new RRU mounts and appreciate their flexibility and ease of installation, and the easier radio head maintenance environment that they provide."
Product Features:
– Provides a secure, low-profile support for multiple remote radio heads.
– Minimizes loading and visual impact of structure.
– Designed with slotted mounting holes.
– Mounts on pipe up to 4-1/2″ OD and angle member up to 3″.
– Hot dip galvanized.
Product Specifications:
– Fits Round Member: up to 4-1/2″ OD.
– Fits Angle Member: up to 3″.
– Weight: 39 – 113.7 lbs.
– Sold as kit.
For additional information about Connect-It Wireless Components, you can visit their web site and also their Wireless Estimator Blue Book pages.