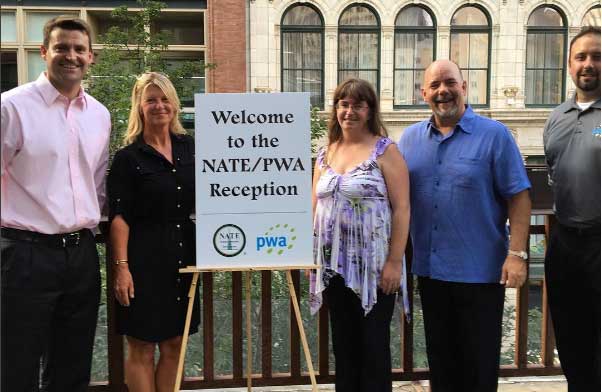 Last night, the Pennsylvania Wireless Association (PWA) and National Association of Tower Erectors (NATE) partnered to co-host a wireless industry networking reception. The event was held at the Sienna Mercato Italian Restaurant's Il Tetto Rooftop Garden in downtown Pittsburgh. The reception venue is renowned for boasting some of the best and most unique views of the "Steel City".
The PWA-NATE event was held in conjunction with the 2016 NATE Summer Conference. Stakeholders representing wireless carriers, tower owner/vertical realtors, infrastructure vendors, contractor firms, equipment suppliers and training companies attended the reception.
The PWA is a non-profit professional association comprised of members of all sectors of the wireless industry. These individuals are committed to educating customers and public officials about our industry and the critical role it plays in Pennsylvania. PWA's goal is to cultivate relationships between the various members of the industry and the local communities they serve to help ensure the continued growth and development of the industry.
"I would like to thank the Pennsylvania Wireless Association for co-hosting this reception with NATE," stated Executive Director Todd Schlekeway. "PWA is a dynamic organization and provided great hospitality to NATE during our Summer Conference festivities," added Schlekeway.