President-elect Donald Trump said yesterday that SoftBank Group Corp., the parent company of Sprint Corp. will invest $50 billion and create 50,000 jobs in the United States.
Making the announcement standing next to Masyoshi Son, Sprint Chairman and CEO of SoftBank, which owns more than 80 percent of Sprint, neither Trump nor Son  mentioned Sprint other than Son stating that they owned the carrier.
"We were talking about it, and then I said I'd like to celebrate his presidential job" because Trump will advocate deregulation, Son told reporters with a quickly cobbled PowerPoint slide, also stating he would invest in "new companies, startup companies in the United States."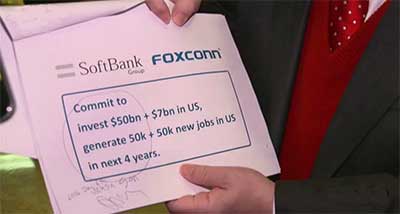 But don't expect reams of purchase orders for new greenfield sites or other Sprint projects, or an announcement of a huge capex increase since most analysts believe that carrier will continue to be frugal with its network buildout expenses as it tries to self-fund a turnaround effort by borrowing against its assets.
However, with the announcement, Son might be testing the regulatory waters if he were to buy T-Mobile.
Son held up the signed printout showing the names of Soft Bank and Foxconn, the China-based supplier to Apple and Samsung, pledging another $7 billion and 50,000 more jobs in America.
Trump called Son "one of the great men of industry" and thanked him for his commitment.
Sprint's stock was up almost 9% on Wednesday, but the move could possibly be attributed to the carrier's announcement of its exclusive wireless partnership with Niantic, the publisher and developer of "Pokemon Go."