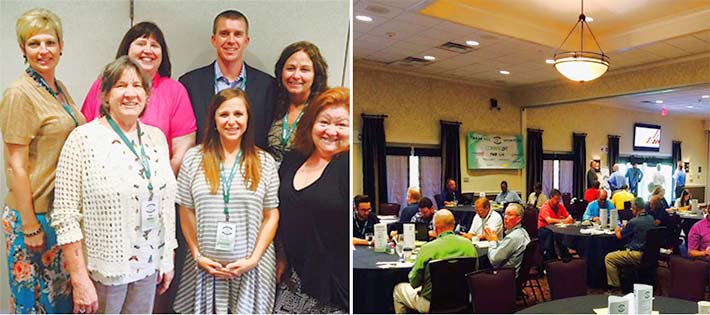 The National Association of Tower Erectors (NATE) has reported that the second NATE Regional Meeting held on Tues., June 7 at the Texas Star Golf Course Conference Center in Euless, Tex. was a tremendous success. The meeting focused on key industry safety and health initiatives and offered excellent networking and professional development opportunities for meeting attendees.
"This was such a successful event because so many people came together and supported it; from the NATE Board of Directors, committee and subcommittee members, sponsors, guest speakers, and both current NATE members and non-members," said NATE Regional Meeting Subcommittee member, Diane Mueller of Primus Electronics in Morris, Ill.
"We hope to have more Regional Meetings in the future to continue to spread the word about NATE and safety, and create additional opportunities to network and share issues and ideas among others in our industry. Since the first meeting that was held in Kankakee, Ill., we have added more in-depth informational sessions and increased the number of speakers and networking opportunities. We are continually listening to the members and expanding our Regional Meetings to meet the needs of our current members and potential new members. I look forward to our next NATE Regional Meeting in the Northeast and many more to come." added Diane.
The NATE South Regional Meeting showcased the following educational sessions:
National Wireless Safety Alliance (NWSA)
Phil Larsen – President of Telecommunications Services, HAZON Solutions LLC
Future of Mobility
William (Bill) Moten – Solutions Development Manager, TESSCO Technologies
Tower Modifications and Inspections
Don Doty – Regulatory Compliance Advisor, FDH – Velocitel, Inc.
Gregg Fehrmann – Director of Broadcast Programs, American Tower Corporation
Gordon Lyman – CEO, eSystem Training Solutions
Pat Moore – Vice President of Operations, FDH –  Velocitel, Inc.
James Ruedlinger – Registered Professional Engineer, Crown Castle
Communication Towers: OSHA Enforcement and Outreach
Jack Rector – Fort Worth Area Director, OSHA
"Thank you to our speakers, sponsors, and everyone who attended. Challenging information was presented, which in our eyes was a goal achieved to better ourselves and the industry we are part of," stated NATE Regional Meeting Subcommittee Chairman Tommy Lewis of Hayden Tower Service, Inc. in Topeka, Kan.