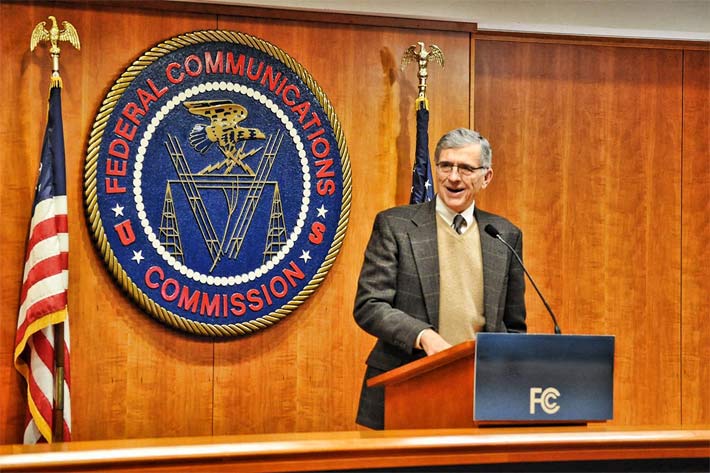 Federal Communications Commission Chairman Tom Wheeler has announced that he will leave the agency on Jan. 20, 2017 when President-elect Donald Trump is sworn-in.
The change will give President Trump an immediate 2-1 majority on the Commission.
"Serving as F.C.C. Chairman during this period of historic technological change has been the greatest honor of my professional life," Wheeler said in a statement this morning.
"It has been a privilege to work with my fellow commissioners to help protect consumers, strengthen public safety and cybersecurity, and ensure fast, fair and open networks for all Americans," the statement said.
Wheeler's departure will follow the exit of Democratic Commissioner Jessica Rosenworcel on Jan. 3 after her re-nomination failed to win Senate approval.
Earlier this month, Wheeler said he would be willing to exit the commission if it meant the Senate would vote to confirm Rosenworcel, who was unanimously referred to the full Senate for reconfirmation by the Senate Commerce Committee last December.
Trump's transition team met with Wheeler and his commissioners on Tuesday. Transition team member Jeffrey Eisenach has previously said one of the two Republican commissioners, Ajit Pai or Michael O'Rielly, will be named interim chairman once Wheeler departs.
"Chairman Wheeler led the FCC during a time of important technological change within the wireless industry. He understood the vital need for increased wireless infrastructure," said Jonathan Adelstein, President and CEO of  the Wireless Infrastructure Association. "We thank him for his public service and his commitment to the issues our industry sees as key to the future of mobile communications. Under his leadership, the FCC successfully sped up processes to upgrade infrastructure to 4G and cleared the runway for 5G deployment. WIA is grateful to Chairman Wheeler and his staff for working with us on multiple fronts to streamline the regulatory environment and deliver mobile broadband to more citizens across the country."