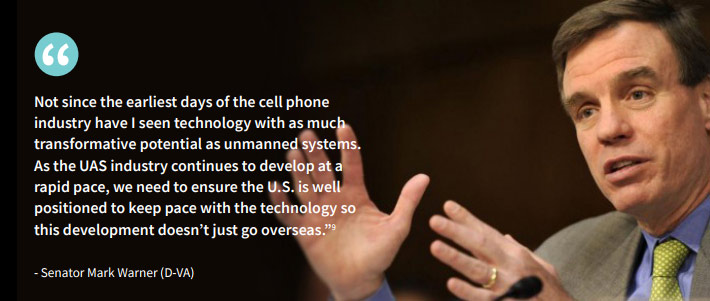 CTIA, the wireless association, today called on the Federal Aviation Administration (FAA) to recognize that commercial wireless networks offer the best communications platform to support America's fast-growing drone market. CTIA and the wireless industry are working with policymakers to boost investment, innovation and jobs by creating a national framework for FAA management of U.S. drone airspace.
CTIA's call comes as the FAA looks to establish the first federal rules governing how drones should communicate with each other and the surrounding environment. The FAA is expected to open a formal rule-making process in early 2018 to address which spectrum platform would best serve unmanned aviation services (UAS) communications. Unlike other approaches, commercial wireless networks offer the best availability, reliability, and security for the drone industry to thrive.
"Commercial drones will help industries from energy to agriculture and logistics while enhancing public safety, but they will need the wireless industry's networks to reach their full potential," said Meredith Attwell Baker, CTIA President and CEO said in a statement. "It's important that the federal government get this right by recognizing that  U.S. wireless providers offer the best, most widely available and safest platform for future drone communications which will be further enhanced by next generation wireless."
CTIA is convening leading players in the drone space, including Amazon, AT&T, Qualcomm and Verizon, for a meeting of its Drone/UAS Working Group on Tuesday. They will be joined by key government stakeholders from the Administration, FAA, the Department of Transportation, NASA, and the Department of Homeland Security to discuss CTIA's call to action and the recommendations of its white paper, 'Commercial Wireless Networks: The Essential Foundation of the Drone Industry'.
Drone use has surged in recent years, and while over 800,000 drones have been registered across the United States, mostly by recreational users, the opportunities for commercial drones promise much broader economic and consumer benefits. By 2020, the FAA forecasts that seven million drones will be sold to commercial users. Industry experts forecast this will spur tens of billions of dollars in investments and create tens of thousands of new jobs.