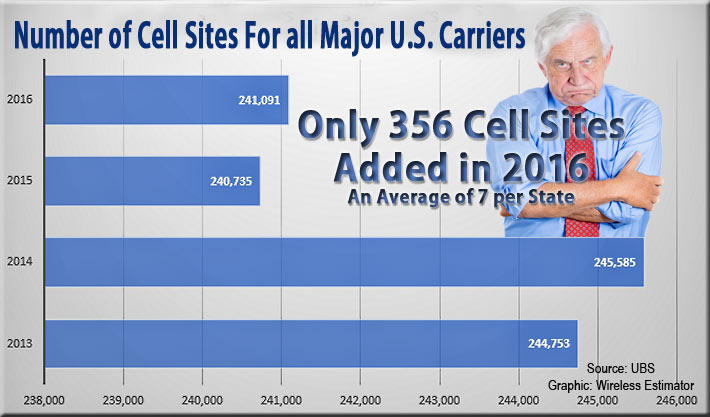 Carriers captured high grades for competitiveness, according to  the FCC's Twentieth Mobile Wireless Competition Report, an annual analysis of whether there is effective rate rivalry with wireless operators
Although the 34-page report provides a wealth of additional information to support competitiveness, according to Jonathan Adelstein, President and CEO of the Wireless Infrastructure Association (WIA), anybody who has turned on a television knows from being bombarded with commercials that wireless is a competitive industry.
"WIA is pleased the new leadership at the Commission confirms what we have known for years: there is a price war going on in a highly competitive industry. Prices don't drop by double-digit percentages – all while bandwidth per customer goes up – unless the wireless industry is competitive. Our industry has single-handedly dropped the entire U.S. CPI!," said Adelstein.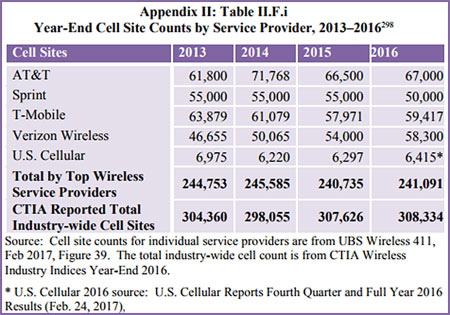 "The report correctly shows that consumers are benefiting from a choice of wireless providers, lower and multiple pricing plans, expanded data capacity and different service offerings. The competitive nature of the industry has afforded the ability to both invest billions of dollars into the network, while providing consumers ever lower cost per megabit," Adelstein said in a statement.
One of the report's charts (at right) identifies the cell site counts of the five major carriers from 2013 through 2016. The material was provided by UBS Wireless 411.
Sprint's site totals for 2013, 2014, and 2015 were at 55,000 sites. Last year they dropped to 50,000 which could have been due to Nextel leases expiring.
According to UBS, there was less than modest growth in cell sites this year of only 356 sites.
CTIA reported growth in 2016 of 708 sites from the 307,626 total U.S. sites in 2015.
Industry observers believe that the strong competitive report should assist in a T-Mobile/Sprint merger approval by regulatory authorities if the carriers reach an agreement.