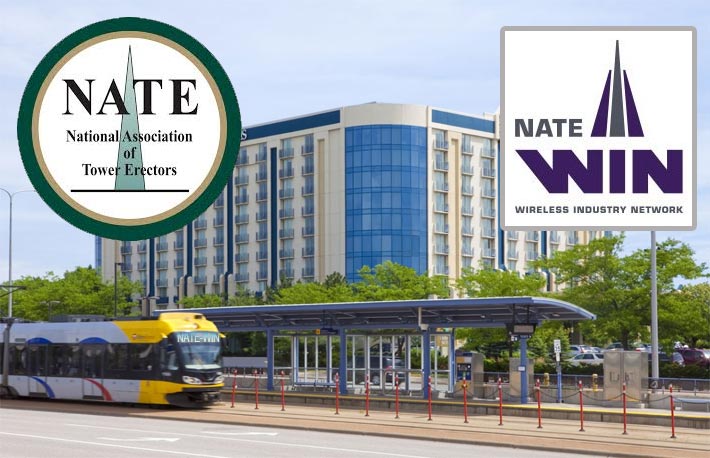 The National Association of Tower Erectors (NATE) and the Wireless Industry Network (WIN) have announced that they will be hosting a Great Plains Regional Conference on Sept.27, 2017 at the Embassy Suites Hotel – Minneapolis Airport in Bloomington, Minn. The conference will focus on key industry safety initiatives and offer tremendous networking and professional development opportunities for attendees.
"This event will offer great educational and networking opportunities as speakers from all facets of the wireless telecom ecosystem will present programs on cutting edge topics," stated WIN Director Scott Krouse. Presentations will include guyed tower anchor corrosion, unmanned aerial systems, stadium DAS, legal and risk management issues within the industry, and other topics yet to be announced.
NATE members and non-members alike are encouraged to attend this conference. The cost to attend the Great Plains Regional Conference is $75 per person which will include a continental breakfast as well as lunch. Interested attendees are encouraged to register by completing the Registration Form on the NATE website. All completed registration forms and payments should be emailed to nate@natehome.com or mailed to the NATE office (8 Second Street SE, Watertown, SD 57201) by the registration deadline of Monday, September 11, 2017.
Sponsorship opportunities are available. CLICK HERE to become a sponsor for the NATE WIN Great Plains Regional Conference!
For more information on NATE, WIN and the Great Plains Regional Conference, visit www.natehome.com.