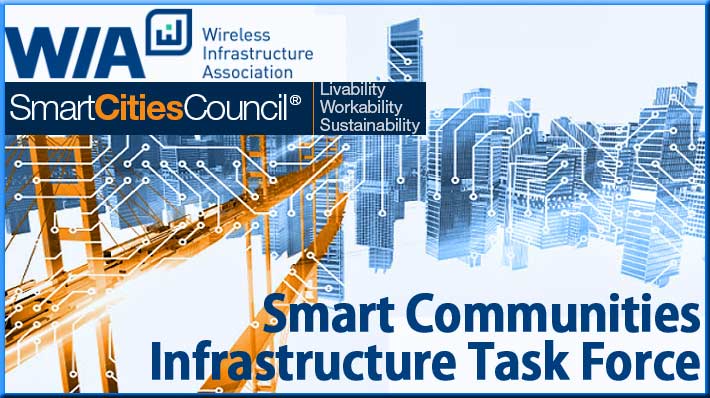 The Wireless Infrastructure Association(WIA) and the Smart City Council (SCC) announced today the creation of the Smart Communities Infrastructure Task Force with a primary objective of educating and empowering communities and stakeholders as they work to deploy the wireless and wireline broadband networks that are essential to smart city applications.
Key Focus Areas of the Smart Communities Infrastructure Task Force
How 5G & the Internet of Things (IoT) Will Enable Smarter Communities
Why Wireless and Wireline Infrastructure Deployment Is Essential Smart Communities
Various Smart Community Funding Models
Model Network Deployment Policies and Best Practices
Sector-Specific Solutions and Applications Within Smart Communities
Given the two organizations' accomplished history of defining best practices for Smart Cities and creating model legislation that spurs the deployment of broadband networks, WIA and SCC aim to collaboratively address cities' needs associated with industry convergence as digital connectivity becomes essential to effectively provide public services, support the economic well-being, and increase livability within large metropolitan centers and surrounding edge communities.
"Smart Cities are leveraging network technology to drive efficiencies in transportation, public safety, sustainability, and citizen engagement," said Jason Nelson, Executive Director of SCC. Nelson will co-chair the task force with Peter Murray, Executive Director of Dense Networks and Jeff Hannah, Manager of Business Development at WIA.
More than 62 percent of the U.S. population lived on just 3.5 percent of the nation's land in 2015, according to the U.S. Census Bureau. With an ever-increasing concentration of citizens, cities face many common challenges associated with urbanization – increased levels of vehicular traffic, crime, pedestrian foot traffic, and power and water consumption – and seek to address these challenges with the adoption of robust communications networks and associated Smart City solutions.
"Our goal is to create a cross-functional group of experts from the wireless broadband industry and from government who understand how best to apply broadband, IoT and other essential technologies to create smarter Cities and Communities', said Jonathan Adelstein, President and CEO of WIA.
The Task Force will hold two kick-off meetings: one at Smart City Week October 3 – 5 (http://smartcitiesweek.com/) and one at WIA's HetNet Expo October 10 – 11 (www.hetnetexpo.com). For more information on the Smart Communities Task Force, contact WIA's Jeff Hannah at jeff.hannah@wia.org.