Collins, Hightower and Miller Receive Prestigious Chairman's Coin
 The National Association of Tower Erectors (NATE) honored Craig Snyder, President of Sioux Falls Tower & Communications, Inc., Jocko Vermillion, Vice-President of Safety Management Services for CITCA and Steve Wilder, Co-Owner and Founding Member of CITCA, during the Awards Luncheon on Tuesday, February 28 at NATE UNITE 2017 in Fort Worth, Tex.
Craig Snyder was honored as the recipient of the Bill Carlson Lifetime Service Award. This prestigious award recognizes an individual who has made a significant and long-term contribution to the success of the NATE mission and has served the Association continually for a minimum of 15 years.
In 1995, Craig was one of a group of four competing tower contractors to form the National Association of Tower Erectors. After its formulation, he served on the Board of Directors for eleven years concluding his last four years of service as Chairman of the Board.
Craig became involved with the popular standard writing body TIA 222 in 1990 and later served as the committee chairman from 1998 to 2006 presiding over the formulation of TIA 222-G.
In 1994, Craig formed AnchorGuard, LLC after a tragic accident involving a tower failure due to anchor corrosion almost took the life two Sioux Falls Tower employees. AnchorGuard produces a product designed to mitigate underground corrosion of guyed tower anchors.
In 1999, Craig and his partners started a tower development company known as Performance Development Group (PDG). PDG currently has a portfolio of 50 rental towers located in five northern plains states.
"NATE is where it is at today due to Craig Snyder's humble servant leadership, subject matter expertise and business acumen," stated Executive Director Todd Schlekeway. "Craig is universally respected in the industry and everyone in the NATE community is excited for him to receive this much-deserved recognition," added Schlekeway.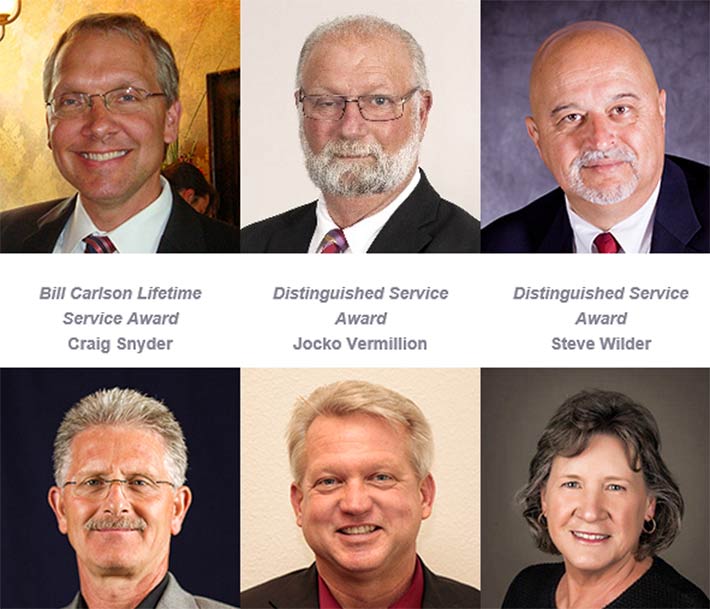 Jocko Vermillion and Steve Wilder were honored as co-recipients of the Distinguished Service Award. This prestigious award recognizes a past or present standing committee member who has demonstrated direct and individual contributions to the mission of NATE and whose performance has proven so exceptional that it profoundly affects the success of the Association.
Jocko Vermillion has over 30 years of construction safety experience and is a nationally recognized expert in construction safety and compliance. Prior to joining CITCA, Jocko served for 10 years as a Compliance Safety and Health Officer (CSHO) with the United States Department of Labor – Occupational Safety & Health Administration (OSHA). During his tenure at OSHA, Vermillion earned national recognition for his expertise in tower industry safety.  Jocko currently serves on the NATE OSHA Relations Committee and is a frequent trainer for the OSHA Susan Harwood Training Grant Courses hosted by NATE.
Steve Wilder is a 30 year safety professional who works with client companies across the nation on issues of safety management, regulatory compliance, accident investigation, risk management program development, and safety training. Steve currently serves on the NATE Safety & Education Committee and has also previously served a stint on the NATE OSHA Relations Committee. Additionally, Mr. Wilder was instrumental in helping the Association host the first NATE Regional Meeting event in Kankakee, Illinois in September of 2015.
During the Awards Luncheon, NATE also honored Wade Collins, Director for Business Development at Flash Technology, Joel Hightower, Owner of Hightower Communications, Inc. and Pat Miller, Director of EasTex Tower, LLC, with the prestigious Chairman's Coin award. The Chairman's Coin is an award recognizing individuals who have provided excellent dedication and service to the mission of NATE and to encourage continued involvement.
"I would like to extend my heartfelt congratulations to all of today's award winners," said NATE Chairman Jim Tracy, CEO of Legacy Telecommunications, Inc. "Craig, Jocko, Steve, Wade, Pat and Joel exemplify a commitment of excellence and their contributions to NATE have left a lasting legacy," Tracy added.
The Bill Carlson Lifetime Service, Distinguished Service and Chairman's Coin awards were made possible due to the contributions made by the NATE Member Services Committee and the awards are an annual fixture at the NATE UNITE event. For additional information on NATE, please visit www.natehome.com.