Public safety agencies subscribing to FirstNet now have access to the full fleet of 72 dedicated deployable network assets.  And many of them might be needed later this week if Tropical Storm Michael reaches hurricane status and comes ashore in Florida. AT&T said it is ready for Hurricane Michael and has "an arsenal of disaster response equipment and personnel on standby."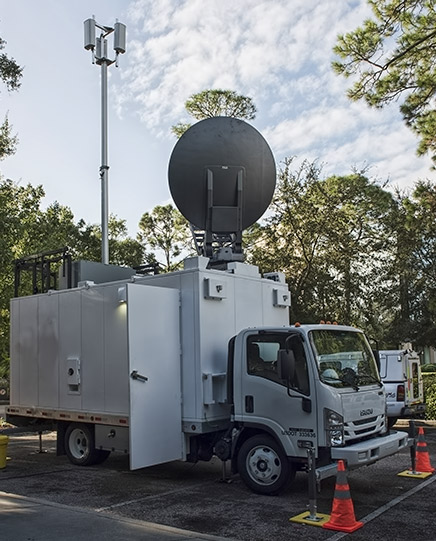 Florida Gov. Rick Scott has already issued an order for a state of emergency for 26 counties to rush preparations in the Panhandle and the Big Bend area, freeing up resources and activating 500 members of the Florida National Guard.
Stationed across the country, FirstNet's assets can either be deployed for planned events or called upon in emergencies to help first responders stay connected and operate faster, safer and more effectively when lives are on the line.
In 2018 alone, the AT&T FirstNet team has already supported nearly 100 emergency and event response efforts via asset deployments and other solutions. This includes active shooter situations, tornadoes in the east, wildfires across the western states, and most recently, deployments for the Merrimack Valley gas explosions and Hurricane Florence.
The FirstNet-dedicated assets, such as Satellite Cell on Light Trucks (SatCOLTs), are mobile cell sites that link to FirstNet via satellite and do not rely on commercial power availability. They provide first responders with similar capabilities and connectivity as a cell tower.
The 72 FirstNet-dedicated deployables are available 24/7 at the request of FirstNet subscribers and at no cost to public safety. And, to give first responders greater command and control of their network, our Response Operations Program aligns with the National Incident Management System to better guide the deployment of these assets. This prioritizes deployments based on their situational awareness of life safety, incident stabilization and property conservation. More than 40 sites nationwide house the 72 deployables dedicated to FirstNet subscribers, enabling a 14-hour delivery window following the initial emergency request.
"FirstNet has one mission. And that's helping public safety achieve their mission. These dedicated deployable network assets are just one more unique tool we can equip first responders with to help them stay connected during events and incidents," said Chris Sambar, senior vice president, AT&T-FirstNet. "Hurricane Florence tested this capability. In the course of 7 days, the AT&T FirstNet team managed 25 different support requests around the storm to assist with rescue and recovery. When other systems went down, FirstNet stayed up."
In addition to the FirstNet-dedicated fleet, public safety subscribers will be able to tap into assets, as available, from the AT&T fleet – which is one of the nation's largest and most advanced disaster response programs.
The 72 FirstNet-dedicated deployables were all delivered as of Sept. 30, meeting a key milestone for FirstNet. As part of the validation process, the First Responder Network Authority observed a hands-on demonstration of the capabilities and functionality of the dedicated deployables for FirstNet subscriber's use.
"Public safety underscored the value of having on-demand access to their own fleet of dedicated deployable assets, which helps ensure FirstNet is available when they need it most. That's why this was a core requirement built into the FirstNet RFP, and AT&T continues to hit the mark on delivering the purpose-built solutions first responders called for," said FirstNet Authority CTO and Operations Officer Jeff Bratcher.
FirstNet is the nationwide public safety communications platform dedicated to America's first responders. Being built with AT&T, in public-private partnership with the FirstNet Authority, FirstNet is bringing public safety a much-needed technology upgrade to help them connect to the critical information they need.
To learn more about the value FirstNet is bringing to public safety, check out FirstNet.com.