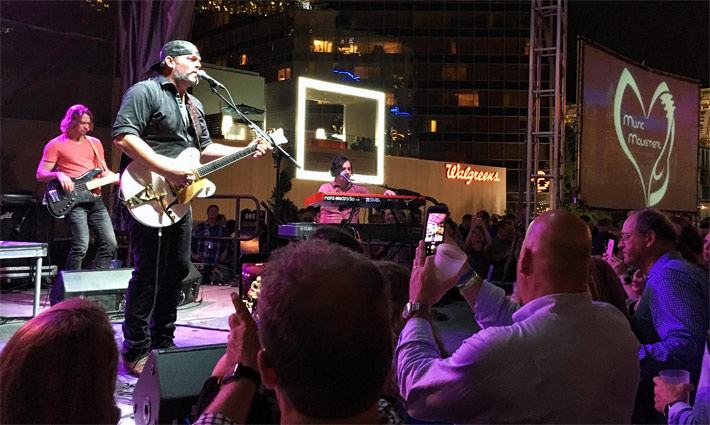 Nonprofit organization, Music Movement, hosted their 3rd annual charity concert last night at Rooftop 210 in Charlotte, N.C. with North Carolina native and country music superstar, Lee Brice, donning his backwards baseball cap, setting the stage for a special evening as the ConnectX event headliner.
Music Movement Founder, Stacie D'Agostino, was thrilled with the success of the event, saying, "we are overwhelmed with the immense support to help change the lives of children with Autism and learning differences. We are so grateful for everyone involved in making this night a reality, including Lee Brice, Billy Dawson, E Factor, and the wireless industry."
The concert was marked by generosity, with Vertical Bridge providing the title sponsorship donation to Music Movement, as well as 17 year old racecar driver Parker Chase (son of Enertech Resources CEO Eric Chase) presenting a generous donation as well.
A memorable moment from the evening included a duet with Billy Dawson, upcoming country music artist, and Will Jennings, a local teenage drumming sensation with Autism. The duo was also featured on FOX 46 Good Morning Charlotte prior to the concert. At the end of the performance, Will & his family were surprised with a commitment to receiving a full year of music training paid for by the charity.
Ryan Derry, member of the E Factor coordination team, enjoyed watching the evening come to life, saying, "The night exceeded our expectations, both in the overall turnout and generosity of our supporters. It was incredible to witness the local community in North Carolina and members of the wireless industry come together to support Music Movement. Lee and his band lit up the stage and created a fun, exciting atmosphere that raised funds and awareness for the organization."
Proceeds from the concert benefit Music Movement's mission to fund music-centric programs, scholarships, and events that improve the lives of young people with Autism and learning differences.  One heart. One Voice. One talent at a time.
To learn more about Music Movement or to donate to their cause visit www.music-movement.org