Some contractors that have been painting towers for years might have painted something other than the intended structure due to an unexpected gust of wind or a wand or other spray rig malfunction, but an Iowa contractor last month tallied 132 reasons why you shouldn't trust Mother Nature.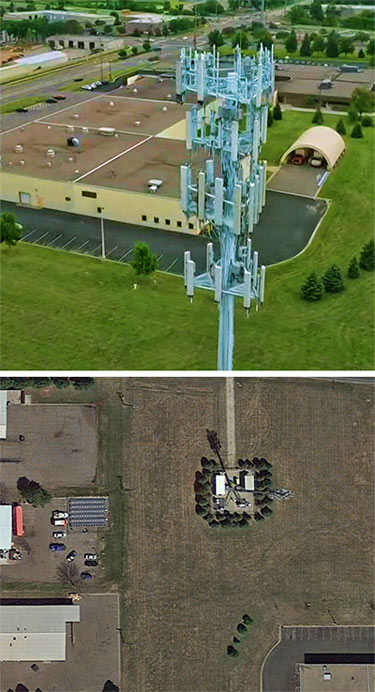 A crew from TeleWinCom Inc. painted an SBA Communications monopole off of 95th Ave. N in Maple Grove, Minn., and a nearby restaurant's employees parked at the rear of their building realized that their vehicles had serious overspray on them, according to Omni Brewing's co-founder, Zach Ward.
Other vehicle owners, totaling 132, were damaged by paint overspray. The insurance company for TeleWinCom brought in crews to the area to remove the paint and the work will take them at least until the end of this week.
Dustin Newcomb, whose pickup was covered with specks of white and light blue paint, told KARE 11, "the wind was just right and it was blowing it everywhere. Then they came out the second morning to try to do it before anybody got here and it hit vehicles again."
A representative from SBA said the article appeared to indicate that there were four or five towers that were being painted and had overspray, but she said there was only one tower where this occurred.
The type of paint that TelWinCom was using was not identified, but according to Chris Mecklem, Operations Manager for Skyline Tower Painting, based upon the limited information provided, he said it was doubtful that it was an acrylic paint, and was most likely an oil or epoxy paint.
"Properly applied, acrylic paint dries in the air within 5 to 50 feet, depending upon the temperature," said Mecklem. "It turns to dust."
The closest vehicle parking is approximately 205 feet away from the base of the four-tenant 138-foot monopole.
"I'm not prejudging the contractor that did this, he may be knowledgeable, but oftentimes companies will not have the proper experience and equipment to paint only the tower, not the cars and houses…only the tower," said Shane Davis, President of Shane Davis Tower Painting, Inc., one of the industry's oldest and experienced contractors, established in 1980.
Davis said every year he buys 600 or more car covers to alleviate overspray issues.
"When you're using industrial coatings such as epoxy, urethane, zinc and oil-based, the preferred method is containment tarps," said Davis.
TeleWinCo did not return a call for additional information.