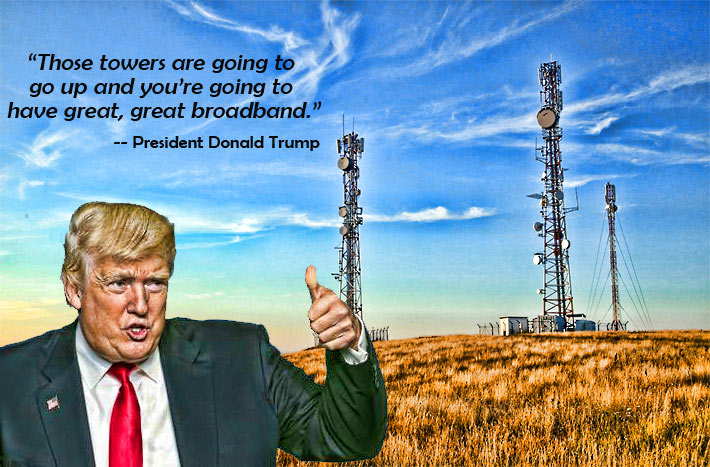 President Donald Trump boasted to big ag executives at the American Farm Bureau Association convention in Nashville, Tenn. yesterday that an executive order he's signed will help solve the persistent problem of appalling broadband speeds in rural America.
Trump signed a memorandum directing the Interior Department to support broadband development in rural areas by increasing access to tower facilities managed by the department.
The Presidential Executive Order on Streamlining and Expediting Requests to Locate Broadband Facilities in Rural America is available  HERE.
"We need to get rural America more connected. We need it for our tractors, we need it for our schools, we need it for our home-based businesses," a White House official told reporters ahead of the President's well-received speech.
Although earlier this year Trump said that his $1 trillion infrastructure proposal would include broadband support, the order that he signed in front of nearly 5,000 attendees doesn't provide any funding, but expedites removing governmental bottlenecks for broadband companies looking to build and operate towers in those areas.
"Those towers are going to go up, and you're going to have great, great broadband," Trump said.
Under a separate memo signed by the president — in addition to the executive order —  Trump also is requiring U.S. Secretary of the Interior Ryan Zinke to develop a plan to support rural broadband deployment.
The National Association of Tower Erectors applauded the President for his executive order.
"NATE thanks President Trump and his administration for their leadership and the proactive approach they are taking in order to enhance rural broadband deployment," stated Executive Director Todd Schlekeway. "NATE member companies are on the front lines making connectivity possible in all corners of the United States and stand ready to go to work to deploy and maintain new communications infrastructure in rural areas," added Schlekeway.
Jonathan Adelstein, President and CEO of the Wireless Infrastructure Association (WIA), and a former Administrator of the United States Department of Agriculture Rural Utilities Service,  also welcomed Trump's initiative.
"The wireless infrastructure industry applauds President Trump's ongoing efforts to improve access to mobile broadband networks in communities throughout the United States. By streamlining the permitting process for siting wireless infrastructure, the federal government is reducing barriers to the deployment of the wireless networks that will deliver real economic benefits to rural communities. We are encouraged that the President has directed the GSA to take a fresh look at its application forms and require that many land management agencies utilize these forms. Further, new timelines and reporting requirements will add accountability to an otherwise opaque process of siting wireless infrastructure on federal property."
Richard T. Cullen, the executive director of Connect Americans Now—an advocacy group formed by Microsoft that intends to help expand broadband internet access—offered support for President Trump's order.
"No one has more grit and determination than American farmers, and we are excited to hear that President Trump is focused on unleashing that productivity by bringing broadband service into more rural communities," he said. "Connect Americans Now looks forward to working with President Trump, Congress, and the FCC to reserve spectrum for broadband in TV white spaces and unlock the incredible possibilities that a modern communications infrastructure can offer in rural America."
According to U.S. Department of the Interior Secretary Zinke, nearly 23 million Americans in rural parts of the country currently lack access to broadband.
"In modern society, this cuts them off from many services and economic opportunities. As highlighted in the President's Rural Prosperity Report, the rural broadband industry supported nearly 70,000 jobs and over $100 billion in commerce. Through the Department of the Interior's work on the Rural Prosperity Task Force and by direction from the President, we are dedicated to ensuring that the U.S. Government is creating an environment that helps, not hinders, the deployment of broadband services to rural Americans," Zinke said.
CTIA President and CEO Meredith Atwell Baker said "CTIA and the wireless industry welcome President Trump's call today to accelerate rural access to mobile broadband. Wireless providers are committed to further enhancing mobile connectivity for all Americans and the President's emphasis on cutting red tape and streamlining wireless permitting will help meet this important goal."
USTelecom President and CEO Jonathan Spalter said, "The focus on broadband deployment in the Interagency Task Force on Agriculture and Rural Prosperity reflects a national imperative to ensure every American can be connected, no matter where we live. This 'broadband first' approach is an important step toward our shared goal of serving the connectivity needs of America's rural communities."