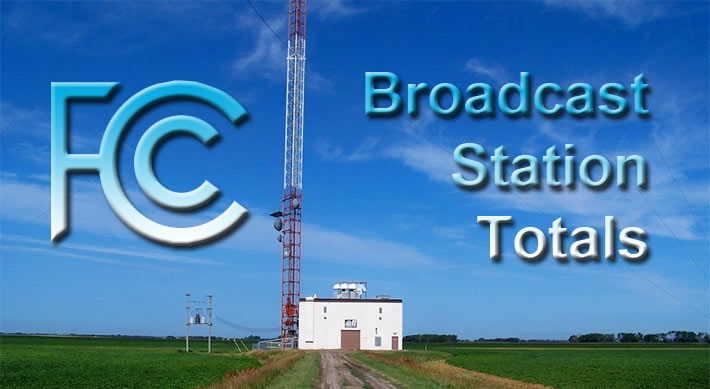 According to newly released statistics by the FCC, the nation saw an addition of 110 broadcast stations added to its ranks during the third quarter, with the total number of commercially licensed UHF stations dipping below 1,000. In addition, there are fewer AM radio stations and far more FM translators and boosters.
(VIEW BROADCAST CATEGORY COUNTS BELOW)
Translator stations are primarily not new stations, but are stations that rebroadcast the signal of a broadcaster to provide service to areas in which direct reception is unsatisfactory due to distance or terrain barriers.
They may also be used by a radio station on either AM or FM to establish a presence on the other band.
Low Power FM (LPFM) radio stations are authorized for noncommercial educational and public safety and transportation broadcasting only and operate with an effective radiated power (ERP) of 100 watts (0.1 kilowatts) or less, with maximum facilities of 100 watts ERP at 30 meters (100 feet) antenna height above average terrain.  The approximate service range of a 100 watt LPFM station is 5.6 kilometers (3.5 miles radius).
Total Broadcast Stations as of Sept. 30, 2018 compared to June 30, 2018

AM STATIONS
4626
-7
FM COMMERCIAL
6737
-1
FM EDUCATIONAL
4130
2
TOTAL
15,493
-6
UHF COMMERCIAL TV
990
-25
VHF COMMERCIAL TV
359
-3
UHF EDUCATIONAL TV
297
26
VHF EDUCATIONAL TV
115
2
TOTAL
1,761
0
CLASS A UHF STATIONS
361
0
CLASS A VHF STATIONS
28
0
TOTAL
389
0
FM TRANSLATORS & BOOSTERS
7848
127
UHF TRANSLATORS
2752
-59
VHF TRANSLATORS
914
44
TOTAL
11,514
112
UHF LOW POWER TV
1486
-42
VHF LOW POWER TV
425
42
TOTAL
1,911
0
LOW POWER FM
2175
2,175
4
TOTAL BROADCAST STATIONS
33,243
         110

Total Broadcast Stations as of June 30, 2018

AM STATIONS
4633
FM COMMERCIAL
6738
FM EDUCATIONAL
4128
TOTAL
15,499
UHF COMMERCIAL TV
1015
VHF COMMERCIAL TV
362
UHF EDUCATIONAL TV
271
VHF EDUCATIONAL TV
113
TOTAL
1,761
CLASS A UHF STATIONS
361
CLASS A VHF STATIONS
28
TOTAL
389
FM TRANSLATORS & BOOSTERS
7721
UHF TRANSLATORS
2811
VHF TRANSLATORS
870
TOTAL
11,402
UHF LOW POWER TV
1528
VHF LOW POWER TV
383
TOTAL
1,911
LOW POWER FM
2171
2,171
TOTAL BROADCAST STATIONS
           33,133