U.S. Congressman Dave Loebsack (D-IA) today conducted a site visit to a communications tower located in Le Claire, Iowa. The tour was facilitated by representatives from the National Association of Tower Erectors (NATE), the Association's Wireless Industry Network (WIN) and Crown Castle. The site visit was held at a Crown Castle-owned monopole cell tower site that is conveniently located in Congressman Loebsack's Congressional District.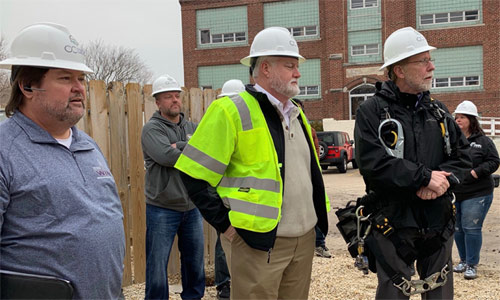 Congressman Loebsack represents Iowa's 2nd Congressional District and is a senior member of the House Energy and Commerce Subcommittee on Communications and Technology, where he has championed important communications and workforce development legislation. The tour was held to coincide with the reintroduction of the bipartisan Communications Jobs Training Act of 2019 legislation that is slated to be reintroduced in the 116th Congress this week by Loebsack and Congressman Markwayne Mullin (R-OK) from Oklahoma's 2nd Congressional District.
During the event, Loebsack participated in a tour of the site and received information on the network equipment that is installed on the tower. The Congressman also visited with the NATE and Crown Castle representatives present about the work that is conducted on a daily basis building, maintaining and deploying communications tower sites and related wireless infrastructure. Congressman Loebsack was also provided with the opportunity to witness the gear and personal protective equipment that tower technicians utilize to carry out their jobs in a safe and efficient manner and learn about the NATE STAR Initiative program during the visit.
"It was an honor to host Congressman Loeback today at the Le Claire tower site," stated NATE WIN Iowa State Liaison Pete Hagstrom from Finish Tower. On behalf of NATE's twelve member companies in the state of Iowa, we appreciate the leadership role Rep. Loebsack is playing in Congress to promote workforce development initiatives that our critical to the industry's growth," added Hagstrom.
"I am excited to partner with Congressman Mullin and NATE to champion the Communications Jobs Training Act, which provides competitive grant funding for schools to develop and administer training for communications tower service, construction and maintenance," said Congressman Loebsack. "In the coming years, Iowans will see new towers popping up across the state and it will be important that we have a workforce trained to erect and maintain these towers."
"The nation's demand for connectivity is growing, and so is the need for skilled and highly trained communications tower workers.  As the leader in shared communications infrastructure, Crown Castle endorses the proposed legislation as a means for creating quality jobs to meet the current and future workforce demand," said Siely Joshi, Government Affairs Manager, Crown Castle.