Wireless Estimator Publisher Craig Lekutis and National Association of Tower Erectors Executive Director Todd Schlekeway recently conducted an exclusive interview with FCC Commissioner Brendan Carr in late December. In this extensive feature article, Commissioner Carr discusses the FCC's role in paving the way for a 5G future, the nation's networks' resiliency, and restoration lessons learned, the importance of industry workforce development initiatives and his personal experiences climbing communication structures with NATE member companies and their technicians. The article also appears in the January/February edition of the Association's Tower Times.
Paving the Way for a 5G Future with the small cell order
In September 2018, you led the charge at the FCC to work with your colleagues to support and pass a Wireless Infrastructure Third Report and Order that is slated to become effective on January 14, 2019. Can you discuss the important elements of the small cell order, the potential economic impacts and how it will position the U.S. to win the competitive global race for 5G?

The 4G race added about one hundred billion dollars to our GDP. So, there are a lot of countries right now that are vying to be first to 5G. China is one of our biggest competitors in this respect. And the challenge in many ways is an infrastructure one. Now, where we started was this idea of needing hundreds of thousands of new cell sites. What we found at the FCC was that our regulatory structures were not supporting this massive build-out of infrastructure needed to support 5G.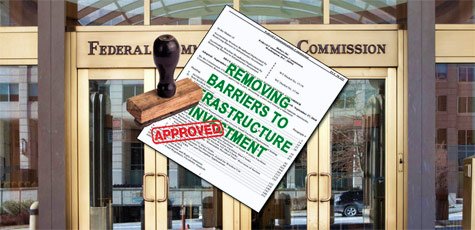 The September decision you mentioned was a classic example of that. There were a handful of states and localities that were looking at this deployment of 5G, this infrastructure build-out, as a revenue-generating opportunity for their local coffers. They were, in essence, applying a 5G tax charging very high fees to review and approve the permits needed for this next-gen 5G infrastructure.
So, we learned from a lot of forward-looking local leaders. For instance, Mayor Paul TenHaken in Sioux Falls, South Dakota articulated the vision that we need to look at 5G and the revenue opportunity as arising once we have these new networks deployed. We can't look to charge high fees on the front end. That would definitely slow down 5G deployment.
We learned from leaders like Mayor TenHaken and we adopted a decision that put some reasonable limits in place in terms of the permitting fees the state and local governments can charge when it comes to the deployment of this 5G infrastructure.
History sort of predicted that there would be legal challenges to appeal the order
A follow up question, Commissioner Carr. Did the FCC kind of anticipate some of the legal petitions that were filed by the municipalities to appeal the order? Was that an anticipated part of the process?

Yes. The FCC historically acts to update our rules every time there's a new generation of technology. So, for instance, when we went through the process of updating for 4G there were lawsuits filed at that time. In the Fifth Circuit, for instance, the City of Arlington case, that was appealed all the way up to Supreme Court and the U.S. and the FCC won that case.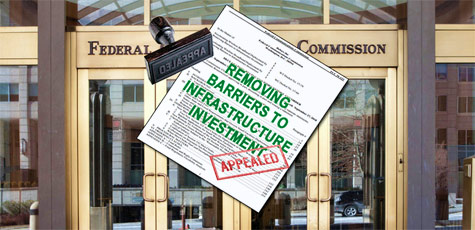 So, there is a history here of whenever the FCC steps in to update and modernize our regulations in light of a new technology, there are lawsuits, and in this case, there were lawsuits filed by cities on the one hand, and a lawsuit by carriers on the other hand that argued we didn't go far enough. I think all that just supports the idea that we charted a middle course here that's sufficient and important for the deployment of 5G but didn't go too far otherwise.
Map coverage accuracy is a serious concern for Commissioners
NATE members deploy broadband infrastructure to every corner of the country and have a unique perspective and understanding where the coverage gaps exist when it comes to wireless broadband. The topic of the accuracy of the agency's broadband coverage maps has been under the microscope recently with lawmakers voicing support for the FCC's decision to investigate whether major carriers overstated their warrantless coverage. With billions of dollars at stake for broadband providers, can you discuss the steps the FCC is currently taking to ensure the reliability and validity of coverage maps so that bridging the digital divide in all areas of the country can truly become a reality?

Our top priority here at the FCC, and for me in particular when it comes to 5G wireless service, is making sure that every community in the country from Thompson, North Dakota and throughout rural America has a fair shot at next-generation connectivity. It will not be a success in terms of 5G deployed if we see it only in the bigger cities like New York or San Jose. Having accurate maps tell us where there is 4G service today is a key piece of making sure that we can target federal subsidies and in this case $4.5 Billion dollars in subsidies to get more parts of the country supported with 4G service.
So, we heard a lot of concerns about the accuracy of the maps and making sure that they're correctly depicting where there is service and where there is no service. And we did exactly what you'd expect which is that we collected the data and we've been reviewing the data. And as you saw, the Chairman of the FCC recently announced the launch of an investigation to make sure that data that's been submitted to the FCC that goes into these maps is correct and accurate. I fully support his investigation and look forward to the quick resolution of that so that we can continue our process of getting this auction going to support more wireless broadband throughout the country.
Auctions being scheduled as investigation proceeds
As a follow up to that, do you have any anticipated time frame when that might happen regarding the investigation and a resolution to it?

I'll defer to the Chairman on the timing of it, but I think we're all really laser-focused on running this on two tracks. We're going to continue to do the legwork needed to keep the auctions moving forward. There's a lot of work that goes into scheduling and planning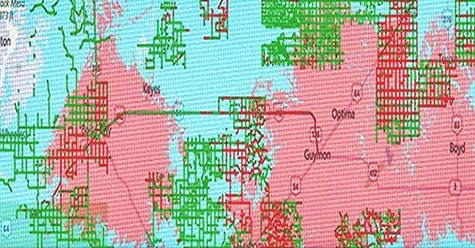 an auction, and so we'll be continuing to do that work in parallel with the work that's going into the investigation. So I'm not in a position at this point to say that the investigation will necessarily be slowing down what is otherwise the work that the FCC is doing to get ready for these next auctions.
App economy is a primer for how auctions could unleash future 5G marketplace benefits
From NATE's perspective we really applaud the FCC for being so proactive and paving the way to assist the industry to gain access to spectrum, which obviously from NATE members' perspective that's more deployment opportunities. But from a consumer perspective in the country, it's great as well. Would you talk a little bit about the kind of work you've done at the FCC to kind of pave the way for some of the high band spectrum auctions that are coming and how that will potentially get 5G to scale.

Spectrum really is the fuel or the oxygen that's going to be needed not just for our current 4G use cases but for 5G as well. So, the FCC has been pushing very aggressively to free up more spectrum and in fact, we've already identified and allocated more spectrum for wireless broadband than any other country in the world. And why it's so important is again to this point of 5G. If you think back 10 years to your own life when we were transitioning from 3G to 4G, think about how winning that race to 4G made a difference in your life.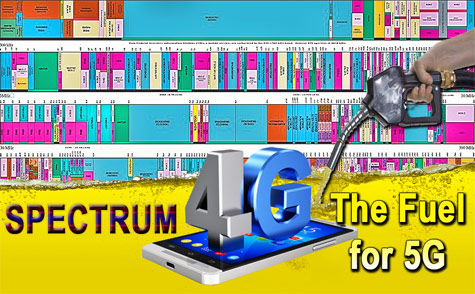 If you just look narrowly at the app economy that rides over 4G networks, all of that was enabled by this transition to 4G and the FCC's decision back then to free up the spectrum needed to support that. So, today we're very focused in the same way. It's hard to predict right now what development similar to the app economy is going to be unleashed when we upgrade to 5G. But from the government's perspective, we need to make sure that the ingredients needed to do that are in the marketplace.
Spectrum is a key piece of that. So that's why we've been pushing so hard to get more spectrum out there. We have a number of auctions that are both ongoing right now and in the pipeline.
NATE's workforce development initiatives  are a high priority of Commissioner Carr
A delegation of leaders from the Women of NATE program expressed that they really enjoyed the opportunity to meet with you in December. And they appreciated the occasion to discuss the Association, safety, workforce development initiatives, and other areas. What were your takeaways from that meeting?

I really enjoyed meeting with the leaders that do a tremendous amount of good work to bring infrastructure and next-generation connectivity to communities around the country. A big takeaway from that is 5G. One way to look at it is that there are three main pieces, two of which we've already talked about.
One is infrastructure. We need to make sure that these new cell sites and fiber backhaul are getting in out there. We're taking regulatory action on that front. The second is spectrum. We talked about the FCC's efforts to free up more spectrum.
But I think the third key piece of our 5G future is workforce development. And that was the big takeaway from that meeting and what we focused on is how do we make sure that we have the pipeline of skilled workers in place to deploy this infrastructure. Again, it's a massive build-out, and right now we don't necessarily have the skilled workers in place to build out this new network. And related to that is how do we make sure everyone has the skill sets needed to participate in the new economy that's going to be unleashed with 5G.
One of the ideas we talked about is to continue to support community college programs that can quickly give tower climbers and tower workers, for instance, a strong base, educational and training level. And then they become very attractive for any number of tower companies or infrastructure companies to hire them out of the community college programs.
So we talked about some successes that we're both aware of in terms of community college programs but we talked about how there's really too few of them at this point, and we brainstormed about ways that we could help support the growth of relatively time-limited community college programs to make sure that we have the pipeline of talent needed to build out this 5G infrastructure and win this global race to 5G.
Lessons learned from Hurricane Michael will assist in future assurances of network resiliency
Commissioner Carr, you were very active in the telecommunications restoration efforts in the aftermath of Hurricane Michael, and kudos to you for being on the front lines down there witnessing it firsthand. Other than I know you mentioned preventing contractors from cutting fiber optic cables in their recovery effort, what do you believe should be other priorities to allow for continued service during future natural disasters so that that our networks can stay resilient?

One of the really great things about this job is the chance to get outside of D.C. and really see firsthand what it takes to build, and in this case restore telecom networks. We've been in this job a little over a year and have had a chance to do events in 23 states at this point. With Hurricane Michael, we accepted an invitation to join a telecom crew that was down in Mexico Beach, Florida. To your point after Hurricane Michael, we spent two days with them seeing what it is that they do to rebuild a network that's been completely destroyed.
Mexico Beach is essentially where Hurricane Michael made landfall a couple of miles per hour short of a Cat 5 hurricane and it leveled the community. And the telecom crews are and were doing the really tough and gritty hard work of rebuilding these networks, and it was very helpful to get a chance to see firsthand what goes into that.
The biggest lesson we learned is that a lot of the telecom infrastructure was able to withstand Cat 4 hurricane winds. A lot of the telecom infrastructure survived even being underneath a 10-foot storm surge only a few hundred yards from the Gulf. But a lot of infrastructure ended up being cut and knocked out of service during the recovery and restoration effort as opposed to the storm itself.
In this particular area, there were 7,000 or so power company crews that descended on Bay County, Florida to rebuild the power network. And power is obviously an extremely important part of recovery. But we saw too many instances of the power companies inadvertently cutting telecom lines in the process of rebuilding the power grid.
So, we actually think that there are a lot of lessons learned from that in terms of coordination so that we see fewer cuts during the recovery restoration effort and the FCC has a group that's looking at that issue and looking more broadly at lessons that can be learned in storm and disaster recovery.
The exacting and tough work of tower crews is "really eye-opening"
In May, you visited a cell site in Indiana to obtain an overview of the exacting disciplines required to safely build a cell site. What was the most illuminating event of the visit that you weren't aware of that is involved in broadband installations?

It's been really eye-opening to spend a lot of time with tower crews that are doing this tough work of maintaining current networks and building next-gen networks as well. For instance, we were in Rowena, South Dakota and had a chance to spend time with one of the crews that work for Sioux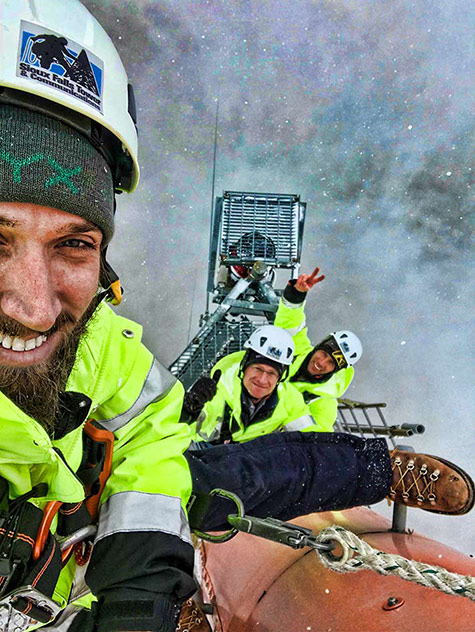 Falls Tower on top of a 2,000-foot broadcast television tower. It really changes your perspective on the nature and the scope of the work that's needed.
I think a lot of people when they look down at their cell phone or their smartphone, they assume that these signals just operate through pixie dust and magic. But the real work needed to put this infrastructure in place and maintain it is just as important as the coders and the programmers that are also working on other aspects of 4G and 5G in the app economy.
For me, the biggest takeaway is the skill and the talent required to do these jobs. These aren't adrenaline junkies that are out there running up and down these towers. This is a really skilled, talented and dedicated workforce, and we need to make sure at the FCC we're doing everything we can to support them and everything we can to make their jobs easier.
First-time tall tower climb  had "fear shaking through my boots"
As a follow up to that, the FCC administration has been remarkable in its outreach to find out about the industry. In May, you also climbed the mast of that 2,000-foot tower in South Dakota. First-time climbers will typically provide an honest assessment of how they felt. What were your feelings when your boots hit the ground after your ascent?

We got to the top of the tower 2,000-feet up. It was snowing when we got up there. Thankfully, t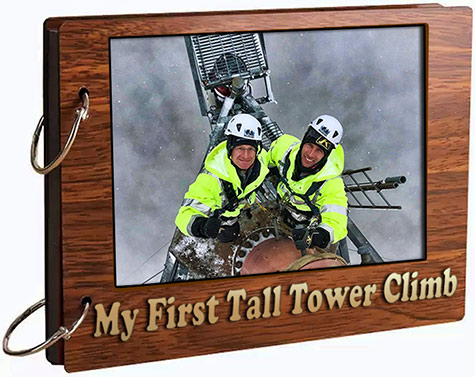 he fear shaking through my boots was obscured by the cold chattering through my teeth, so that helped me out a lot.
It's incredible the work that these teams do and particularly, you know right now, we're in the midst of winter, the cold season, and that means extra gear; it means extra safety precautions that make an already tough job even more difficult. So, the experience really just left me with gratitude for the work our tower crews are doing right now across the country.
Repack deadlines viewed from another perspective if deadlines need to be adjusted
Commissioner Carr, let's talk briefly about the broadcast repack and how that's going. As you're aware, NATE has contractor members who specialize in broadcast towers. Specifically, it's different skill-sets then the wireless cell work. The repack recently completed phase one. This was kind of talked about a House Communications and Technology subcommittee hearing last week. What are some options moving forward? There's some concern I know on the broadcast side of the industry that the next nine phases will be a little more challenging than the first phase was. What are some options available that the FCC has to ensure that broadcasters aren't forced off the air or would be required to reduce service for reasons that would be deemed I guess outside of their control whether it be weather-related or manpower-related issues?

I'm very pleased with the progress that we're making so far. And again, I'm impressed with the work that's being done to accomplish this. When you sit back here in DC you hear about the broadcast television repack. That sounds like you're moving, you know, one shoe from one shoebox to another shoebox. And again, in Rowena, South Dakota, we were on top of that large broadcast television tower. These broadcast television antennas are very, very large antennas with very large facilities.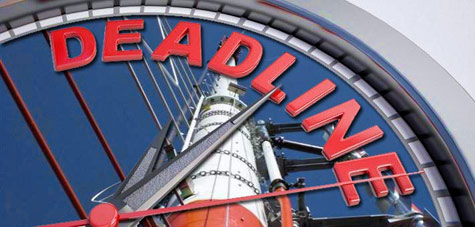 This is not the type of work where you're putting up a small cell or taking down a small cell. Getting out there to really see the size and the scope of these broadcast facilities gives you a much better appreciation for the work that's going on in the repack. And it's something that we're monitoring.
On the one hand obviously, you know we're excited about completing the repack and enabling additional use of the spectrum. The other part from my perspective is that we're focused on making sure we have the skilled workforce and teams in place that can do this.
Particularly, given my experience on top of one of the towers, I'm certainly open as we move forward to conversations about the best way to safely and efficiently complete this process and if any adjustments are needed, I'm happy to hear from the teams about those issues.
Compared to China, U.S.'s cell site builds pale in comparison at 12 times the pace
You have previously stated that since 2015, China has deployed 350,000 cell sites but the U.S. has only built approximately 30,000. Is there a way that NATE or others can assist in closing that gap with China to assist in winning the race to 5G?

When we talk about this race to 5G, it really is an infrastructure race, and what country, what region of the world is going to deploy the small cells and other next-gen infrastructure needed for 5G faster. To your question, China is one of our biggest competitors.
They're deploying cell sites at a pace of about 460 new cell sites a day. That's 12 times the pace that we were moving in the U.S. And that's changing.
The FCC has issued a number of decisions to speed the deployment of small cells which are the building blocks of 5G. In March, for instance, we excluded small cells from the costly and time-consuming Federal historic and environmental review procedures that were designed for large 200-foot towers. And we're already seeing a difference. One provider reported that they're now clearing small cells for construction at six times the pace as before.
So, we're making progress. In the September decision we talked about earlier, we put shot clocks and timelines in place on the local permitting process which again will speed deployment. So, we're making good progress with these decisions at the FCC, and NATE and its member companies are very helpful in this and they should continue to identify for us what are the issues and the hurdles you're seeing on the ground that slow you down and bring them to our attention. If it's within our jurisdiction, we'll take a look at whether we can help streamline some of that process.
America's tower counts still require more accurate information
NATE, CTIA and other associations will readily admit that they cannot provide an acceptable count of the number of cell sites, towers and their heights in the U.S. It's perhaps partly because a lot of tower companies keep that information close to their vest. In 2016, an FCC Bureau Chief said that there were over 380,000 towers that were 100 feet or higher. That figure was later pulled back. It would be beneficial to installers, suppliers and others in the infrastructure community to have an accurate count of the number of structures and their heights. Is this something that the FCC would consider exploring with the assistance from industry stakeholders?

We're right now in a process, for instance with our Mobility Fund auction, where we are collecting new data about wireless coverage. Some of the key inputs for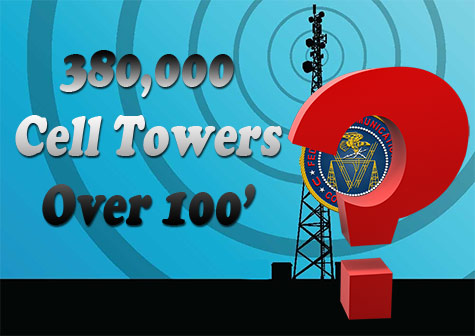 that data involve projecting coverage of services from existing cell sites. That dataset might be one where we can call for adding more accurate information about the number of towers that are out there and their height.
One of our sister agencies and CTIA is in the process of reinvigorating the broadband map. That also could be placed in a dataset that can have even more accurate information about wired or wireless broadband across the country.
Two  stories exemplify the need for rural  broadband coverage
During your tenure as an FCC Commissioner, you have really prioritized getting out in the field to experienced firsthand how different industries rely on broadband connectivity. Do you have any memorable stories you can share that highlight how broadband is being utilized in certain sectors or industries that the average citizen would have no idea about how much that sector relies on broadband?

One story that has stuck with me at my time in the Commission is from when we were in the rural  Mississippi Delta in a small town called Ruleville. The Delta is a place that is one of the poorest corners of the country and sees diabetes at about twice the national average. When we were there, we met an older woman named Miss Annie, and she noticed the first signs of diabetes herself when she woke up one morning with blurred vision. And she tried treating it through normal treatment methods and wasn't seeing much progress. But there was a medical clinic in the town, North Sunflower Medical Clinic, that had started up a pilot program using a wireless broadband connection and iPad.
In this particular telehealth deployment, they sent Miss Annie home with her iPad and a Bluetooth-enabled blood glucose monitor, and every day she told us she would prick her finger and her A1C level would be displayed on the iPad, and the iPad would give her instant feedback about what she can do that day to address the number, whether it's eating this or don't eat this or exercise this way.
She said that she had never felt better. Her A1C levels were down, and we had heard that that pilot program more broadly was showing really good results in terms of improved health outcomes and reduction in health care expenses in the community. So, having seen that on the road, when we got back to D.C. we thought about how we can support that type of telehealth initiative more broadly across the country. That's what got us to start the process of starting up a connected care program, and we're seeking comment on allocating up to 100 million dollars to support those types of connected care programs.
That's one example of where getting outside of D.C. we saw something that we were able to take back with us and it made a difference in terms of the proceedings that we run at the Commission.
Another story that I'll share is from when we were in Indiana in a small town with Senator Todd Young. We got to go to this house of a woman Linda Muegge. She runs a small family farm that recently got a new fiber broadband connection. She had a son who went away to Purdue and got an advanced degree in cattle nutrition. Usually, that's the type of degree that would require him to move away from the family operation and start his own business in a big city. But because of the new fiber connection, he was able to move back home and help out part-time on the farm and launch his own high-tech consulting business.
So, he uses the fiber connection to get HD video feeds of cattle located in farms across the country and he, not only through the visual of these feeds, but also the data connection that transfers a lot of information about the health of the herds, provides advice about everything from nutrition to medicines to keep the herd healthy.
It's an interesting example of seeing how just at that family level having a broadband connection not only helps to keep them together but enables someone to launch a truly high-tech career right from the same place in rural America where he grew up.
Information dump into one report seen as an excellent first effort
The FCC first Communications Marketplace Report published this month was an excellent 181-page overview by FCC staffers of the health of the industry. In developing the assessment, was there something of particular interest to you that stood out that was not covered in previous separate reports that your agency has provided?

This is the first report that we did that I think, structurally and symbolically, and in terms of the information that was covered in it, was consistent with a broader trend that we're seeing in telecom. It used to be that everything was siloed. We had a wireless report and a wireline report and a satellite report. We had a number of individual one-off reports. Congress told us to consolidate that and to merge a lot of reports into one document.
That I think underscores where we are in the telecom industry generally, particularly in this race to 5G whether it's wired, fiber or small cell or macro facilities, or this new generation of low earth orbit satellite plus fixed wireless. All of this is converging to the point at which I think consumers are really going to start seeing tremendous benefits now and in the next few years. There's never been more competition from a more varied set of technologies to meet consumers' broadband needs.
So, I think this report helps underscore that broader convergence that's part of this race to 5G, and it's great that Congress stepped in and told us to consolidate these reports. And as you know we put the first one out in December. There's a lot of really good and interesting data in there.
2019 seen as the year of 5G and a lot of work for tower crews
Commissioner Carr, do you have any closing remarks?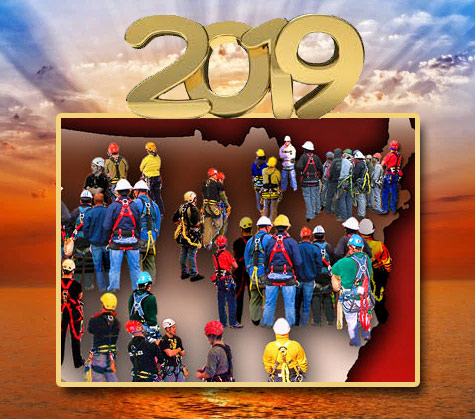 I think 2019 is going to be the year of 5G; a year that we see the first 5G smartphone. It's going to be a year where we see some of the first 5G deployments on low-band spectrum. It's going to be a great year in wireless.
It's going to require a lot of work from our tower crews and from our infrastructure providers across the country. I think we're going to make a tremendous amount of progress this year on 5G. I'm really excited for the year to come.