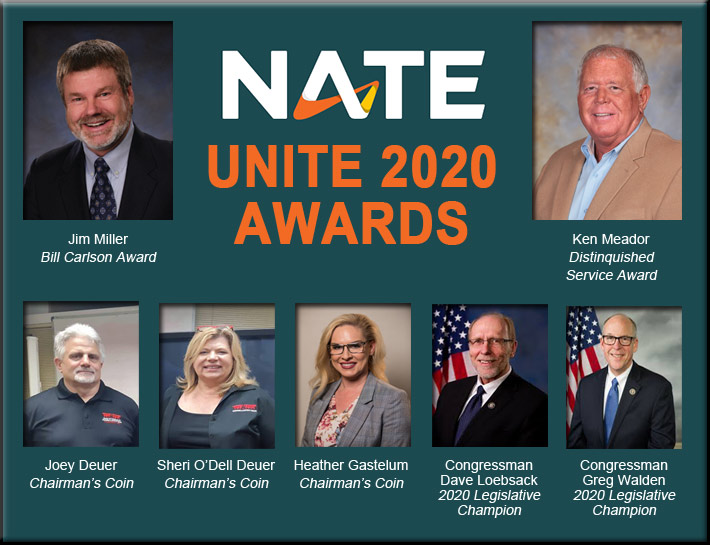 NATE: The Communications Infrastructure Contractors Association today honored Jim Miller, CEO of EasTex Tower, LLC and Executive Advisor of Enertech Holdings, LLC in Colorado Springs, Colorado, and Ken Meador, former President of TWR Lighting, Inc. in Houston, Texas during the Awards & Sponsor Recognition Luncheon at NATE UNITE 2020.
Jim was honored as the recipient of the Bill Carlson Lifetime Service Award. This prestigious award recognizes an individual who has made a significant and long-term contribution to the success of the NATE mission and has served the Association continually for a minimum of 15 years.
Since 1974, Jim has had responsibilities of installation and project management experience in the design and construction of new and existing microwave, cellular, and PCS communication systems. Jim has managed site/civil crews, tower crews, antenna crews, radio technicians, and structural engineers throughout the United States, Canada, and Mexico.
In 1980, Jim founded EasTex Tower Inc. a total turnkey construction company specializing in heavy tower installation, microwave, and wireless telecommunication systems. Jim's corporate office is in Colorado Springs,, Colorado with other offices in Longview, Texas, Oklahoma City, Oklahoma and Albuquerque, New Mexico.
Jim was elected to and served on the NATE Board of Directors from 2009-2019, serving on the Executive Committee from 2015-2019. During his tenure of leadership at NATE, Jim also served as an active member of the Safety & Education Committee, at which he continues to serve today and the Legislative & Regulatory Committee. Additionally, Jim currently serves as Vice Chairman on the National Wireless Safety Alliance (NWSA) Board of Directors.
Ken Meador was honored as the recipient of the Distinguished Service Award. This notable award recognizes a past or present standing committee member who has demonstrated direct and individual contributions to the mission of NATE and whose performance has proven so exceptional that it profoundly affects the success of the Association.
In 1995, as a representative of TWR Telecom at the first gathering of tower companies in Dallas, Texas, Ken was elected to NATE's founding Board of Directors, a position he held until stepping down in 2001.
Ken was a visionary whom during the second official NATE Board of Directors meeting in August 1995 introduced the proposal for an annual industry trade show. The proposed exhibition would serve two important purposes in support of the Association's safety driven mandates and burgeoning growth plans. First, as an annual venue dedicated to bringing together the latest equipment, resources, and services specific to the requirements and safety of tower technicians, and second, to generate much needed revenue beyond membership dues to augment the Association's evolution. The standing Trade Show Committee was confirmed with Ken as Chairman, a position he held for the Association's first 17 years.
During the Awards & Sponsor Recognition Luncheon, NATE also honored Joey Deuer, Founder & CEO of TUF-TUG Products in Moraine, Ohio; Sheri O'Dell-Deuer, Vice President of TUF-TUG Products in Moraine; Ohio and Heather Gastelum, T-Mobile Senior Manager for National Tower Safety & Operations in Bellevue, Washington, with the prestigious Chairman's Coin award. The Chairman's Coin is an award recognizing individuals who have provided excellent dedication and service to the mission of NATE and to encourage continued involvement.
Departing NATE Board of Directors member Shama Ray, Owner and CEO of Above All Tower Climbing, LLC in Bonne Terre, Missouri and departing Committee Chairmen Joel Hightower, Owner and CEO of Hightower Communications, Inc. in LaGrange, North Carolina and Rick Jones, President of Skyjack Communications in Houston, Texas were also recognized for their years of service to the Association at the luncheon.
During the luncheon event, NATE also announced that Congressmen Dave Loebsack (D-IA) and Greg Walden (R-OR) are this year's recipients of the NATE Legislative Champion Award. Both Congressmen Loebsack and Walden have been strong advocates for NATE's policy priorities   and serve leading roles on the influential House Energy and Commerce Committee. NATE plans to formally present the awards to Congressmen Loebsack and Walden during the Association's Second Annual Congressional Member Fly-In event in Washington, D.C. on May 12-13, 2020.
"On behalf of NATE's 930 member companies, we offer our heartfelt congratulations to all of today's worthy award winners," said Chairman Jimmy Miller from Gulfport, Mississippi. "It was an honor for me to share the stage today with these impactful leaders and icons in the industry in order to recognize them for their tireless contributions to the Association over the years. NATE is an organization with unlimited growth potential in the communications infrastructure ecosystem because of the incredible volunteer participation we receive on a daily basis and today's luncheon served to reinforce what makes us special," added Miller.
The Bill Carlson Lifetime Service, Distinguished Service and Chairman's Coin awards were made possible due to the contributions made by the NATE Member Services Committee. The awards are an annual fixture at the NATE UNITE event. For additional information on NATE, please visit www.natehome.com.