NATE: The Communications Infrastructure Contractors Association today officially released the NATE sUAS Operations Best Practices Advisory resource. This in-depth, 38-page document becomes the latest in a line of commercial drone-related resources that NATE's UAS Committee and its cadre of aviation subject-matter experts have developed.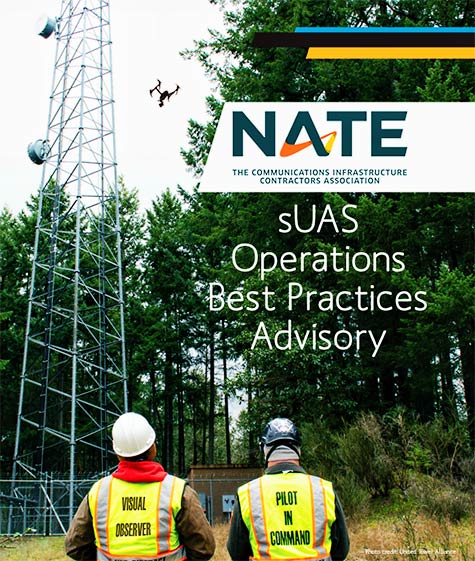 NATE is providing this resource as an industry-specific guideline manual for carrying out UAS operations for wireless and broadcast communications tower facilities in accordance with Title 14 of the Code of Federal Regulations Part 107, the UAS Pilots Code, in order to further educate communications infrastructure industry stakeholders on operating UAS safely and efficiently around towers.
"The Association is excited to officially unveil this NATE sUAS Operations Best Practices Advisory resource document to the industry today," stated newly appointed UAS Committee Chairman Bryan McKernan of Consortiq in Annapolis, Maryland. "NATE is a prominent leader when it comes to the integration and safe utilization of UAS around communications infrastructure and these guidelines can play a major role in providing the industry's wireless carriers, vertical realtors, contractors and technicians with a go-to resource to help standardize the training requirements and operator processes in the industry. NATE's goal is for this new resource to ultimately serve to help scale commerce drone use in the industry in order to maximize the many benefits of this technology," added McKernan.
NATE sUAS Operations Best Practices Advisory resource document is available to NATE members and the industry as a free resource and accessible to be downloaded on NATE's website HERE.
The NATE UAS Committee continues to be a source of information by providing timely updates to the Association's members and industry stakeholders as key developments continue to emerge in the landscape surrounding commercial drones.
For information regarding NATE, visit https://natehome.com/ today.