For the last few years, FCC Commissioners, federal agencies, educational institutions, association CEOs, and industry focus groups have said that there is a shortage of approximately 20,000 telecommunications workers that are critically needed to build out 5G and maintain broadband infrastructure.
That workforce shortfall total has been employed to obtain millions of dollars of federal grants for training and other programs to ensure that America wins the cliched Race to 5G.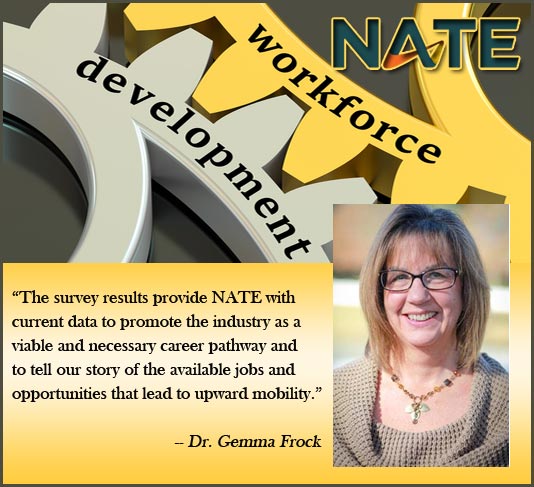 When Wireless Estimator questioned FCC Commissioners, association chiefs and others as to how they were able to determine the shortage, they almost universally said, that's the number generally accepted, or identified an association's findings whose leadership recognized another unverifiable group as their source.
Today, thanks to a comprehensive survey released by NATE: The Communications Infrastructure Contractors Association, the need for thousands of new workers is credible, but may also indicate that the skilled workforce shortage might be even higher than estimated since the survey was taken from mid-July to September at a time when many companies were in a hold pattern due to COVID-19 and uncertain about the future.
In addition, at that time, DISH was not soliciting companies and providing any agreements to build out their 50,000-to-65,000 sites network.
The survey, available here, was conducted as a critical component of NATE's Workforce Development Strategic Plan. It enabled NATE to collect updated and quantifiable workforce data, projections, and trends from 235 contractor/engineering member companies, a statistically important response from 40% of the trade group's contractors.
Dr. Gemma Frock, the Association's workforce consultant, informed Wireless Estimator that the survey debunked the belief by some workers and the general public who perceive that telecommunications work is "a temporary industry and didn't have a career pathway."
"This survey provides a solid piece of information of what is needed in the industry," Dr. Frock said.
"The survey results provide NATE with current data to promote the industry as a viable and necessary career pathway and to tell our story of the available jobs and opportunities that lead to upward mobility in our thriving industry," said Dr. Frock who most recently held the position of Vice President of Education and Training at Aiken Technical College where she developed Tower Technician certificates leading to a Telecommunication Associate of Applied Science degree program.
She noted that in the coming months, NATE would be leveraging and promoting this data in targeted outreach to members of Congress, federal and state government stakeholders, community college/technical institutes and private-sector companies in order to move the needle on attracting a new pipeline of skilled workers in the industry.
Some statistics can be misinterpreted such as the question: "What telecom service best describes your company?"
Turnkey Tower Construction came in at 55% of all respondents and Distributed Antenna System (DAS) was less than .43%, possibly inferring that many NATE contractors were not actively engaged in DAS. However, that presumption would be incorrect since many turnkeys and other NATE contractors are building out the nation's DAS networks. It's just not their businesses' primary focus.
The survey covers a lot of ground in its 14 questions, such as the reasons that hinder hiring workers. Lack of available workers and a company's inability to recruit skilled workers ranked the highest. Failure to pass a controlled substance screen or a background check were mid-range hinderances.
Substance abuse by workers, oftentimes a concern of technicians as stated in their social media posts, isn't associated with just the telecommunications industry but is a national problem aligned to all professions trying to fill jobs in one of the tightest labor markets in a generation.
What can't be questioned in the survey's results is the telling need for telecommunications workers in a very competitive market, Dr. Frock said.
She said that 83% of respondents said they were willing to support and work with educational providers to establish a telecom program in their region, noting that there are approximately 12 institutions that are very close to offering educational pathways.
Some key takeaways from the survey show:
• 87 percent of the 235 companies surveyed have 75 or < employees
• 11 percent of the companies have 76 to 350 employees
• 2 percent of the companies have > 351 employees
• The two states where there was the greatest need for employees were Florida and Texas
• 43 percent of the companies said they were always recruiting and hiring
• Only 4 percent of companies could identify a time frame of hiring new employees between 1 and 2 years; 2 percent said they would be hiring for more than 2 years
• Excessive travel and resignations for a new career opportunity were the primary reasons for employees leaving a company