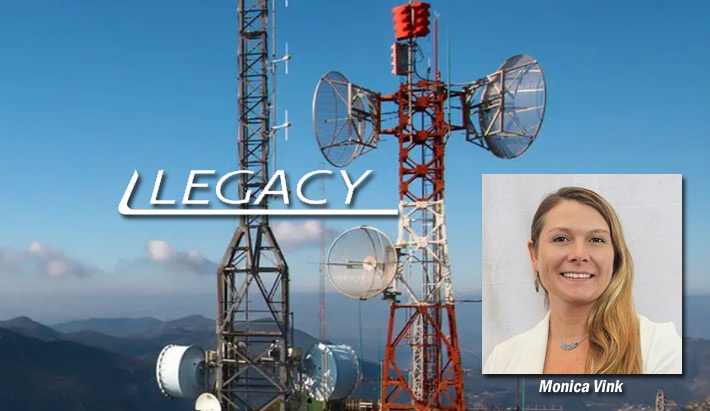 Legacy Telecommunications, based out of Gig Harbor, WA, has announced the growth of their team with the addition of Monica Vink as Marketing Director.
Vink's role will focus on strategic goals and objectives related to marketing, branding, digital footprint, and social influence. She has over 10 years of experience in wireless infrastructure and has held various positions supporting the broadband and wireless industries including sales, marketing and advertising.
She actively supports NATE: The Communications Contractors Association and the organization's initiatives. Vink is a member of various industry organizations and wireless associations including her service to the Tower Family Foundation (TFF) on the Endowment Committee, Women of NATE (WON), and Women in Wireless (WIWA). Monica currently serves as a mentor for Women of NATE's Mentoring Program and Treasurer of Minnesota State Wireless Association (MNSWA).
"Monica is a results-oriented and highly collaborative team player. This makes her a solid cultural fit for Legacy," said Jim Tracy, CEO and founder of Legacy. "We are delighted to welcome her to our team of remarkable  staff. Her integrated marketing experience and digital skill set will allow us to capitalize on the brand strength of Team Legacy as we continue to grow and differentiate through local connections and national solutions."
Vink said she was thrilled to join the Legacy team and the Enertech family.
"This organization's progression towards growth and focus on advancement of our industry is impressive. Each individual member company of Enertech Holdings is a leader in the industry with safety at the core. The alignment of these companies together leverages their technical expertise and comprehensive solutions to provide excellence in customer experience and an internal culture not often found in organizations. The opportunity to support those goals is exciting," Vink said.
She said that she would like to especially thank PerfectVision for allowing her the opportunity during the past few years to serve in a critical role in setting the direction, strategy and processes of all marketing initiatives across multiple platforms for their wireless division.
"PerfectVision is a great company with solid leadership and an outstanding culture. I am grateful for my tenure there and I take away a great many things from my time there. I look forward to future collaboration between our respective companies as they are a strong partner and a great ally," Vink said.
Legacy Telecommunications, LLC is a partner in Enertech Holdings, LLC. Enertech  member companies include Legacy, Eastex Towers, CMS Wireless, Mountain Wireless and Enertech Resources. Enertech Holdings member companies provide turnkey services in the wireless infrastructure services space, including macro towers, small cell, DAS, microwave, structural engineering, utility towers, technology upgrades, civil services, tower modifications, generator services and project management.