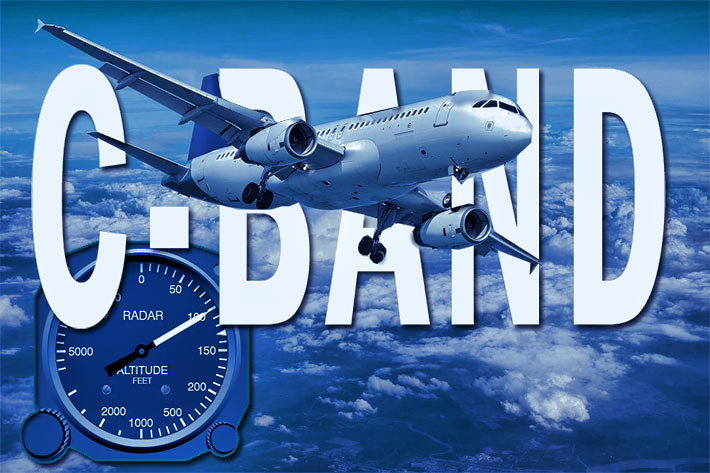 The FAA said it has deep concerns about the potential impact to aviation safety resulting from interference to radar altimeter performance from 5G network operations in the C-band. Radar altimeters are used on planes and helicopters for multiple critical safety functions, including landing when visibility is low, anti-collision warnings and systems that warn pilots when they inadvertently get too low. 
UPDATE: November 6, 2021 – A reader's commentary was added at the end of the article, that speculates that the FAA might have been "asleep at the switch."
---
T-Mobile might benefit slightly from a delay in rolling out 5G service announced Thursday by Verizon and AT&T in response to concerns over interference with aviation equipment.
The two carriers said they would push back to January 5, 2022, the introduction of their 5G C-band-based services after U.S. aviation regulators said it might interfere with aircraft electronics.
The FAA and the FCC said in a joint statement: "Today Verizon and AT&T announced that they will voluntarily pause commercial launch of C-band wireless service to further assess any impact on aviation safety technologies. Aviation safety and technology leadership are national priorities, and with today's announcement these companies have demonstrated their commitment to both. The Federal Aviation Administration and the Federal Communications Commission will continue to coordinate closely to ensure that the United States keeps pace with the rest of the world in deploying next-generation communications technologies safely and without undue delay."
Although the FAA emphasized that it is working with the FCC and other agencies to allow the new technology to safely coexist with aviation, the safety alert that was released Tuesday creates a situation in which the FAA is raising concerns while the FCC has previously granted its approval.
CTIA said that active 5G networks using the same spectrum band work safely in 40 countries. The trade group said the issue has been studied by agencies around the world.
However, Canada recently imposed restrictions on locating new 5G cell towers near the runways of large airports. Australia, France and other nations have taken steps to limit the chances of aircraft interference.
The delay helps T-Mobile lock in 5G customers before Verizon and AT&T have improved their coverage, Blair Levin, an analyst with New Street Research, said in a note.
"A one-month delay will not have a material impact," Levin said. "But the question remains whether the delay will continue to a point at which it will hurt Verizon and AT&T while benefiting T-Mobile."
The FAA bulletin said pilots should remind passengers to place any 5G device into airplane mode or switch them off during flight, and to notify the agency of any signs of interference.
Earlier this week the FAA issued their warning over potential interference to airplane safety systems from upcoming 5G deployments.
A READER'S RESPONSE:
"I think the FAA is embarrassed and into an ass covering operation. All radar altimeters are FAA TSO'd, meaning the basic design and performance requirements are set and enforced by the FAA. These systems are having problems rejecting relatively low power C-band signals some 300+ MHz away, or about 10% separation. Hey, that was bandwidth susceptibility from 50 years ago. So, my guess is the FAA was asleep at the switch, and never required performance improvements over the years, and as long as the airlines could buy "cheap" equipment (no avionics are really "cheap") everyone was happy. A suitable filter is probably $200, but more like $10,000 by the time AA gets through installing, testing, and documenting it. So they are saying the fix is not up to them. Of course, you know their navcom engineers have known of the deficiency for years, and probably had any alerts bounced back from the 70th floor. All this is sheer speculation, but such things happen!"