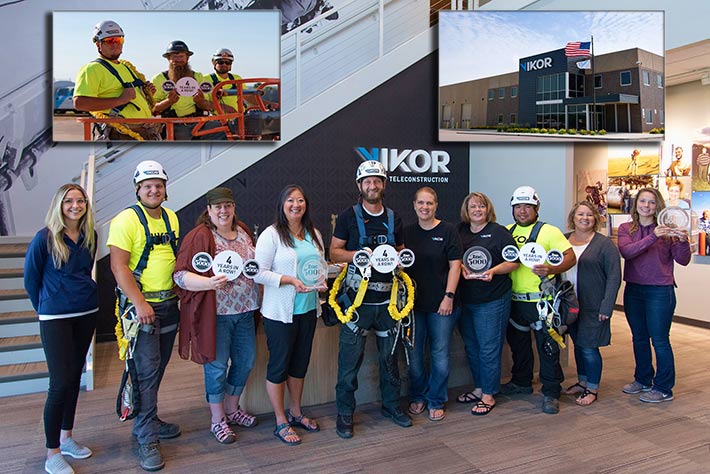 South Dakota-based VIKOR Teleconstruction is proud to announce that they have once again been listed on the Inc. 5000 list as one of the fastest-growing private companies in America. This is VIKOR's fourth consecutive year being recognized on the list.
Only a small portion of U.S. companies make the Inc. 5000 list each year. Those who do have witnessed significant growth in the past few years. Over the last year of a pandemic, this even more extraordinary.
"When people ask me how we have become so successful recently, I often joke that VIKOR is a thirty-year overnight success," said founder Craig Snyder.
"In other words, we've learned a lot over the years. I like to think of us as the biggest mom and pop, closely-held teleconstruction company out there. We still have that small company feel within a briskly growing organization."
"We're proud to have made Inc. 5000 for yet another year. It speaks to the amazing people that make up the VIKOR team," said Snyder.
With over 180 employees and a presence in 34 states, VIKOR has experienced almost 80% in combined growth over the last two years. We look forward to the continued growth and are humbled by the company's success in the last few years.
VIKOR, formerly Sioux Falls Tower & Communications, was founded in 1989 and is one of the leading providers of wireless infrastructure, providing services in more than 30 states across the U.S.
The company self-performs the majority of its offered services including wireless, small cell/DAS, wind, utility, new construction, civil, boring and underground, maintenance, electrical, anchor inspections and more. With six offices covering more than 12 states, VIKOR is one of the largest privately owned teleconstruction companies in the nation. VIKOR has locations in Sioux Falls, SD; Rapid City, SD; Bismarck, ND; Denver, CO; Pleasant Grove, UT; and Missoula, MT.