With two premieres in a week, Vertical Freedom, an epic, feature-length documentary film highlighting the professional and personal lives of six communications infrastructure workers to be released on November 1 on 18 video platforms, gave attendees a first-hand look at their compelling stories.
Last evening, coupled with a workforce development panel that included NATE President and CEO Todd Schlekeway, NATE Chairman Jimmy Miller, FCC Commissioner Brendan Carr, CEO of Warriors4Wireless Kevin Kennedy, and WIA Board of Directors member Kevin Kane that was moderated by Inside Towers business editor John Celentano, invited guests were taken back by the riveting stories presented in the movie at the AT&T Forum.
Tim Donovan, SVP of Legislative Affairs at Competitive Carriers Association, called the documentary an "inspiring watch," thanking NATE "for highlighting the compelling stories of the men and women who build wireless nationwide."
A rain date wasn't necessary
A severe storm, resulting in ankle-deep water in parking areas, didn't dissuade close to 100 people from viewing Vertical Freedom in Davie, Florida, last Thursday at Broward College's central campus.
The South Florida premiere was made possible by Neptuno USA, Corp, a global provider of infrastructure services and asset management for the telecommunications industry, along with NATE, the Learning Alliance Corporation, and Broward College.
One of the movie stars, Sean Gilhooley, attended the private viewing with his family.
"This industry is looking for good people that don't want a normal job, one that people can be proud of, one that makes a difference in lives and infrastructure," Gilhooley said.
Vertical Freedom is a partnership production of NATE: The Communications Infrastructure Contractors Association and Storybuilt Media.
"We were very happy to have at the event representatives from all sectors of the industry, from employers to seasoned veterans, as well as from the education sector that saw the value of the event and how it can help guide the workers of tomorrow," said Leticia Latino van-Splunteren, CEO, Neptuno USA, Corp, who also attended last night's premiere.
She said she appreciated the powerful remarks of Commissioner Carr during the DC premiere, who said, "Tower technicians don't have the choice to go out only on a nice day. They have to go out and make it happen for us!"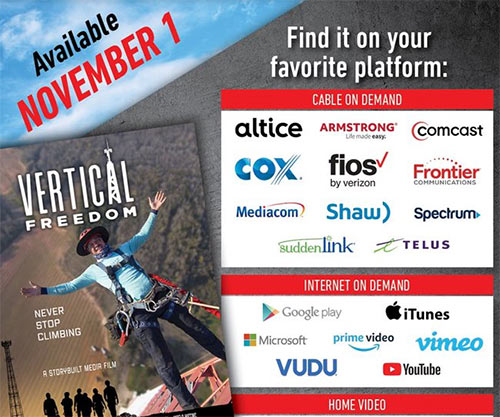 One of America's strongest supporters of the workforce
Latino van-Splunteren has been actively involved in advocating for the issues faced by the broadband workforce. She has been a supporter of embracing DOL's Telecommunications Industry Registered Apprenticeship Program (TIRAP) as a vehicle of standardizing the industry's occupations and career paths.
In January, she was appointed by FCC Chairwoman Jessica Rosenworcel to the FCC's Telecommunications Interagency Working Group. The Working Group, created by the Infrastructure Investment and Jobs Act and comprised of representatives appointed by the FCC, Department of Labor, Department of Commerce, and the Department of Education, is tasked with preparing a report to provide Congress with recommendations on how to address the workforce needs of the telecommunications industry by no later than January 14, 2023.