South Dakotah-based VIKOR has announced its acquisition of Noash Construction, Inc., a tower construction company based out of Sebree, KY.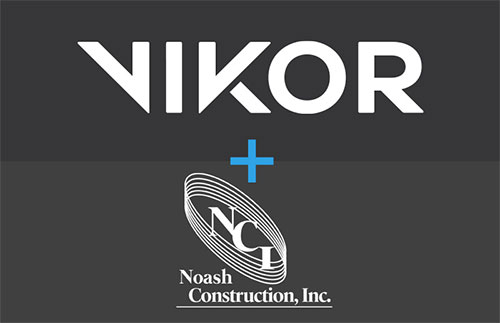 In a statement, the company said the objective is to strengthen VIKOR's reach and ability to impact the lives of its people, customers, and industry by adding the mutual strength and quality of Noash's years of experience in the industry. The acquisition will join Noash's team with the more than 240 employees of the VIKOR team, with the corporate office remaining in Sioux Falls.
"VIKOR and Noash have had a relationship in the industry for years, and I am excited about this union of friends and the synergies it will create. Jeff has built a successful business over the years, and our combined company will continue to build value for our employees and customers to take us into a bright and positive future together," said VIKOR CEO Craig Snyder.
Noash owner Jeff Pettit says, "For 25 years, Noash Construction has made building relationships the foundation of our organization. We value long-term commitments with both the people that join our team as well as the clients we serve. By joining forces with a reputable industry leader like VIKOR we are certain that we can continue to expand and grow the relationships that we have cultivated over the years and into the future."
"We are thrilled to learn from one another in a way that creates synergistic and actionable offerings that will propel our company forward in a way that ultimately better serves our customers," said Jon Eastman, VIKOR president.
The acquisition unites two companies with a longstanding industry investment. VIKOR and Noash are both long-time members of NATE: The Communications Infrastructure Contractors Association, a nonprofit trade association for tower erection, maintenance, and service companies. Both have made investments in training and support for their field staff to assist them in maintaining quality and efficiency.
Geographic expansion was an important factor as well. Though VIKOR offers services nationwide, its strongest presence has been within the Plains and Rocky Mountain states. Noash's primary footprint, which includes Kentucky, Tennessee, Indiana, and beyond, will help expand further south.
The acquisition was finalized on November 9, 2022.
VIKOR was founded in 1989 and is one of the leading providers of telecommunications infrastructure, providing services in more than 30 states across the U.S. VIKOR self-performs the majority of its offered services, including wireless, small cell/DAS, wind, utility, fiber, and more. With nine offices covering more than 30 states, VIKOR is one of the largest privately-owned telecommunications companies in the nation. VIKOR is headquartered in Sioux Falls, SD, with additional offices in Albuquerque, NM; Bismarck, ND; Denver, CO; Missoula, MT; Phoenix, AZ; Pleasant Grove, UT; Rapid City, SD; Tulsa, OK. Learn more about VIKOR at www.vikor.com.
Noash Construction, Inc. (NCI) was founded in 1998 by Jeff and Michelle Pettit. Since that time, Noash has been involved with tower construction, maintenance, and services for the wireless communication industry. NCI has served the needs of various wireless carriers, tower companies, utilities, public safety, and wireless internet providers. Although Noash's primary footprint includes states surrounding its office in Sebree, KY, the company services customers in more than 19 states nationwide. Learn more about Noash at www.noashconstruction.com.