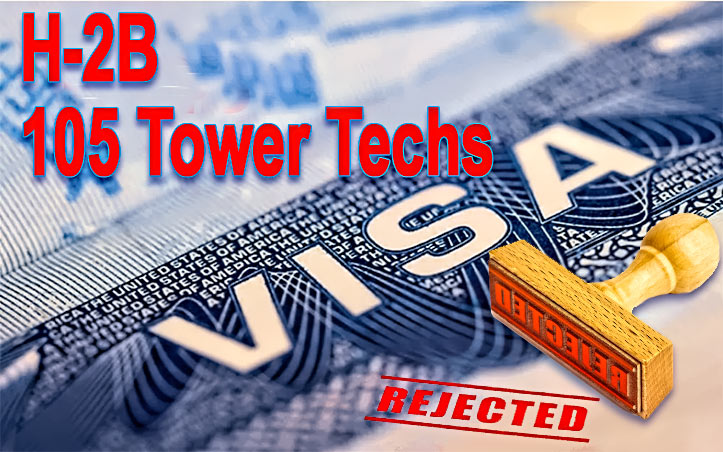 H2-B TOWER TECH FAILURES IN 2023 – In addition to Vastek, Inc. being denied its request for 105 tower technicians, in 2023, four other companies were unsuccessful in using the VISA program: Pioneer Communications Group, 21 tower techs, Santa Barbara, CA; Atlas United Corp., 40 tower techs, Birmingham AL; Yupana, Inc, 70 tower techs, Benicia, CA; and Sirtecom USA, LLC, 40 tower techs, Plano, TX. Less than 6% of H2-B VISAs are declined.
---
A San Diego, California IT staffing and recruiting company primarily focused on pharmaceutical and medical device companies decided earlier this year to expand into the telecommunications business and created a business plan to avoid stateside recruitment of tower technicians.
They intended to hire over 100 Tower Tech-1 employees, possibly from Mexico, the highest recipient of H-2B VISAs, by onboarding them through the U.S. Department of Labor's H-2B program that permits employers to hire foreign workers to perform temporary nonagricultural work within the United States on a one-time occurrence need.
The novel approach to hire 105 tower techs was failed by a certifying officer (CO) for a number of reasons, and Vastek, Inc. challenged the CO's decision. Still, the Board of Alien Labor Certification Appeals ruled against them on August 22, 2023.
Dan C. Panagiotis, the appeals board administrative law judge, ruled that Vastek's application listed work sites throughout the country rather than within commuting distance of the company's San Diego headquarters.
Although Vastek said that they would be removing job sites in Collin and Denton counties in Texas, their revised application listed Lafayette Parish, Louisiana; Hinds County, Mississippi; King County, Washington; Broward County, Florida; Hillsborough County, Florida; Providence City County, Rhode Island; Hennepin County, Minnesota; and Boston City County, Massachusetts where the tower techs would be working.
In previous rulings, the Board has held that commuting distances between 144 and 250 miles are not within the normal commuting distance. Therefore, Vastek would be in violation, especially in Broward County, which is 2,700 miles from San Diego.
On June 1, 2023, the CO issued a Notice of Deficiency (NOD) identifying multiple deficiencies, four relevant to their appeal. The CO found that Vastek failed to establish that the job opportunity was temporary.
The CO said Vastek sought certification based on a one-time occurrence temporary need to convert clients' existing cellular towers from 3G and 4G to 5G. The CO found that "such events are common as the cellular and mobile industries have been growing and improving for many years and will continue to do so." The CO requested additional information, such as a schedule of operations, a further explanation why Vastek's request reflects a temporary need, and how such a request meets one of the regulatory standards, i.e., one-time occurrence, seasonal, peakload, or intermittent.
To establish why it needed the requested number of tower techs, Vastek stated that all cellular operators "are expanding their networks with 5G services," which "is driving tremendous need for skilled tower tech workers." For example, Vastek said, one of its clients, Dish Network, "is required by FCC licensing agreements to have an additional 15,000 5G towers."
On July 17, 2023, the CO issued a final determination letter denying certification. First, the CO found that the employer failed to demonstrate that its need for labor meets the regulatory standard for a one-time occurrence.
The CO explained that the employer is "in the business of soliciting and securing contracts, and "[w]hile the employer may have an event of short duration causing its need, based on the employer's business description, the employer will continue to need workers for such events in the future as it acquires new contracts."
The CO further said that the service contracts submitted by Vastek provided "no clear future end date of service . . ., or an indication of an end date for completion of all work orders."
Nor did the employer submit a work schedule to support the requested dates of need. Similarly, the CO found that Vastek needed to have justified the number of workers requested. Although Vastek submitted service contracts and described the complexity of converting existing towers to 5G, the CO found that the employer needed to sufficiently establish how it arrived at its determination that it needed 105 Tower Techs for the requested dates.
Next, according to a court document, the CO determined that although Vastek provided authorization to amend its application to reflect full-time employment, they "did not give permission to amend Section Fd., Item2 'Overtime Available' nor did the employer provide any overtime amount."
Vastek said the period of the tower techs' employment would be from July 5, 2023, through July 4, 2026, to conform with the maximum employment period of three years.
---
FROM THE U.S. DEPARTMENT OF LABOR
Who May Qualify for H-2B Classification?
To qualify for H-2B nonimmigrant classification, the petitioner must establish that:
There are not enough U.S. workers who are able, willing, qualified, and available to do the temporary work.
Employing H-2B workers will not adversely affect the wages and working conditions of similarly employed U.S. workers.
Its need for the prospective worker's services or labor is temporary, regardless of whether the underlying job can be described as temporary. The employer's need is considered temporary if it is a(n):

One-time occurrence – A petitioner claiming a one-time occurrence must show that it has:

An employment situation that is otherwise permanent, but a temporary event of short duration has created the need for a temporary worker.
Not employed workers to perform the service or labor in the past, and will not need workers to perform the services or labor in the future;
OR
Seasonal need – A petitioner claiming a seasonal need must show that the service or labor for which it seeks workers is:

Traditionally tied to a season of the year by an event or pattern; and
Of a recurring nature.
Note: You cannot claim a seasonal need if the time period when you do NOT need the service or labor is:
Unpredictable;
Subject to change; or
Considered a vacation period for your permanent employees.
OR
Peak load need – A petitioner claiming a peak load need must show that it:

Regularly employs permanent workers to perform the services or labor at the place of employment;
Needs to temporarily supplement its permanent staff at the place of employment due to a seasonal or short-term demand; and
The temporary additions to staff will not become part of the employer's regular operation.
OR
Intermittent need – A petitioner claiming an intermittent need must show that it:

Has not employed permanent or full-time workers to perform the services or labor; and
Occasionally or intermittently needs temporary workers to perform services or labor for short periods.