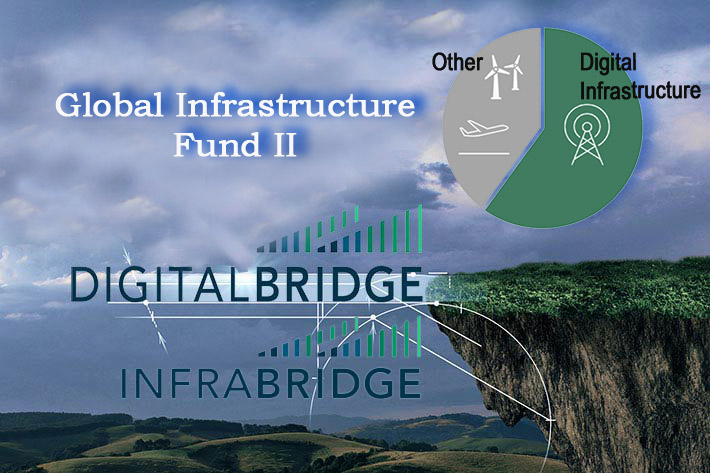 DigitalBridge Group, Inc. has announced that its operating company, DigitalBridge Operating Company, LLC, has completed its transaction to acquire AMP Capital's global infrastructure equity investment management business, which has been rebranded as InfraBridge in a transaction valued at $316 million.
A considerable amount of InfraBridge's assets are outside of DigitalBridge's flagship digital infrastructure equity business.
The deal was announced last April, identifying that approximately 25-plus professionals based principally in the UK were driving the investments based primarily in North America and Europe.
InfraBridge comprises four investment funds with $5.6 billion in fee-earning assets under management, including the $3.4 billion Global Infrastructure Fund II.
The fund's company holdings with a digital focus include two fiber firms, Ohio-based Everstream, and UK-based VX Fiber. The addition of Pennsylvania-based Expedient Data Centers and UK-based tower site lease acquisition firm, Telecom Infrastructure Partners, represents approximately 60% of the fund's portfolio. Energy and aviation-related companies round out the remaining companies.
However, companies in the $1.4 billion Global Infrastructure Fund I are not clearly identified on AMP's website.
DigitalBridge bought the talent and then the assets

DigitalBridge's acquisition announcement of AMP's infrastructure fund followed six months after they hired AMP's digital infrastructure chief Mathew Evans in October 2021, who co-founded the fund in 2013.
Matthews currently serves as DigitalBridge's Managing Director, Head of Europe. While at AMP, he was responsible for the successful investments in Expendient, Everstream, Axion, eNet, and Towercom, as well as overseeing investments into VX Fiber.
Damian Stanley, previously Global Co-Head, Value-Added Infrastructure Equity at AMP, will serve as the Managing Partner of InfraBridge. Stanley has been an instrumental and respected leader since joining AMP in 2015 and has led numerous critical transactions across the GIF platform. In addition, Bernardo Vargas Gibsone, who joined DigitalBridge's leadership team in September 2022 after serving as CEO of ISA Group, has been appointed Non-Executive Chair of InfraBridge.
"We are pleased to welcome to DigitalBridge an experienced, high-caliber investment team that shares our focus on generating attractive, long-term, risk-adjusted returns for our investors," said Marc Ganzi, Chief Executive Officer of DigitalBridge.
"InfraBridge complements our 'full-stack' investment platform, positioning DigitalBridge to capitalize on high-return mid-market investment opportunities. Further, the acquisition immediately contributes significant earnings and further advances DigitalBridge's strategic roadmap towards an asset-light, high-growth asset manager serving secular growth markets," said Ganzi.
"We are excited to be joining DigitalBridge, a respected leader in the global infrastructure space, to continue expanding our infrastructure mandate throughout the mid-market," said Stanley. "We share DigitalBridge's vision to deliver long-term stable returns by allocating capital and building value at the portfolio company level and look forward to benefiting from a group with vast institutional knowledge to help accelerate our growth."
"I'm looking forward to working with this extremely talented team, led by Damian, to maximize the value of InfraBridge's high-quality portfolio of existing investments and further refine its investment strategy, as well as continuing to expand DigitalBridge's capital base," said Gibsone.