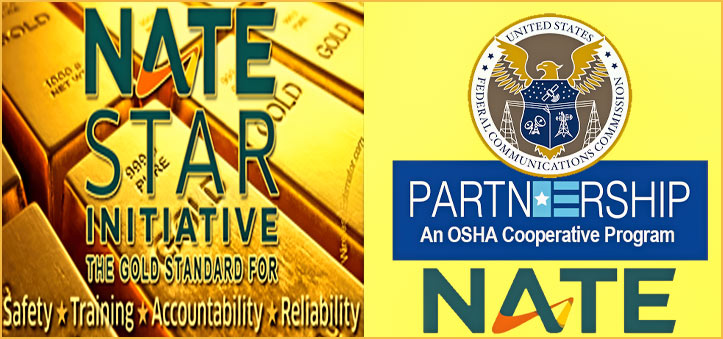 NATE: The Communications Infrastructure Contractors Association today announced the member companies who have been formally approved to participate in the STAR Initiative program and the NATE-OSHA-FCC Partnership program for the 2023-2024 year. NATE has proudly accepted 192 participating companies in this year's STAR Initiative program and 157 participating companies in this year's NATE-OSHA-FCC Partnership.

The STAR Initiative will be entering its fourteenth program year in 2023-2024. Since its inception, the program's site safety audits and program documentation requirements have served to allow participants to proactively identify and correct hundreds of job site hazards and deficiencies. These results have allowed NATE to extrapolate valuable benchmarks and tangible data from the program, while demonstrating compelling evidence that STAR Initiative member companies are leading the charge in terms of making our industry safer.

The STAR Initiative program represents the gold standard in the industry and has achieved an elevated level of distinction in the marketplace. Simply put, program participants are placing their respective firms in a strong business position with prominent industry customers and vendors.This year's program will have new, expanded site safety audit documentation categories and questions to reflect the diversity of work that is currently taking place in the industry and capture more job-specific and relevant data.

Additionally, program participants can once again submit audits from the field utilizing the new NATE Mobile App. This new, all-inclusive NATE Mobile App allows our members to access safety materials, member benefits, event information, and submit STAR Audits, just to name a few. The new NATE Mobile App significantly enhances participant experience and provides a convenient means of submitting Site Safety Audit documentation in real-time directly from the field via smart phone, tablet, or another mobile device. The NATE Mobile App is available as a free download in both iOS (Apple) and Android platforms.

As an added benefit, STAR Initiative participants also receive discounts on designated training courses offered on the NATE EXCHANGE, a dynamic website platform connecting companies to the most up-to-date training courses offered in the tower industry.

The NATE-OSHA-FCC National Strategic Partnership program is entering its 3rd year of site safety data collection and analysis. The NATE-OSHA-FCC Partnership provides participants the opportunity to work cooperatively with OSHA, FCC, and other contractors, to identify the most serious workplace hazards, to develop workplace-appropriate safety and health management systems, to share resources, and to find effective ways to reduce work injuries, illness, and deaths.

The goals for this partnership are to eliminate fatalities and reduce serious injuries and illnesses; establish root causes of fatalities, injuries, and illness; develop and implement best practices to eliminate the number of fatalities, injuries, and illness; develop and deliver training; communicate safety and health best practices within the industry; and establish an effective evaluation strategy to ensure the goals of the Partnership are met.

As a participant in the NATE-OSHA-FCC Strategic Partnership, as well as participating in the STAR Initiative program, participants are engaging in building the cooperative relationship with groups that have a vision of providing a safe and healthful work environment for our men and women.
The 2023-2024 NATE STAR Initiative and the NATE-OSHA-FCC Partnership (in bold print) participating companies include:
A.R. Wireless, Inc.
Above Wireless LLC
ADB Companies, LLC
Advanced Tower Services, Inc.
Advanced Wireless and Logistics, Inc.
Advanced Wireless Solutions, Inc
Amatel, Inc.
ANS Advanced Network Services LLC
Ansco & Associates, LLC
Apex Site Solutions
AscendTek, LLC
Atlantic Construction Companies
Atlantic Tower Services, Inc. (ATS)
B+T Group
Banner Enterprise LLC
Bayed Communications LLC
B-C Walker, Inc.
Betacom, Inc.
Black & Veatch
Blackhawk Tower Communications,
Inc.
Bluewave Communications, Inc.
Branch Communications, LLC
Bright Lighting, Inc.
Broadcast Construction Solutions
C2C Communication, LLC
Capstone Solutions Inc.
CellSite Solutions, LLC
Centerline Communications LLC
Circet USA
Clifton's Tower Service, Inc.
CMS Wireless, LLC
Code USA LP
Crockets Materials and Services Inc.
CSB Communications, LLC
Dan Combs Consulting Inc.
Danella Companies
DAWCOM
Design 1
Design Telecommunications Inc.
Direct Tower Services, LLC
Diverse Construction, Inc.
Diversified Communications Services
E.M. Enterprises General
Contractors, Inc.
East Coast Communications
Elevated Services, LLC
Elexco, Inc.
Elite ICT
Elite Tower Solutions, INC.
Embark Telecom Group, INC
Emergency Radio Service, Inc.
ENERTECH
Engineering Wireless Services, LLC
(EWS)
ERI Installations, Inc.
ET Tower
Excalibur Builders and Maintenance,
Inc.
Excel Construction, Inc.
FastTrac Telecom Services LLC
FDH Infrastructure Services, LLC
FordCom Wireless
Fritts Communications LLC.
Fullwave Tower and Broadcast LLC
Fulton Technologies, Inc
Global One Communications Co.
(GOCC, Inc.)
Global Tank and Tower, LLC
Grapevine Solutions, Inc.
Gray's Tower Service LLC
Green Mountain Communications,
Inc.
Gulf Services
Hayden Tower Service, Inc.
Heartland Tower Solutions, LLC
Heights Tower Service, Inc.​​​​Hightower Communications, Inc.
Illini Drilled Foundations, Inc.
Independent Network Services, LLC
Industrial Communications West,
LLC.
Industrial Communications, LLC
Innov8 Technologies
Innovated Tower Solutions
InSite Telecom, LLC
JDH Contracting, Inc.
JDR Technologies, LLC
K & S PCS, LLC
KCCTech LLC
KCI Communications Infrastructure
Kilowatt, Inc.
KMM
Larson Tower Specialists, LLC
Legacy Telecommunications, LLC
Lost Pines Inc
Mason Wireless Solutions, Ltd.
MasTec Network Solutions
McPhee Electric
MDTS
Meridian Blue Construction, LLC
​​​​​​​Mesquite Valley Communications, Inc.
Metro RF Services, Inc.
Michigan Towers Incorporated
Microwave Transmission Systems, Inc.
Mid Atlantic Contracting, Inc.
Midland Communications Inc.
Midland Tower Construction, Inc.
Midwest Tower Erection, Inc.
MILLENNIA CONTRACTING, INC.
MILLERCO
Mountain Wireless Construction
Murphy Tower Service, LLC
MUTI – Sabre Industries Telecom
Services
MZI Group
NDC Communications, LLC
NEC Group
Neticom, LLC
Network Building & Consulting, LLC
NeuComm Solutions, LLC
New Horizons Telecom, Inc.
Newkirk Electric Associates Inc
NextEdge
Nokia
North Sky Communications, Inc.
Northeast Towers, Inc.
Northern Pride Communications,
Inc.
Nsight Tower
NWA Tower Services LLC
Omega Development Company
One Way Wireless Construction, Inc.
Patriot Towers Inc.
Paul J. Ford and Company
PCI GlobalCom
PCRG, LLC
Peak Signals, LLC
Perfect Wireless, Inc.
Pilgrim Communications, Inc.
Pillar Innovations LLC
Pinkham Cyr, Inc.
Pioneer Telephone Cooperative, Inc.
Premise, Inc.
Primoris Electric, Inc
Pyramid Network Services
QualTek Wireless LLC
R & M Electrical Telecom/Maint., Inc.
Ramapo Communication Corp.
Randal's Tower Tech Inc.
Resound Networks
RIO Steel & Tower, Ltd.
Riverview Wireless Construction
SAC Wireless LLC
SAI Group
SiteMaster, Inc.
SkyTower, LLC
Southern Electric & Construction,
LLC
Speelman Electric, Inc.
SPX Aids To Navigation (AtoN)
STARR Tower Solutions, LLC
STERLING Telecommunications &
Construction, Inc.
STG Communication Services
Stout & Company, LLC
Structural Tower Services, Inc.
STS Communications, Inc.
T Steele Construction Inc.
TCSI
Teleworld Solutions
Teltronic Towers, Inc.
Texoma Contracting, Inc.
Thayer Wireless LLC
The Pinoy Group
Tiller Engineering Inc.
Tillman Infrastructure
Tilson Technology Management, Inc.
Timberline Communications, Inc.
Total Service Telecom, Inc.
Total Telco Specialists, Inc.
Tower & Turbine Technologies LLC
Tower Communications Expert, LLC
Tower Engineering Professionals, Inc.
Tower Inspection, Inc.
Tower Systems, Inc.
Tower Technics. LLC
TowerMRL, LLC.
Tri County Tower, LLC.
Triforce Communications, LLC
TriStruX LLC
Tryzub Tower Services, LLC
United Telecom Systems LLC
US Tower Services, Inc.
Versacom LP
Vertical Technology Solutions, Inc
VERTICOM (Network Connex)
Viking Maintenance dba Finish
​​​​​​​       Tower, Inc.
Vinco, Inc.
Windy City Tower Techs LLC
Wireless Construction, Inc.
Wireless Horizon
​​​​​​​X3 Management Services, Inc.