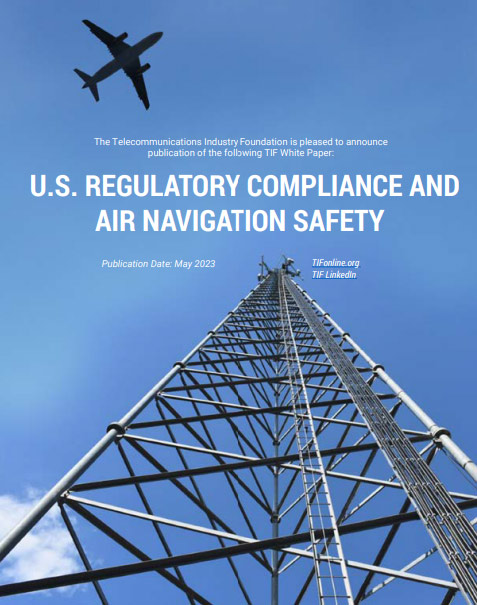 Since proper marking and lighting of telecommunications infrastructure is critical to support navigable air space, the Telecommunications Industry Foundation (TIF) has published a new TIF white paper, US Regulatory Compliance and Air Navigation Safety.
The aim of the white paper, according to TIF, is to provide a summary of U.S. federal regulatory oversight, describe the FAA determination process for constructing or altering certain antenna structures, and examine best practices to comply with air navigation regulations.
The TIF said while it is the responsibility of the Federal Aviation Administration (FAA) to develop standards for the marking and lighting of Antenna Structures, it is the Federal Communications Commission (FCC) that is entrusted with promulgating and enforcing the rules for air navigation markings and lighting. In addition to these marking and lighting standards, the FCC also requires that owners of Antenna Structures put in place monitoring procedures to ensure the proper functioning of obstruction lighting used for air navigation safety.
Understanding and implementing the many rules and procedures concerning air navigation safety as it relates to antenna Structures is a "multifarious endeavor," the TIF stated in announcing the white paper.
Authors of the white paper are:  Dan Butterworth, Director Project Operations – Ericsson; Chris Carpenter, Sales Director for Major Accounts – SPX Aids to Navigation;  Joshua Huff, J.D., Counsel – Tower Engineering Solutions; Scott Kisting, President – Proactive Telecommunications Solutions; and Justin Kisting, Program Manager – Proactive Telecommunications Solutions