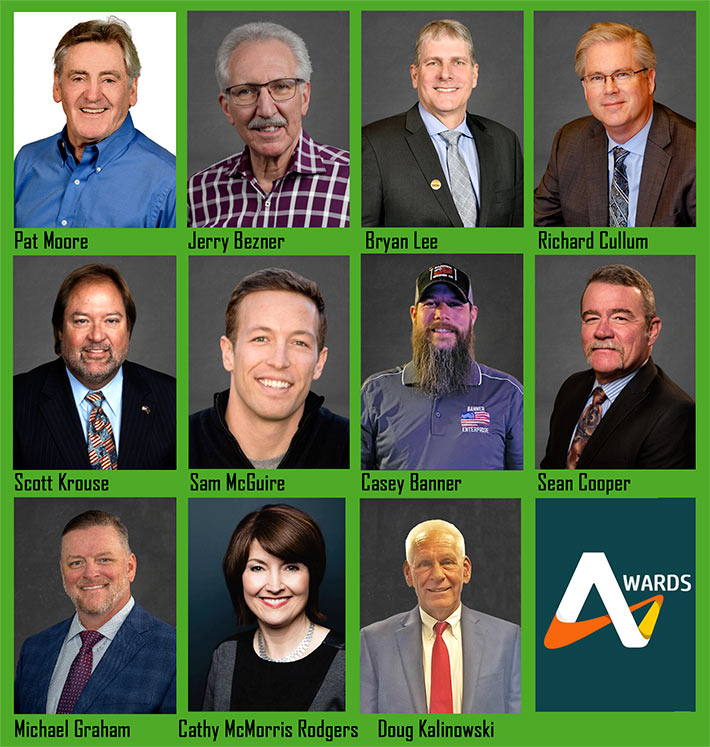 NATE: The Communications Infrastructure Contractors Association on Wednesday honored a distinguished group of leaders for their contributions to the organization and industry. The following honorees were presented their awards at the NATE UNITE 2023 Awards Luncheon sponsored by DISH in Orlando, Florida:
Bill Carlson Lifetime Service Award
Pat Moore (Broadcast Construction Services, LLC)
Pat Moore, a Navy Vietnam Veteran, has been in the tower industry for 46 years. As one of the founding members of NATE: The Communications Infrastructure Contractors Association and an original member of the Safety and Education Committee, Pat remains actively involved.
Throughout his career, Pat has been a member of the National Society of Broadcast Engineers, Texas Association of Broadcasters, and American Society of Safety Engineers – Associate Member (ASSE), now known as the American Society of Safety Professionals (ASSP). He was an active participant in the Steel Erection Negotiated Rule Advisory Committee (SENRAC) with the U.S. Department of Labor from June of 1994, until it concluded in July of 1997. Pat was also active with the American National Standards Institute (ANSI) TR14.7 Committee for Tower Design and participated in the Safety Facilities Task Group. He was instrumental in the development and implementation of the ANSI/ASSP A10.48-2016 Criteria for Safety Practices with the Construction, Demolition, Modification and Maintenance of Communication Structures.
Currently Pat serves as a decades-long member of the National Association of Broadcasters (NAB) and on the NWSA (National Wireless Safety Alliance) Board of Governors.
Distinguished Service Award
This notable award recognizes past or present standing committee members who have demonstrated direct and individual contributions to the mission of NATE and whose performance has proven so exceptional that it profoundly affects the success of the Association.
Jerry Bezner (Gap Wireless)
Bryan Lee (Lee Antenna (Lee Antenna & Line Service, Inc.)
Chairman's Coin Awards
The Chairman's Coin is a prestigious award, chosen by the NATE Chairman, recognizing individuals who have provided excellent dedication and service to the mission of NATE and to encourage continued involvement.
Richard Cullum (TSC Construction, LLC)
Scott Krouse (Retired)
Sam McGuire (FieldSync Services)
Outstanding Heights Awards
This award is presented to individuals who have worked in the communications infrastructure industry for at least 20 years. Retired individuals are eligible. Nominees must exhibit long-term commitment and dedication to their work in the industry that has proven to be truly outstanding.
Casey Banner (Banner Enterprise LLC)
Sean Cooper (ERI Installations, Inc.)
Michael Graham (PCI GlobalCom)
Legislative Champion of the Year Award
U.S. Representative Cathy McMorris Rodgers (Washington State)
Regulatory Champion of the Year Award
Doug Kalinowski (OSHA Directorate of State and Cooperative Programs)
"The annual NATE Awards Luncheon is a personal highlight of mine as it provides a forum to honor so many worthy individuals who have helped shape the Association into what it is today," said Chairman Victor Drouin from Pembroke, New Hampshire. "On behalf of NATE's 1,100 member companies, we offer our heartfelt congratulations to all of today's award recipients."