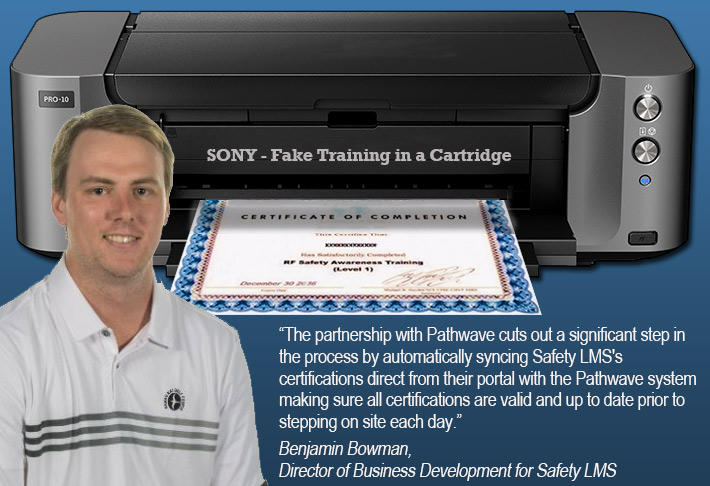 Pathwave, a purpose-built tool for the telecom industry, announced an integration with Safety LMS, a training partner and certification provider for tower climbers and riggers, for verifying and automating certifications in real time. This new collaboration between Pathwave and Safety LMS is the first to provide Certification Verification to the telecommunications industry within a purpose-built tool for crews and their leadership that creates efficiencies for the back office and streamlines certifications for field personnel.
The telecom industry often experiences challenges with fake certifications and missing certifications on tower sites. Properly tracking required certifications, ensuring training and certifications are up to date for personnel, and coordinating upcoming training are challenging and time-consuming. Spanning these challenges across organizations and subcontractors requires dedicated time from busy back office team members to ensure qualified personnel is working on tower sites and have the required accompanying certifications on site and available for site audits at the touch of a button.

"Tracking certifications has its unique difficulties for each company. Smaller companies typically have the same person tracking certifications, training the crews, bidding sites, working with vendors, and balancing the books, while larger companies have to deal with 10+ certifications for 40, 50, and 100+ people within the company, making sure they are compliant with each market they are working in and then uploading all of these to the multiple vendor auditing tools that exist in the industry," said Benjamin Bowman, Director of Business Development for Safety LMS. "The partnership with Pathwave cuts out a significant step in the process by automatically syncing Safety LMS's certifications directly from their portal with the Pathwave system, making sure all certifications are valid and up to date before stepping on site each day. Safety LMS is excited about this rollout and for the features coming in the future!"

Now, when telecom contractors utilize Pathwave to streamline and simplify safety and Safety LMS as a training partner and certification provider, certifications for personnel can be automatically imported into Pathwave's end-to-end Certification Management solution, kept up to date, and verified. Additionally, with Pathwave's improved safety and compliance, certifications are tied to all job site safety docs and verified in real time.

Sean Kramer, President and CEO of Pathwave, said, "We're excited to have seamlessly integrated Pathwave's platform with Safety LMS's certification database. We believe this partnership is a significant step in moving safety forward in our industry."

Avoiding duplicate data entry and ensuring outdated certifications are never in the field puts telecom contractors at a significant advantage. Defining personnel positions and the required certifications for each position enables tracking for required and missing crew qualifications and certifications by team member position. Reporting and tracking certifications provide advance notice of expiring and missing credentials and allow the ability to coordinate all hand training efficiently.
This new collaboration between Pathwave and Safety LMS enables the telecom industry to combat fraudulent climber cards and fake certifications while benefiting from increased efficiency, better decision-making, cost savings, and improved safety and compliance, the companies said in a press statement.