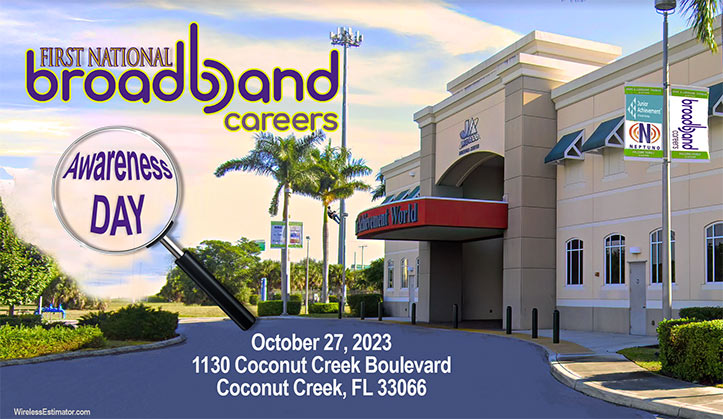 South Florida will host the first national Broadband Careers Awareness Day, a broadband industry coalition led by Broadband Careers and supported by Junior Achievement of South Florida and Neptuno USA, Corp.
Open to the public at no charge (REGISTER HERE), the promoters have provided an opportunity for telecommunication companies, education providers, industry associations, and representatives of state, local, and federal agencies to convene on Friday, October 27, 2023, at the Junior Achievement of South Florida facilities at 1130 Coconut Creek Blvd, Coconut Creek, FL to brainstorm and discuss the many challenges and opportunities that are arising around broadband deployment. 
There will also be a strong focus on the attractive career paths offered to the youth looking to enter a dynamic, rewarding, and essential workforce.
Junior Achievement serves 80,000 students in Broward and South Palm Beach counties through the efforts of more than 7,000 volunteers.
Commissioner Carr and other dignitaries will be represented
FCC Commissioner Brendan Carr, an avid supporter of workforce development, will provide virtual opening remarks to attendees that will include Congresswoman Debbie Wasserman-Schultz; Sean Lewis, Florida's Chief of Broadband Initiatives; as well as officials from the City of Coconut Creek and representatives of Broward College, Miami Dade Community College, and Learning Alliance.
Representing industry associations will be Dr. Gemma Frock, Director of Workforce Development for NATE: The Communications Infrastructure Contractors Association, and Amelia de Jesus, Vice President of Workforce Solutions for WIA – the Wireless Infrastructure Association.
Miami Tech Works will also be in attendance. They have a coalition of over 200 stakeholders in the "tech" ecosystem that brings together a critical group of business leaders with education and training providers to align academic programs with the needs of employers.
Numerous industry companies like MasTec Network Solutions and SBA Communications Corporation support the initiative.
On-site tower will be toured
The event, from 8:30 a.m. to 11:30 a.m., is designed to have two segments, one in which participants will have the opportunity to tour a communications tower compound next to Junior Achievement, where event participants will learn from a Neptuno Tower Technician crew about the work that is conducted daily building, maintaining, and deploying communications sites and related wireless/broadband infrastructure. Public officials will experience firsthand the harness and personal protective equipment gear that tower technicians utilize to carry out their jobs safely and efficiently. 
Following the tower compound tour, attendees will walk to the Junior Achievements building for refreshments and a session highlighting essential challenges and opportunities around the development of Broadband Careers.
"This is the time to take a collaborative approach to ensure that the unprecedented funding of $42.45B to be disbursed under the Broadband Equity, Access, and Deployment (BEAD) Program, and of which Florida already was awarded US$1.1B, is used as stipulated by the law, to provide connectivity to all, and to train the Broadband workforce that will make it happen properly," said Leticia Latino, Neptuno USA, Corp. President and CEO and a co-organizer of the event.
"As recommended by the Telecommunications Interagency Working Group in their January 2023 report to Congress on the state of the Broadband Workforce, Pre-apprenticeships and apprenticeships are a crucial component of the strategy to train the broadband workforce, and the involvement of an entity such as Junior Achievements, whose mission is to empower our youth with the knowledge, ability, and confidence to navigate their futures, drive our economy, and lead our community, can be a game changer for the Broadband industry and for the lives of many young people that can find rewarding career paths in our industry," explained co-organizer Felix Collazo, Pre-Aprenticeship Program Director for Junior Achievement.
The event will be held from 8:30 a.m. to 11:30 a.m. Event tickets, at no charge, are available here.