NATE Wireless Industry Network (WIN) is has announced the speakers and sessions for the upcoming NATE WIN Rocky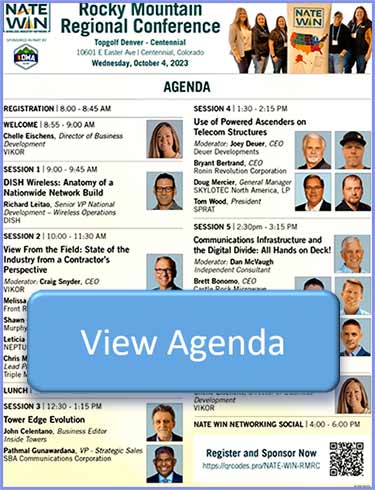 Mountain Regional Conference to be held on Wednesday, October 4, in Centennial (Denver), Colorado. The agenda is crafted to address key issues occurring in the industry right now, and how companies can adapt in these uncertain times.
Topics discussed at the conference will include an inside look at Dish's nationwide network that is under development, a view from the field from a contractor's perspective, discussions on the challenges and opportunities associated with closing the "digital divide," and more. Attendees can expect to gain invaluable insights from the lineup of speakers and panel discussions scheduled for this event.
To register or become a sponsor for the NATE WIN Rocky Mountain Regional Conference, please scan the QR code in the graphic below, or click HERE.